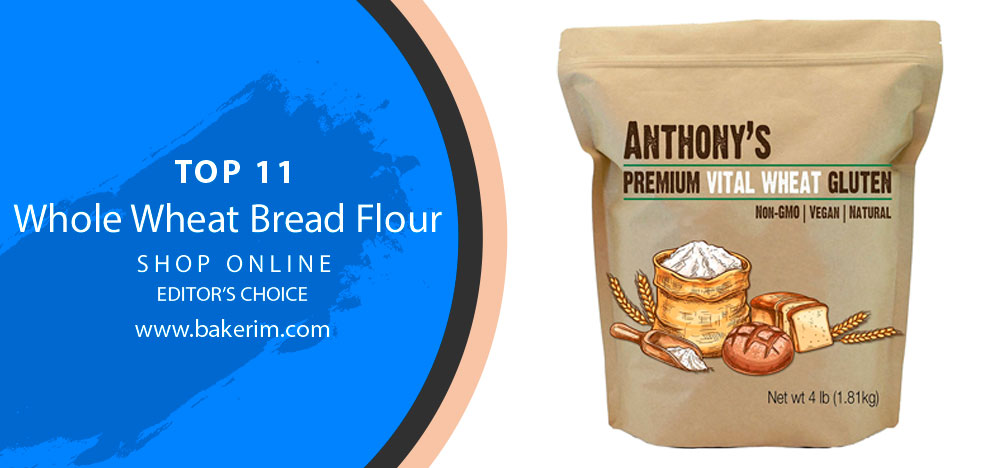 Whole wheat flour is an indispensable product for anyone who prefers to eat right. It is obtained by a coarse grinding, so it contains not only endosperm (like fine flour) but also the shell of the grains and their embryos. Whole wheat bread has a high biological value and is very healthy.
This flour is suitable for baking aromatic and healthy bread. The most important thing is to find the right recipe and purchase a quality whole wheat flour. I am glad to inform you that here you will find the proven recipes of my family and I will tell you more about this flour and how to choose it.
What is Whole Wheat Flour and How is it Made?
Flour obtained from whole cereal grains by a method of single grinding is called whole grain. It is made from wheat, peas, oats, rye, buckwheat, barley. In this flour, all the components of the seed are preserved: the shell, the germinal grain. It is produced without sifting, without dividing the resulting particles in quality and size.
Earlier, when people only learned how to collect grain, they prepared flour in the same way: they ground the grain with all its parts and used it for making bread. Improving the technology of grain processing led to the fact that they began to remove the shell from the grains, and after grinding them sifted. The result is a softer, but lost some of its useful properties flour. And as people's interest in healthy eating has increased, the popularity of whole grain flour is growing due to its beneficial qualities.
Useful and Harmful Properties of Whole Wheat Flour
Eating products from such flour favorably affects the whole body:
The digestive system improves
Slags and toxins are removed
Low cholesterol
You get vitamins and minerals
Avitaminosis is prevented, especially in the spring
Due to the rich content of fiber and protein, the risk of developing varicose veins, constipation, and hemorrhoids is reduced
Fat is burned
Positive effect on the work of the cardiovascular system due to the content of vitamins E, B, calcium, chromium, iron, magnesium
Whole wheat flour is characterized by an optimal ratio of proteins and carbohydrates, bread and products from it are recommended for people who are overweight. The benefits of whole wheat flour for the body have long been recognized by medicine, and the dangers of flour can only be said in the presence of gastritis, cholecystitis since the flour is high in calories. Whole wheat dishes help fight obesity, diabetes, intestinal weakness, vitamin deficiency, depression, heart, and blood vessel diseases and also reduce mortality by 20% due to the content of antioxidants and enzymes.
Additional Benefits of Whole Wheat Flour
Fiber Content. One of the main differences between whole wheat and white flour is their fiber content. Fiber has a number of health benefits: it prevents constipation, lowers blood cholesterol and can help lose weight. The processing process associated with the production of white flour separates the grain from the shell, so white flour usually contains less fiber than its whole-grain copy. For example, 1/2 cup of white flour contains 1.3 g of fiber, and an equal portion of whole wheat flour contains 6.4 grams.
Effect On Blood Sugar. Any carbohydrate-containing food, including foods containing whole wheat flour, has a definite effect on our blood sugar. After we have eaten, our body begins to turn carbohydrates from food into glucose, simple sugar. This glucose then enters the bloodstream and provides "fuel" to all body cells. The glycemic index of food is a measure of how quickly this process occurs. Foods with a high glycemic index lead to rapid spikes in blood sugar, which make us hungry and irritable shortly after eating. Foods with a low glycemic index absorb more slowly, which prevents blood sugar spikes, so we are satisfied longer after eating. Bread made from whole wheat flour has a GI of 51, and bread made from white wheat flour has a value of 71. Therefore, if you are trying to control your blood sugar after eating, then whole wheat flour is your right choice.
Prevents Gallstones. Since whole wheat is rich in insoluble fiber, it provides a quick and smooth passage of food in the intestine and reduces the secretion of bile acids. Excessive secretion of bile acids is the main cause of the formation of gallstones. In various studies by the American Journal of Gastroenterology, it has been shown that whole bread and whole wheat products help reduce the risk of gallstones.
Vitamin Content. Whole wheat flour provides a nutritional advantage over some varieties of white flour due to its vitamin content. Whole grain flour contains several vitamins, including folic acid, riboflavin, and vitamins B1, B3, and B5. Some types of white flour contain lower levels of these vitamins, as the processing involved in making white flour destroys the vitamins. For example, 1/2 cup whole wheat flour contains 3 milligrams of niacin (B3), while the equivalent portion of white flour contains only 0.8 milligrams. To combat the loss of vitamins, some food manufacturers fortify white flour with vitamins to replace nutrients lost during processing.
Our Top List 11 Picks Best Whole Wheat Flour – Editor's Choice
| Image | Product | Brand | Link |
| --- | --- | --- | --- |
| | Great River Organic Milling Organic Whole Wheat Bread Flour, 25-pounds (Pack of1) | Great River Organic Milling | |
| | Soft White Wheat Berries • 100% Desiccant Free • 4 lbs • Non-GMO Project Verified • Certified Kosher Parve • USA Grown • Field Traced • Resealable Kraft Bag | Palouse Brand | |
| | 365 by Whole Foods Market, Organic Flour, Whole Wheat Pastry, 32 Ounce | 365 by Whole Foods Market | |
| | King Arthur, 100% Organic Whole Wheat Flour, 100% Whole Grain, Non-GMO Project Verified, 5 Pounds | King Arthur Flour | |
| | Anthony's Vital Wheat Gluten, 4 lb, High in Protein, Vegan, Non GMO, Keto Friendly, Low Carb | Anthony's | |
| | Organic 100% Whole Wheat Flour – 25 lb. bag | CENTRAL MILLING | |
| | Homestead Gristmill — Non-GMO, Chemical-Free, All-Natural, Stone-ground Whole White Wheat Flour (10 lb), Artisanally Milled from Hard White Wheat Berries | Homestead Gristmill | |
| | Bob's Red Mill, Vital Wheat Gluten Flour, 22 oz | Bob's Red Mill | |
| | Great River Organic Milling, Specailty Flour, Whole Wheat Pastry Flour, Stone Ground, Organic, 25-Pounds (Pack of 1) | Great River Organic Milling | |
| | One Degree Flour Whl Wht Sprouted 32 OZ | One Degree Organics | |
| | General Mills GM Whole Wheat Stone Ground 50lb | The Grain Mill of Wake Forest | |
#1 Great River Organic Milling Organic Whole Wheat Bread Flour – Amazon's Choice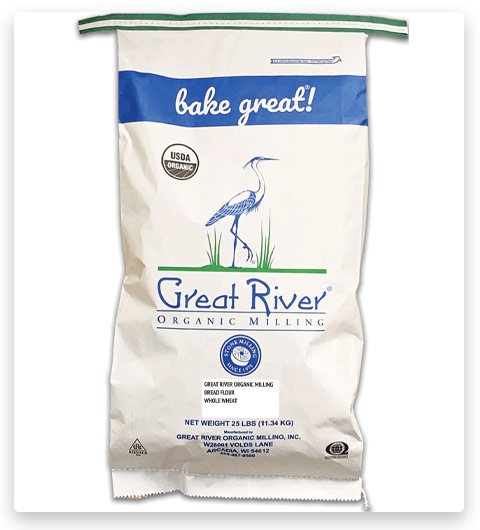 This is whole wheat flour that will come to you in a package of 25 pounds. After the first use of this flour, you will not want to try something else. The bread looks great and has excellent growth and texture. This flour provides a good raising of the dough and therefore you will definitely be able to bake delicious and beautiful bread. This is a fine flour that does not contain GMOs and is completely organic. You can use it for baking in bread machines.
#2 Palouse Brand Soft White Wheat Berries – Amazon's Choice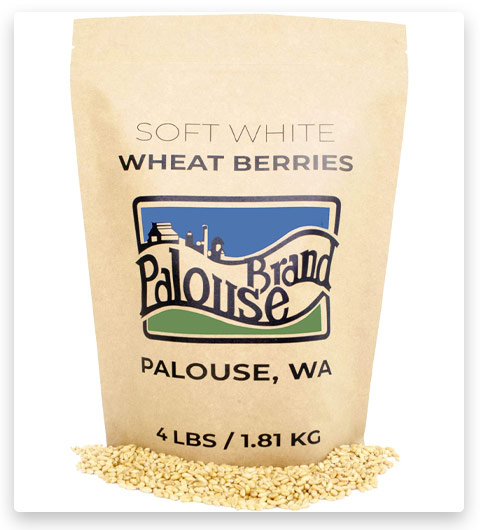 This flour is available at a more affordable price than the previous one, but it is also one of the most popular among buyers who like healthy and tasty pastries. This flour has a golden color and is distinguished by its slightly nutty flavor. Therefore, if you are a lover of sweets, you will like this flour due to its sweet taste. This flour received a quality mark from the Whole Grains Council.
#3 365 Everyday Value Organic Whole Wheat Pastry Flour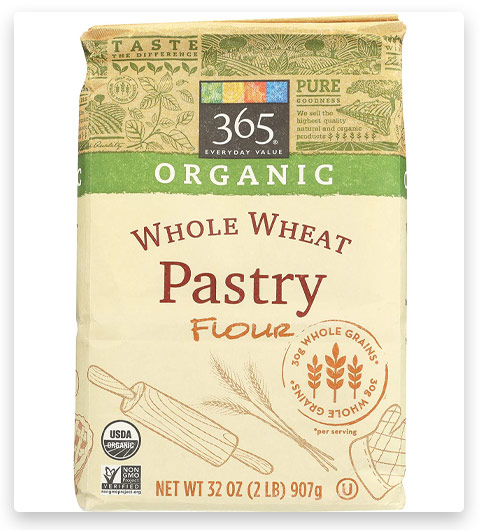 This is a nutritious flour that is suitable for baking not only crisp bread but also for your other favorite pastries. Flour is organically grown and delivered in its original packaging. Flour does not contain sodium, and also has a lower percentage of fat content. Without GMOs and preservatives.
#4 King Arthur Flour 100%s Organic Premium Whole Wheat Flour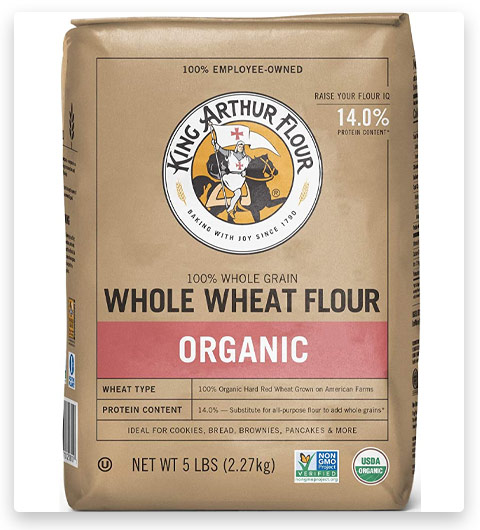 King Arthur is known for producing natural baking ingredients. The most famous bakers choose this brand for baking their masterpieces. This is a fully organic product that has been certified by Quality Assurance International. The flour is not bleached and allows your bread to rise well. The bread will be crispy and has a pronounced taste and smell.
#5 Anthony's Vital Wheat Gluten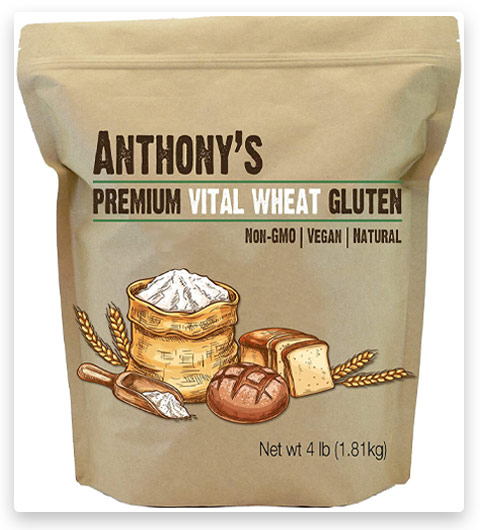 The whole wheat flour of this brand is high in protein and low in carbohydrates. You can use it on a keto diet and not be afraid for your health. The flour is made from natural wheat gluten and does not contain GMOs. Thanks to the use of this flour, your dough will be elastic, and the structure of the dough will not be loose. Your bread will have a fragrant smell and rich taste.
#6 CENTRAL MILLING Organic 100% Whole Wheat Flour – Amazon's Choice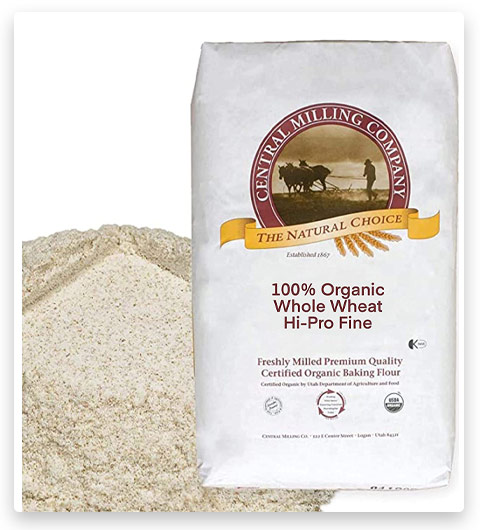 This flour retains all the nutritional properties of the wheat kernel and also does not contain GMOs and other additives. You can use this flour not only for my bread recipes but also for others. And also it is great for baking of various pastries. You can experiment in your kitchen! An organic product is also suitable for vegan nutrition.
#7 Homestead Gristmill Whole White Wheat Flour
This flour comes in the amount of 10 pounds and comes in a package that is easy to open and close so as not to mess in the kitchen. Flour does not have chemicals, preservatives, GMOs and can be stored from 8 months in a cool place and up to two years in a frozen state. The bread is crispy and has a natural taste.
#8 Bob's Red Mill Vital Wheat Gluten Flour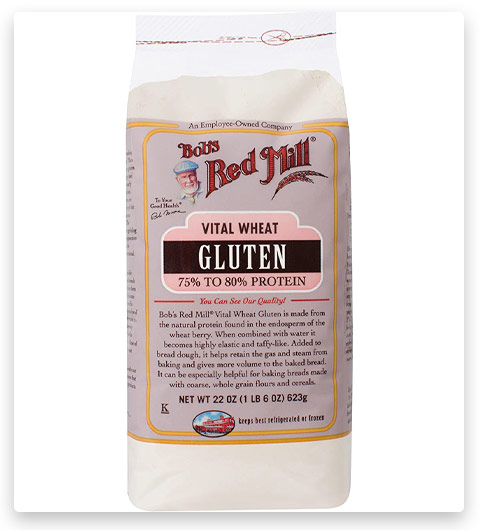 To make your bread elastic, bake it using this flour. It contains a large amount of protein and many useful vitamins and minerals for your health. Thanks to this flour, the dough is kneaded well and rises. At a great price, you will get a large supply of flour for your creations in the kitchen!
#9 Great River Organic Milling Specailty Flour Whole Wheat Pastry Flour – Amazon's Choice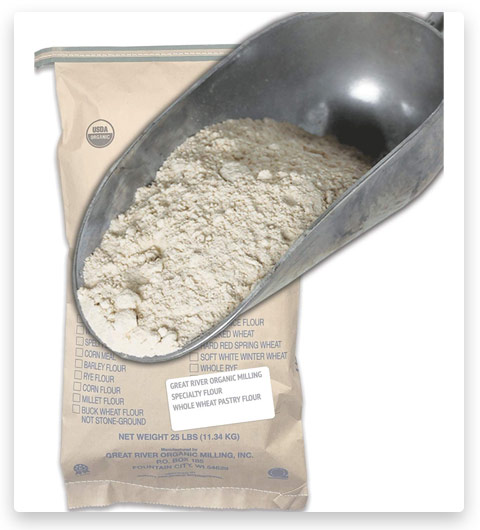 To obtain this flour, the manufacturer carefully selects soft white winter wheat in order to obtain 100% organic flour. Her natural cream color looks attractive. Flour has a fragrant smell and pronounced taste. It is rich in useful substances and does not contain chemicals. It can be stored frozen.
#10 One Degree Flour Whl Wht Sprouted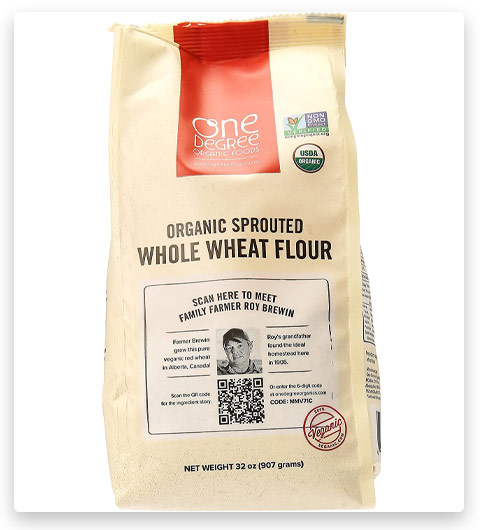 This is a fresh and well-processed flour for baking bread and various pastries. This is the perfect size of the package to feed your family. Flour comes in convenient packaging for reusable use. Useful flour without GMOs and preservatives.
#11 General Mills GM Whole Wheat Stone Ground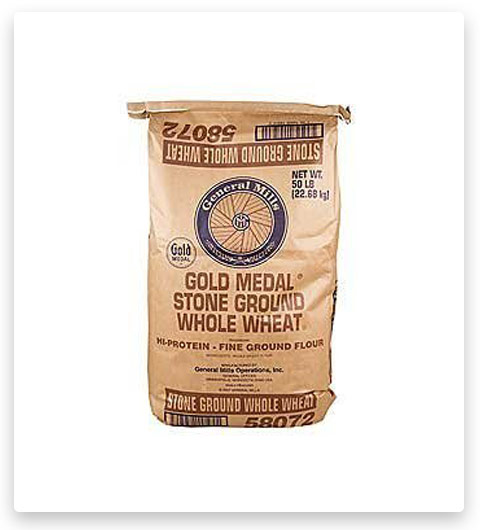 This flour is worth the money. It is suitable for use in many recipes. This torment never let me down. The dough always turns out magnificent and has the necessary texture. Its nutritional value justifies the price tag.
Whole Wheat Bread Flour
From whole wheat flour, you can cook healthy bread and tortillas that provide the body with all the necessary vitamins and nutrients. Bread made from such flour has a bright piquant taste, delicate aroma, and rich yellow hue, but such flour makes the dough denser, so if you want to make patties and rolls, they will turn out to be heavier and rougher.
For this reason, it is recommended to mix refined and whole flour in order to preserve the beneficial properties of grain and the delicate texture of bakery products. I will share with you my favorite whole wheat flour bread recipes so you can make healthy and tasty pastries!
Whole Wheat Bread Flour Recipes
Homemade whole wheat flour bread is the best that can happen in the life of a modern person (in terms of bread, of course)! Such flour contains significantly more fiber, vitamins, and minerals than any other kind of flour.
Therefore, whole grain bread is recommended to eat as often as possible. There are almost no health contraindications for whole grain bread, but it has a million readings for eating! Therefore, buy whole wheat flour and bake for health! And I will help you with this.
#1 Homemade whole wheat flour bread
Ingredients:
Whole wheat flour – 550 g
Water – 300 ml
Dry yeast – 8 g
Olive oil – 3 tbsp.
Sugar – 1 tbsp
Salt to taste
Cooking:
Sieve 1/3 of the whole wheat flour several times, enriching it with oxygen.
Then pour in the yeast and sift along with the flour.
Pour in the water at room temperature, add sugar, and mix.
Cover with a napkin and leave in a warm place for 15-20 minutes.
After the time has elapsed, the dough will be ready: lush, increased in volume.
Gently mix it, add salt and pour in olive oil.
Add the sifted flour in parts.
Knead the soft, flexible dough.
Pour a tablespoon of olive oil into it and continue to knead for 5 minutes. The dough should not stick to your hands.
Put it in a deep bowl and cover it with a napkin. Leave in a warm place for an approach for 25-30 minutes. After that, again knead well and roll into a ball.
Put the workpiece in a greased baking dish, cover with a napkin, and leave for 15 minutes.
Then, if desired, sprinkle with flour and make shallow cuts with a sharp knife. Then send to the oven.
Put whole wheat flour in the oven for 25-35 minutes at a temperature of 200 degrees.
Remove the fragrant, tender bread from the oven, put on a wire rack for cooling.
#2 Homemade bread with whole wheat flour, raisins, cranberries and nuts
All ingredients:
Raisins – 85 g (it is better to use soft golden raisins for the recipe)
Walnuts – 113 g
Whole wheat flour – 500 g
Salt – 2 tsp.
Dry yeast – 1/2 tsp.
Water – 400 ml (cool)
Dried cranberries – 85 g
Guide:
Combine flour, salt, yeast and water in a large bowl. Stir first with a spoon, then with your hands, and knead the sticky dough. Stir in all the flour, then add fruit and nuts at the end.
Cover the bowl with plastic wrap and let it stand at room temperature for at least 8 hours. The dough will rise a little and will bubble, so it is advisable to use larger dishes for proofing.
Put the dough on a surface lightly dusted with flour and form a round loaf out of it. Put in a large oiled form, cover, and let rise at room temperature (about 2 hours).
Use a sharp knife to make incisions on the surface of the bread with cranberries and raisins. Cover again and place in a cold oven. Then turn on the oven at 230 ° C.
Bake homemade bread in the oven for 45–50 minutes, then remove the lid and continue to bake for another 5–15 minutes until it turns dark brown.
#3 Whole Wheat Bread Flour With Seeds And Nuts
Ingredients:
Milk or water 300 ml
Whole wheat flour 4 cups
Dry yeast 3 teaspoons
Honey 2 tablespoons
Walnuts 3 tablespoons
Pumpkin seeds 2 tablespoons
Sunflower seeds 2 tablespoons
Sesame seeds 1 teaspoon
Butter or olive 25 g
Salt 1 teaspoon
Ground nutmeg – 1 pinch
Cooking:
We start with the preparation of the dough: mix all the yeast with milk (warm, but not hot), honey and add a little flour; 15 minutes to wait.
Add a mixture of nuts and seeds (leaving a little mixture to decorate the bread on top; then add the flour very gradually, a slice of butter, salt, and ground nutmeg.
Sprinkle the surface of the table with flour and knead the dough until it becomes elastic and almost ceases to stick to the hands (approximately 7-10 minutes), sprinkle flour on top, and leave to approach in a warm place for 2 hours: the dough should increase in volume 2-3 times.
Form loaves; in this form, move it onto a baking sheet covered with baking paper (bearing in mind that there will again be an increase in volume by 2-3 times) – don't cover with anything; wait again for an increase in size.
Preheat the oven to 180 degrees; slightly cut the loaf from above in several places, grease with milk, sprinkle with seeds, and send it to the oven for 35-45 minutes (be sure to look and depending on the type of oven you may have to turn or change modes).
It should turn out a marvelous fluffy and fragrant bread with a creamy hazelnut flavor and a crispy crust.
Conclusion
If you prefer a healthy diet, then you should have whole wheat flour in your arsenal. Such flour is actively promoted by supporters of a healthy diet and naturopaths, and there is every reason for this since whole wheat contains fiber, vitamins, proteins, unsaturated fatty acids, minerals, and trace elements.
You can consume the whole wheat bread flour without any health risks. The main thing is to observe the measure and then the benefits of eating such bread will be unlimited. I hope you enjoy my family recipes and they will become your favorites!