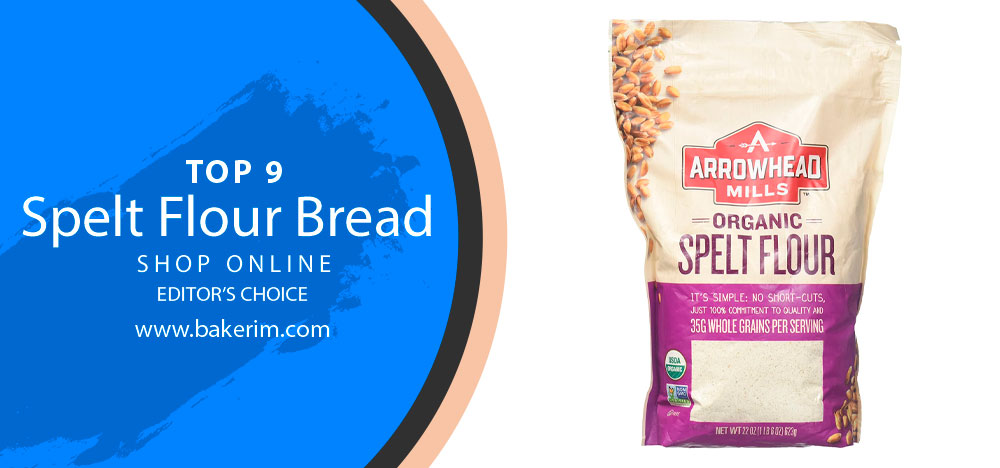 Whole Grain Wheat Spelt Healthy Bread
Spelt is gaining more and more popularity. One of the uses of this cereal in the kitchen is spelled flour, which is an excellent alternative to wheat flour. And this flour is an interesting means of adding variety to traditional bakery products. Learn the properties of spelled flour and some simple bread recipes with such flour.
History
It is the seed of spelt, an annual herbaceous grass. The primary centers of spelt cultivation are Mongolia and China, where it was grown already 5,000 years ago. For centuries, millet has been the basis of nutrition in Asia, North Africa, and Southern Europe, and at the beginning of our era, this heat-loving plant gave way to rice and other cereals. Now millet is cultivated mainly in Central Africa, India and China. Now the main suppliers of spelled are Mali Niger, China, and India.
What is Spelt Flour
Spelt belongs to the whole grain family. Despite being closely related to wheat, spelt has a number of important properties that set it apart from current, modern wheat. It is not for nothing that spelled plays an important role in organic farming and on the diet of people who are nutrition-conscious.

Why is Spelt Flour Popular?
Spelt flour is characterized by a delicate, nutty taste. However, the taste from the wheat flour is hardly different. The flour is preferred for the production of bread, biscuits, and confectionery. The grain matures in the husk, wrapped in a natural protective layer. Flour is very popular in health-conscious nutrition due to the good tolerance of its ingredients.
How to Use? Using spelt flour, you only need to make sure that you knead the dough a little more carefully. When you want to add spelt flour to your baking slowly, you can easily mix wheat and spelled flour in the ratio 1: 1. The transition to spelled one isn't too noticeable, as spelt flour also has a rather mild flavor.
Spelt Flour Nutrition Facts and Health Benefits
The flour ensures that foods with processed flour aren't absorbed in the stomach quite as quickly. Everyone knows the effect when the energy-rich nutrients of food get into the bloodstream too quickly. The blood sugar level rises for a short time. Spelt flour has a more lasting effect, the energy is released in doses over a longer period of time. Spelt flour has enzymes, vitamins, minerals, and trace elements. Flour can rightly be described as healthy. With one exception! Spelt flour isn't recommended for people with celiac disease( gluten intolerance). Spelt isn't gluten-free and shouldn't be consumed in a diagnosed celiac disease.
How is Spelt Flour Different from Traditional Wheat Flour?
Spelt flour is considered a healthier grain than wheat because it contains more proteins, more minerals, and vitamins. However, spelt isn't an alternative to wheat for people with gluten intolerance: the grain has a high proportion of the gluten protein. However, these adhesive proteins are of high quality and particularly suitable for baking. Wheat flour in baking recipes can thus be easily replaced with spelt one.
Spelt grains are treated less frequently with pesticides than wheat grains. Spelt grains are protected by husks, which are removed only during subsequent grain processing. Flour is extracted from whole grains. While wheat flour is extracted only from part of the grain.
However, there is also a disadvantage. Flour is usually more expensive than wheat flour. This is because wheat is more productive. Both growing and peeling wheat is easier and more profitable.
The Benefits And Composition of Spelt
Spelt contains a number of minerals, vitamins, fats, proteins and amino acids necessary for the full development of the body. Amino acids support muscle and skin cells in good shape, vegetable fats contribute to the absorption of carotene and various vitamin complexes. It also contains carbohydrates. They cleanse the body of toxins.
Vitamin group B is the most valuable component of spelled flour. Spelt has a large number of beneficial properties, contains many essential vitamins and minerals. By including this product in your diet, you can strengthen the immune system and take care of the body as a whole. An excellent solution would be to bake bread from flour. Let's learn more about the properties of this flour!
This flour is a real find for lovers of gluten-free baking. It gives the finished product a light sweet-nutty flavor and a loose texture. And most importantly, it gives baking useful properties. Nutrition experts say that flour should be present in the diet of every person who cares about their health. It makes tasty and fragrant bread.
Beneficial Features. Everything that is useful in spelt groats is fully preserved in flour. The unique composition of this product includes:
Carbohydrates and fiber. And fiber, as you know, is the best "cleaner" for our body. It adsorbs and removes all toxins, excess mineral salts and other harmful substances.
Proteins with a high content of important and essential amino acids for our body.
A variety of macro and micronutrients. Of all the minerals, the highest content of silicon and fluorine, which contribute to the strengthening of bones, teeth, nails, and hair. As well as copper, which gives muscle elasticity. Along with this, spelled flour includes magnesium, iron, manganese, copper and other useful minerals.
Vitamins B1, B2, B6, B9.
By the way, another great feature of spelled flour is its ability to prevent the deposition of fats. So, this is also a great option for those who care about the figure but can't deny themselves baking.
I want to share with you some of the best flour producers. They produce a natural and healthy product. When you cook on natural flour, you are always sure about the quality of the product, since you will not find preservatives, flavorings, and substitutes in them.
Top 9 Best Spelt Flour Bread – Editor'S Choice
| Image | Product | Brand | Link |
| --- | --- | --- | --- |
| | Purity Foods VitaSpelt Organic Whole Grain Spelt Flour 25 lb. bag | VitaSpelt | |
| | Organic Spelt Flour, 20 Ounce (Pack of 1) | Bob's Red Mill | |
| | Arrowhead Mills, Organic Spelt Flour, 22 Ounce | Arrowhead Mills | |
| | PureLiving Sprouted Grain Organic Spelt Flour - 24 Ounce Bag | PureLiving | |
| | Homestead Gristmill — Non-GMO, Chemical-Free, All-Natural Whole Spelt Flour (2 Pack) | Homestead Gristmill | |
| | Stone Ground Sprouted Organic Spelt Flour, 5 lb | | |
| | Wheat Montana Spelt Flour, Whole Grain, 2 Pound | Wheat Montana | |
| | StarSun Depot (NOT A CASE) Spelt Flour Whole Grain Stone Ground | StarSun Depot | |
| | To Your Health Sprouted Flour Co, Organic Sprouted Spelt Flour, 1 Pound | To Your Health Sprouted Flour Co. | |
1# VitaSpelt Purity Foods Organic Whole Grain Spelt Flour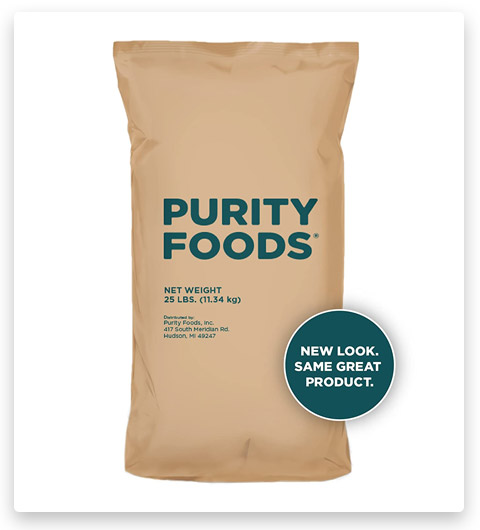 Using this flour, you will get the perfect delicious bread. Flour is made from only one ingredient such as millet groats. It doesn't contain GMO. You will not find preservatives or dyes. Natural and healthy flour. The packaging is easy to open and you can quickly start using the product for baking.
2# Bob's Red Mill Organic Spelt Flour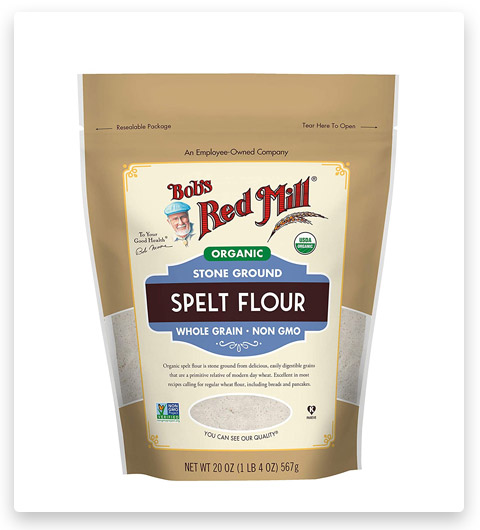 You will get a sweet and unusual flavor of bread! The texture of the bread is much more tender than when using wheat flour. Low gluten content makes this flour healthy. Flour can be used for diet food. The dough from such flour turns into a soft dough without tension and elasticity.
3# Arrowhead Mills Flour Whole Spelt Org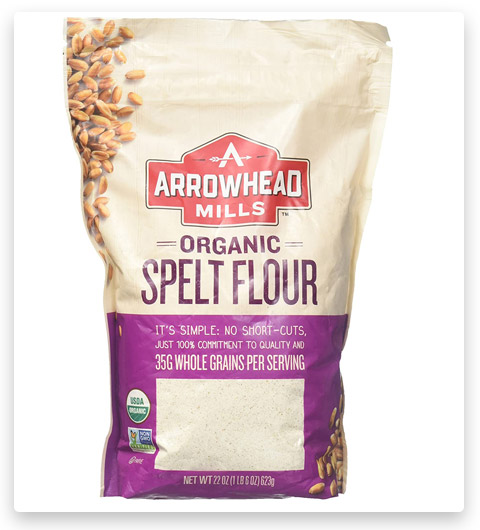 This flour is what you need to bake bread! The dough is tender and easy to work with. The bread is fragrant and fresh. Experiment with different bread recipes and find your perfect one! Packaging allows you to get the product and then you can easily close it.
4# PureLiving Sprouted Grain Organic Spelt Flour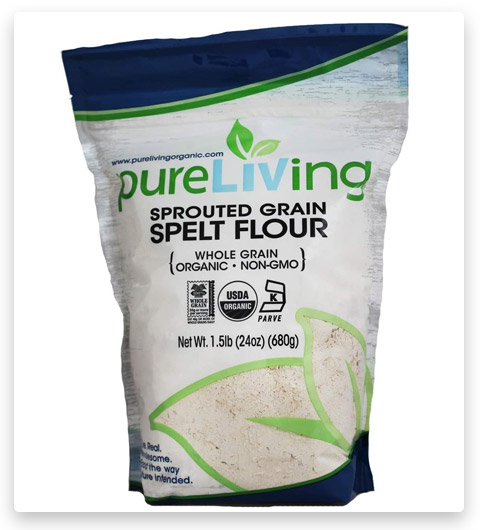 It is worth trying only once and it will become your favorite flour for baking bread or other pastries! Flour has a nutty sweet taste. This flour not only allows you to bake delicious but also healthy bread. It is rich in fiber, protein and various minerals needed by our body. The only drawback of this flour is that it gives less growth, so try using baking powder.
5# Homestead Gristmill Organic Non-GMO Whole Spelt Flour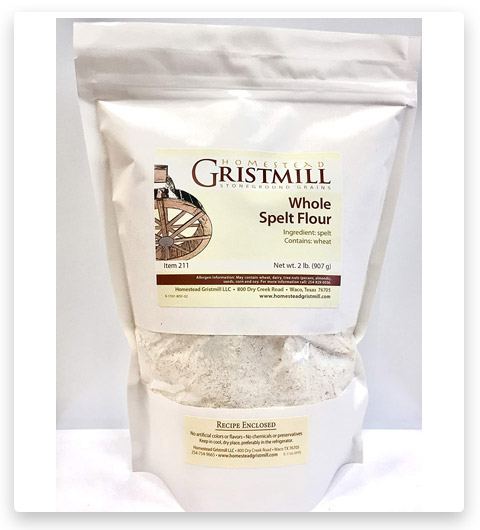 The product comes in a beautiful and practical packaging. Make bread with an unusual taste! Flour doesn't contain GMO and preservatives therefore it is safe for your health. Natural products for your children. You can store the product for up to 8 months in a dry place!
6# Granite Mill Farms Stone Ground Sprouted Organic Spelt Flour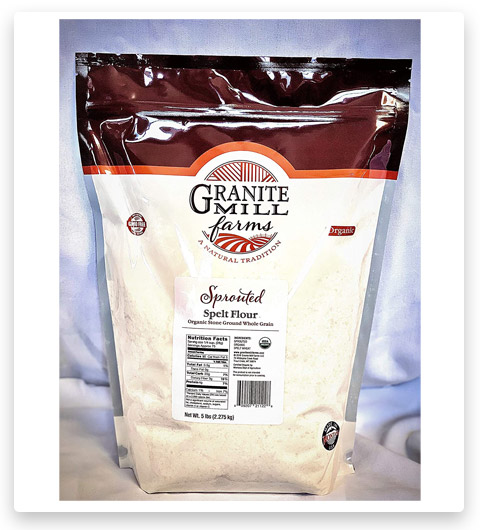 This flour is suitable not only for baking bread but also for other baking. You can cook pancakes, cookies, pies and more. It all depends on your imagination. In any case, you will get tasty and healthy pastries rich in vitamins and minerals.
7# Wheat Montana Spelt Flour Whole Grain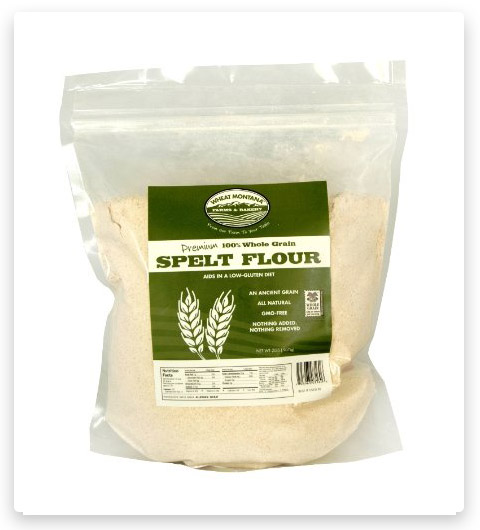 Baking from this flour is suitable for those on a diet. It prevents the deposition of excess fat. Thanks to its high silicon and fluorine content, flour strengthens bones, teeth, hair, and nails, while copper gives muscles and bones elasticity. At the same time, all products from this flour have a pronounced nutty flavor.
8# StarSun Depot Spelt Flour Whole Grain Stone Ground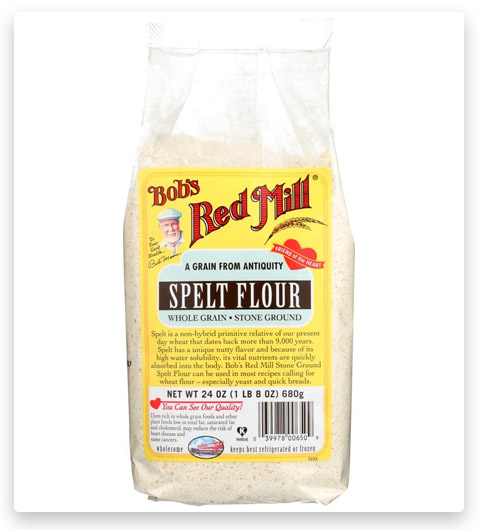 Eat only natural foods! This flour contains nothing superfluous. It is made from millet groats and doesn't contain preservatives or flavorings. The bread is tasty and healthy for you and your children's health.
9# To Your Health Sprouted Flour Co Organic Sprouted Spelt Flour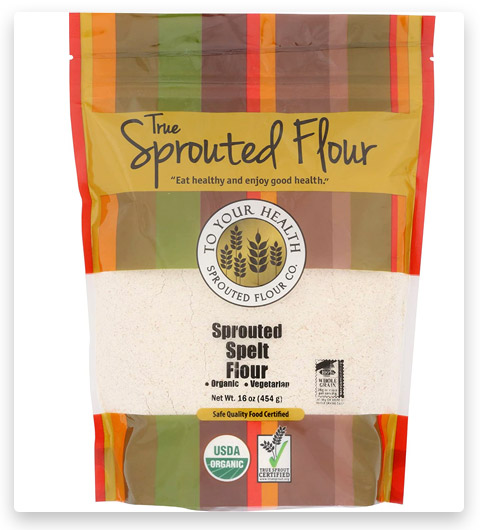 This flour is not heavy for your stomach and is well absorbed. It is the perfect food for your children. It is not peeled or bleached. It contains a large number of nutrients. You will be surprised, but such flour has a more pronounced taste than wheat flour. Cook with pleasure!
Flour bread is a healthy alternative to wheat flour bread. This bread has a soft and airy texture. It is tasty and doesn't stale for a long time and doesn't crumble. And most importantly, it can be consumed on a diet. The main thing is to comply with the norm and not overeat. I have compiled for you my best a spelt flour bread recipes. Let's bake together!
Top 3 Best Very Simple Spelt Flour Bread Recipes
#1 Gluten-Free Spelt Flour Bread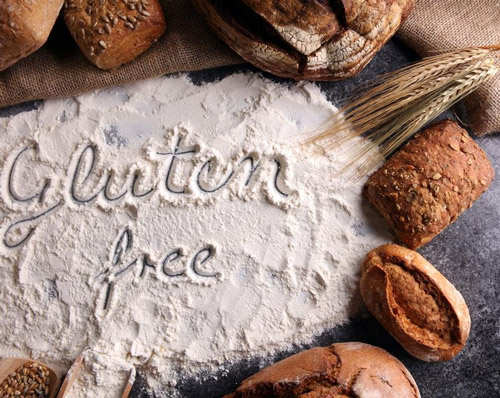 Ingredients:
Flour – 300 g
Quinoa (flour) – 180 g
Butter or coconut oil- 30 g
Zucchini (peeled, rubbed on a fine grater) – 300 g
Coconut Flour – 50 g
Coconut milk (Or any other milk. Can be replaced with water) – 100 ml
Salt (to taste)
Chicken eggs (room temperature) – 3 pcs.
Psyllium (you can bake without it. But using it, the bread crumbles less) – 10 g
Water (Hot water about 50 degrees) – 600 ml
Cooking time: 60 minutes
Steps:
Melt the butter. (Cooking everything in one bowl).
Add the flour, psyllium, mashed zucchini. Mix.
Add coconut milk.
We begin to add hot water, little by little, don't rush. We added half the water, let the dough stand, absorb moisture. The flour will swell. We begin to add the second portion of water. The main thing here is not to overdo it. Don't forget that we have not added eggs yet. The dough should be without eggs like thick semolina. The spoon stands upright in such a test and drops very slowly
Add salt.
Separate the squirrels from the yolks. Put the yolks to the dough. Beat the whites in a very cool foam with a pinch of salt.
Carefully add to the dough. It should look like whipped semolina.
Bake better in small forms. I always put baking paper in the shape.
The oven is preheated to 180 degrees. We put the mold in the oven for 50 minutes. It depends on your oven. We don't check readiness with a dry stick. The bread should be dense, but slightly soft. Leave on for 15 minutes in the oven off (in the form). Then remove from the mold and leave on the wire rack in a closed oven for about 15 minutes. Open the oven and let our bread get cold.
Cut only when it has completely cooled. That's all, nothing complicated. Bon appetit!
#2 Lush Bread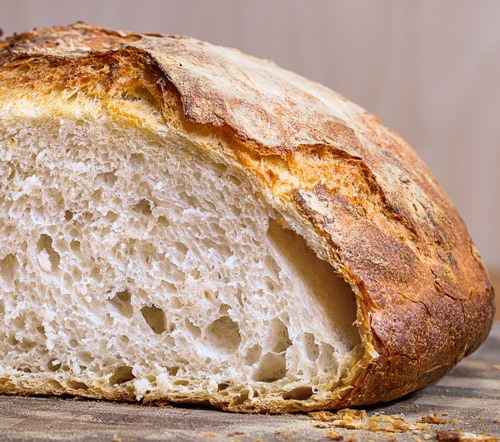 Ingredients:
2 tbsp flour
1 tbsp rice flour
5 tsp soda
5 tsp loose yeast
1-2 tbsp. vegetable milk
Salt
Stevia
2 eggs
5 tbsp warm water
40 g butter
Steps:
Add salt, stevia, rice flour to spelt flour, mix.
In the mixture add 1 tbsp. milk, mix and then add another tablespoon of milk and mix. Make sure that the mixture is liquid, then add water, egg, soda, yeast, soft butter.
Lubricate the form where we will bake the bread, put the dough in the form, cover it with a towel and let it brew for 2-3 hours (I put it overnight).
Preheat the oven to 180 degrees, put the form with the dough in the oven and bake for 1 hour, turn it off, and let cool in the oven for about 1 hour without opening the oven.
#3 Flavored Spelt Flour Bread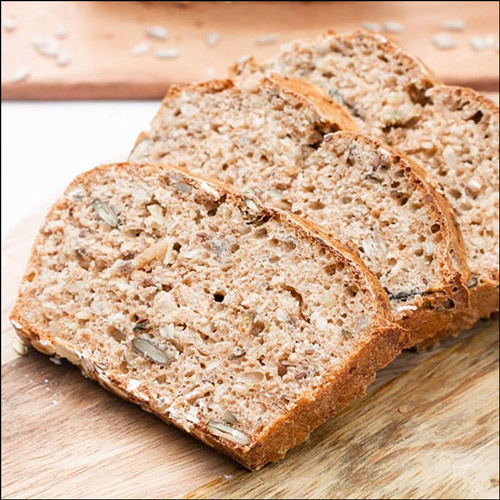 Ingredients:
Warm water – 420 ml
Flour – 4.5 cups
Sea salt – half a teaspoon
Pure maple syrup – 1.5 tablespoons
Fast-acting yeast – 1.5 tablespoons
Sunflower or rapeseed oil – 3 tablespoons
Cooking:
Preheat the oven in advance. Bread will be baked at 200 degrees.
Put the yeast and sea salt in a large cup. Pour in lukewarm water, add maple syrup with sunflower oil and mix with a spoon.
First, add only one glass of flour and mix thoroughly. Now mix in the rest of the flour. Knead the dough. Make a ball out of dough.
Put a ball of dough on a baking sheet covered with parchment. Now give the dough an oblong shape. Cut the top of the dough with a knife diagonally.
Cover the dough with cling film (grease the inside of the cling film with any oil so that it doesn't stick to the dough!). Place a baking sheet in a warm place. The time for raising the dough will be about 40 minutes.
Remove the cling film and place the pan in the oven. Bake until golden brown for about 20 minutes. Cool and cut bread. Bon appetit!
Conclusion
Spelt flour is known not only for its taste but also for its benefits. Flour bread is fragrant, soft and healthy. Your family will appreciate the taste of pastries. Get flour and cook with pleasure!