How to Make the Best Gluten-Free Bread (Vegan) | White & Brown Rice Flour Bread
Without a doubt, one of the most popular and wholesome foods is the rice cereal plant. This annual cereal crop ranks second after wheat and is widely popular throughout our planet. Rice is used to make not only many delicious dishes but also all kinds of healthy products, such as rice flour.
The History and Geography of Rice
Rice has been cultivated for several millennia. It was grown and eaten in the form of grains and flour already seven thousand years ago. This is evidenced by the fragments of dishes with rice leftovers found during excavations.
The birthplace of cereal is Asia. It was in the northern regions of modern Vietnam and Thailand that rice began to be grown as a cultivated plant. Gradually, it spread throughout Asia, rice fields appeared in India, Indochina, China, Malaysia.
Today, rice is associated with the lives of many people. Many are professionally involved in the cultivation of rice and its processing into flour. Others don't imagine their life without the presence of this product on their table and daily eat rice and products made from rice flour.
My article will tell you all about rice flour and I will share a large number of rice flour bread recipes.

Types and Varieties of Rice Flour
According to the manufacturing method, two types of rice flour are distinguished:
White. It is made from polished rice.
Whole grain. It is made from rice grains that are peeled only from the outer shell.
Whole grain flour is much more valuable in its nutritional and beneficial properties. Its difference lies in the fact that the nutrient layer of bran is preserved during grinding. Therefore, the value of the product increases. White flour is obtained from pre-cleaned rice, from which not only the top layer but also the germ has been removed. Therefore, it has a finer structure.
Beneficial Features
The main valuable property of rice flour is the absence of gluten in its composition. Some people absolutely can't tolerate this product, for the rice flour and products from it are real salvation. Also, the diet of young children is also recommended at first to use products that don't include gluten.
Rice flour, especially whole grains, contains many useful substances:
Vitamins of group B
Protein
Starch
Microelements: sodium, magnesium, phosphorus, potassium, zinc
Rice flour is recommended for children's, medical and dietary nutrition because it is a well-digestible product. It is good for people with diseases of the cardiovascular system. It can be used for enterocolitis of a chronic form.
Taste Qualities
Rice in itself has a neutral taste and practically doesn't smell. The same can be said of rice flour. Rice flour made from polished rice is a white powder with almost no taste. Due to this, it doesn't interrupt the taste of other products and is widely used in the food industry.
Brown rice flour made from whole grains is slightly different from white. It has a darker color and a more pronounced nutty flavor. Both types of flour are interchangeable.
How is Rice Flour Made?
The flour is prepared simply. First, the rice is soaked in water. Then it is washed and dried. After that, it is ground and dried to obtain the finished product. During the first stage, rice starch is washed out. This is accepted and allows you to get the highest quality product.
The secret to making flour of higher nutritional value is short fermentation. Rice, which has stood for several hours in the water, already contains more vitamins and amino acids. This is due to the action of the Japanese fungus koji, as a result of fermentation which enriches the food product.
What Can be Cooked With Rice Flour?
Rice flour, like other types of flour, is used for baking. The bread baked on rice flour is crispy and has a granular structure. However, rice flour isn't suitable for making yeast dough due to the lack of gluten in it. Otherwise, it can completely replace wheat.
Rice flour has the ability to absorb moisture. This must be considered when making the dough. To avoid excessive dryness of the finished product, you need to add more liquid and eggs to the dough. In addition, it is recommended to replace about 20-25% of rice flour with wheat flour in order to improve the characteristics of the finished product. Rice flour bread takes longer to bake than rye or wheat bread.
Rice flour is ideal for breading vegetables, meatballs, steaks and other meat and fish products before frying. Its difference is that it doesn't crumble, as it has adhesive properties.
The use of rice flour in the industrial manufacture of food products is very common. It is added to canned food, instant cereals, including for children. It is absolutely safe and hypoallergenic, unlike other additives that can be canned.
The most common rice flour in Asia. All kinds of pastries are prepared from it: bread, muffins, sweets and even pancakes. A popular dish in Asian countries is rice noodles. In addition, it is used as a seasoning for salads and other dishes.
Is Rice Flour Bitter?
Any of different grains, nuts or seeds can sin this. And rice is no exception.
This happens due to oxidative processes occurring in the flour. There is not a pleasant rancid taste and smell.
The reasons why such situations are possible:
Low quality of feedstock
Storage rules violated
The expiration date has passed
If you find bitterness only during cooking, you need to part with such flour. All substances will have a destructive effect on your liver.
Does Rice Flour Rise With Yeast?
You can't make yeast bread with rice flour. It doesn't contain gluten which helps the test rise. I suggest you take a look at 5 varieties of rice flour that can be your favorites in your kitchen. Use flour to make fragrant and tasty bread!
TOP 5 Rice Flour Bread – Editor's Picks
1# Naturevibe Botanicals Brown Rice Flour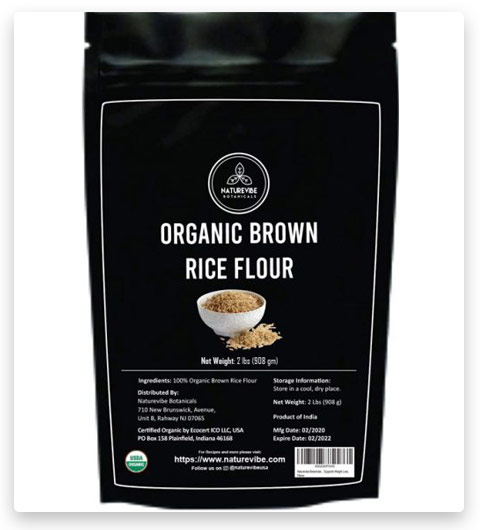 Your pastries will be even tastier with this brown rice flour! It doesn't contain gluten, nuts, soy, and dairy products. You can cook fragrant bread, pancakes, cookies and more. It is delivered in a fashionable package of black color, which is easy to close and open.
2# Anthony's Brown Rice Flour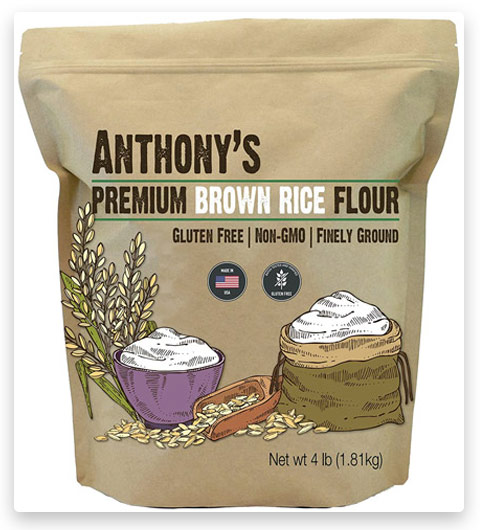 Such flour can be used by everyone who wants to get tasty and fragrant pastries. It is also suitable for vegans as it doesn't contain dairy products. The flour is made from brown rice. I wrote about its benefits at the beginning of the article. You can be sure that the flour doesn't contain GMO and gluten. Packaging allows you not to mess in the kitchen or in the bakery!
3# Authentic Foods Superfine White Rice Flour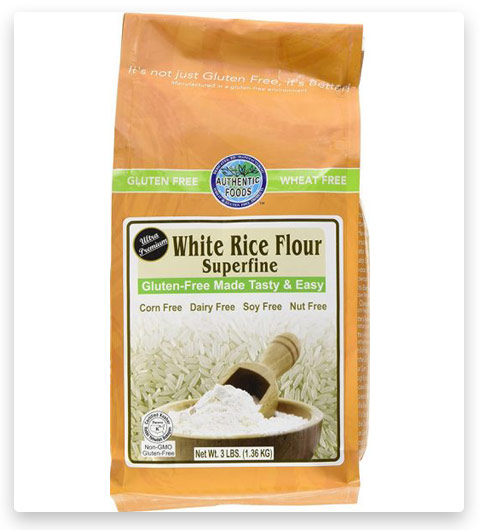 White rice flour for all your usual baking, but much more useful. It is less grainy and better reveals the taste of other ingredients in the recipe. Gluten-free flour is suitable for people who are forbidden to use gluten.
4# Arrowhead Mills Organic Gluten-Free Brown Rice Flour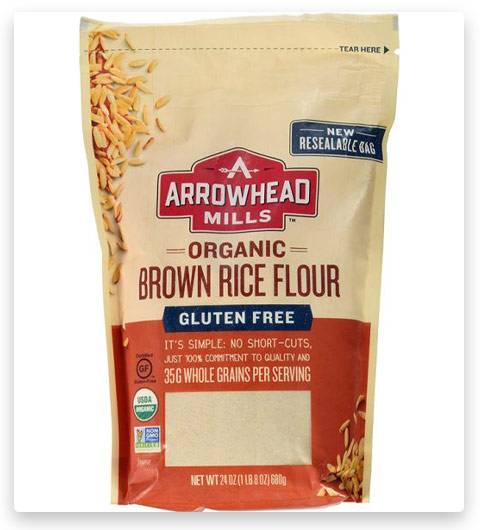 Ideal for all rice flour bread recipes. Also suitable for cooking your other favorite pastries. The flour is healthy and made from brown rice. It is neutral in taste and therefore doesn't interfere with the taste of other products.
5# McCabe Organic Sweet Rice Flour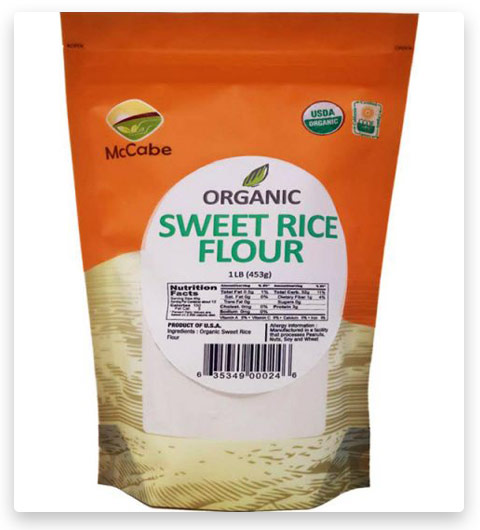 You will love this product and will use it for every baking you make! Gluten-free organic rice flour is what you need to bake bread. Bright and convenient packaging will make it easy to get to the flour!
Rice Flour Bread Recipes
Rice Flour Bread
Rice bread is loved by most people who monitor their diet and who exclude gluten. It is made from rice flour. The bread is porous and not wet. And very tasty. Make sure with my rice flour bread recipes!
#1 Rice Flour Bread

Ingredients:
Water – 140 ml
Milk  – 200 ml
Butter – 30 g
Salt – 1.5 teaspoon
Sugar – 3 teaspoon
Wheat flour / Flour – 300 g
Semolina – 80 g
Rice flour – 150 g
Yeast (dry) – 1.8 teaspoon
Process:
Butter must be melted. Weigh flour and semolina. Sift the flour. Load the ingredients into the bread machine. Or mix the ingredients in a bowl and pour it into a mold and load in the oven. I add first liquid, then loose ingredients. I have yeast on top of the flour. Install the program "Dough", it takes me 1.5 hours. And let's start!!!
Don't forget to adjust the bun!  Correct it with wheat flour. This wonderful bread can be prepared completely in a bread machine on the main program, size 900 g, light or medium crust. After 1.5 hours, we get a bucket from a bread slicer. The dough rose well and is very pleasant to the touch. Transfer the dough into a greased baking dish.
Leave for 20-30 minutes to raise the dough. And put it in the oven. I baked for 20 minutes at 180 degrees. But, you see for yourself, all ovens are different. And now our magnificent bread is ready! What flavor !!! We take out our bread from the mold. We leave it on the grill, covering it with a towel until it cools completely.
#2 Rice Flour Bread for the Bread Machine

Ingredients:
3 medium eggs
half a glass of warm water
3 tablespoons of vegetable oil
2 teaspoons of yeast (active)
3 tablespoons of white sugar
half a teaspoon xanthan gum
half a teaspoon of salt
1 teaspoon apple cider vinegar
half a glass of ship milk
 white rice flour (take 1/4 cup approximately)
Process:
First mix water, oil, eggs and vinegar and add to the bread machine. Then mix milk, sugar, yeast, sugar, flour, xanthan gum and salt. Mix all this well and add it to the bread maker. If you have the opportunity, adjust the medium crust and the loaf will come out weighing 2 pounds. Whole wheat setting. After completion, the bread should cool. Give 10-15 minutes. And then completely get it out and let it cool.
#3 Rice Flour Bread With Thyme

Ingredients:
Rice flour – 450 g
Water (warm) – 270 ml
Dry yeast – 5 g
Salt – 1 tsp
Sugar – 1 tsp
Chicken Egg – 1 pc.
Vegetable oil – 2 tbsp.
Thyme (fresh) – to taste
Sweet paprika (ground) – to taste
Cooking:
I knead the dough in a bread machine and bake the bread in the oven with small loaves and a small flat cake. But you can bake one loaf, increasing the baking time.
Prepare the ingredients
Prepare thyme: pick the leaves from the stem and chop them a little with a knife. The stems themselves will not be needed. We will load all the products in the bowl of the bread maker, except for paprika and thyme, following the instructions of the device. In my model, liquid components are first loaded: water, vegetable oil, an egg, then salt and sugar, flour and dry yeast. We turn on the program for mixing yeast dough.
This process will take 1 hour 30 minutes. After about 10 minutes, the bread machine will give a signal, which means that you can add additives to the dough. At this moment we will add paprika and thyme. Forming the dough from rice flour will be easier if your hands are greased with vegetable oil. We layout the dough in forms, filling them in 2/3 of the volume. We cover and leave in a warm place for 20-30 minutes, and for now, turn on the oven to warm to a temperature of 200-205 degrees.
Bake rice bread in a preheated oven until cooked. Small loaves were baked for 22 minutes, for the tortilla it took about 27 minutes. The finished bread will become a soft golden color, small cracks will appear, and it will increase a little more in volume. Let the bread lie in the molds for 5-10 minutes, then completely cool it on the wire rack. Cut bread from rice flour with a carefully and preferably serrated knife to bread, so the bread will not crumble much.
#4 Airy Rice Flour Bread

Ingredients:
200g wheat flour
100g rice flour
2 tsp dry quick-acting yeast
2 eggs
1 tsp salt
2 tsp sugar
1/3 cup milk
poppy seeds or sesame seed
Cooking method:
Dilute in 125 ml. warm water, yeast, and sugar. Then add 2 teaspoons of the flour and put it in the heat (I put the dough and rise in the oven at 40 degrees). Mix flour and rice and wheat with salt, add milk, 1 egg, salt, and dough and knead the dough. We put on proofing in the heat, to increase in volume by 2 times.
Divide the dough into three parts, roll them with flagella and weave a braid, connect the ends and put them on a baking sheet covered with parchment. Once again, put them on the props, then grease the surface with an egg and sprinkle with sesame or poppy seeds. We bake our bread at 180-190 degrees 40 minutes.
#5 Simple Bread Recipe
Ingredients:
Rice flour 70 grams
Wheat flour 350 grams
Water 325 ml
Salt half a teaspoon
Sugar 1 teaspoon
Dry yeast 3 grams
Sunflower oil 1 tablespoon
Steps:
The recipe for making bread on rice flour includes ingredients such as wheat and rice flour, boiled warm water, salt, sugar, sunflower oil, dry yeast (can be replaced with fresh – 10 grams or high-speed – 3 grams).
First, prepare the tea leaves. Boil 210 ml of water and pour rice flour with boiling water. Mix everything thoroughly and leave to cool completely.
If you use dry or pressed yeast (like me), you must first activate it. To do this, take 115 ml of warm boiled water, dissolve sugar and yeast in it. Leave the yeast warm for 15-20 minutes. If you have dry active yeast (high-speed), skip this step and add them directly to the wheat flour.
A characteristic cap of bubbles should appear on the yeast. This means we have a quality product.
Sift the wheat flour into a suitable bowl, pour in the yeast water and add the cooled rice infusion.
Knead the dough so that almost all the flour is moistened. Now add the butter and continue kneading until the dough becomes smooth and uniform. This can take you about 10-15 minutes.
We roll up a bun and roll a bowl with a towel and leave it warm for 40 minutes. Then we crush the dough and again let it distance for another 40 minutes.
The dough should increase about twice. It is fluffy and smooth.
Now we take a baking sheet, cover it with good parchment paper (if you are not sure of its quality, it is better to grease the paper with a little and sprinkle with flour) and transfer the blanks. I decided to make two loaves, roll them in flour, but you can mold the bread round or bake it in the form. We give blanks to relax in a warm place for 30 minutes
Then you can make a notch. I use a sharp blade.
We bake bread on rice flour at 220 degrees 10 minutes with steam and then bring to readiness without a bath for another 25 minutes at 180 degrees.
We cool the finished homemade bread on a wire rack and you can eat.
Conclusion:
Rice flour is one of the available ingredients that you can eat on a diet or when you can't eat gluten. Bread and other pastries are aromatic, tasty and healthy. It is well acquired in children. Make healthy pastries for your family! This is easy to do with recipes from the article, and also use the brands of flour that I advised you.