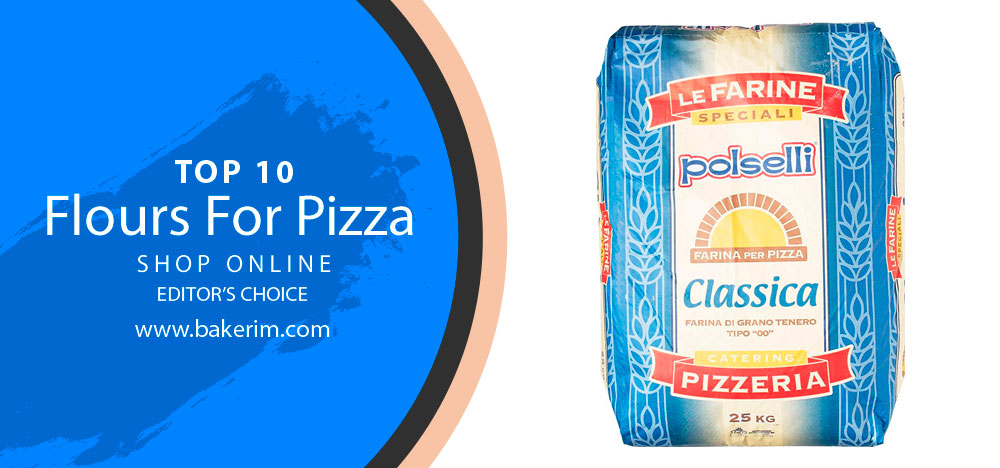 What Flour Do You Need For Making Pizza | Food Taste Guide
To choose pizza flour, you first need to understand what kind of pizza you will cook. In the modern world, there are dozens of different versions of pizza. The choice of flour may not seem like such a significant action, but it is the flour that determines what your pizza will be and whether it will turn out at all.

Types of Pizza
There is the famous Neopolitan pizza, which is served on a very thin crust. The main role in this pizza is played by sauce, cheese, and toppings. It means that the dough is almost inaudible. The dough is rolled into a parchment-transparent flap, on which all the ingredients are laid out.
There is the exact opposite of this kind of pizza – Chicago pizza. Chicago pizza differs from all others in that it is very thick. This is all done on a lush yeast dough, on which the ingredients are laid out.
And no matter how many ingredients we put, the dough will still be felt incredibly tasty, sweet, and crunchy. Chicago pizza was invented in the USA in the middle of the last century, so it is the youngest and most creative in terms of manufacturing.

What Is The Best Flour To Use For Pizza Dough?
High-quality flour should be slightly sweet, without third-party impurities and odors. The biggest problem with this product is that it fades during storage and can even become a little moldy. Flour shouldn't have third-party odors and should taste slightly sweetish. And, of course, the quality of flour determines its friability. It means that the flour shouldn't have lumps, it should be uniform and easily crumble.
Best Flour For Making Pizza Dough
Flour for making bread or pizza is calibrated in different categories: 2, 1, 0, and 00. Each of these categories differs primarily in grinding and the quality of the flour itself.
The coarsest, hardest flour is 2, and the airiest, lightest as snow is 00. If we choose a lusher Chicago pizza, lush bread, or biscuit, then we need to choose flour 00. Pizza will turn out to be as airy as possible.
Many chefs and pizza makers mix different types of flour in order to get the best possible result. The fact is that even in large grindings there is a peculiarity: they are more taste-forming and they contain more gluten, which gives the dough and the dish a more elastic character. With such flour, pizza will not be crispy but will be softer and more viscous.

The smaller the grinding of flour, the crumblier, airy and soft the dough will be. If we use large grindings (such as 2 or 1), it is better to use them in a certain proportion with flour 00 or 0. Because otherwise the dough will turn out slightly dark and will have a huge amount of gluten, which can ruin the taste of our dish.
Gluten content
Your pizza will be perfect thanks to gluten. Gluten is a group of proteins that make up cereals. Gluten proteins are able to trap carbon dioxide. Gluten makes the dough porous, which in combination with yeast gives a characteristic airiness of the product. Soft flour contains less gluten than hard flour. In white flour, you will find the ratio of soft to hard flour. This suggests that the gluten content in such flour is moderate. If you want to bake a fairly flexible pizza dough, then choose hard flour. If you don't like chewing pizza, then you should choose soft flour.
Flour Is The Best For Making Pizza
Now I will tell you about flours for the best pizza dough recipes. The products that I chose give excellent results and are of high quality. You will be surprised how well pizza flour can work!
1# Antico Molino Napoli Antimo Caputo Chef's Flour For Pizza Dough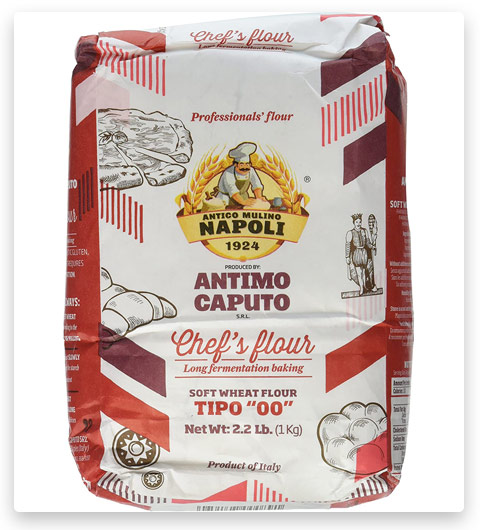 This 100% of wheat flour is great for making pizza dough at home! It is made in Italy from the best ingredients! It is natural and doesn't contain preservatives. You will get elastic dough due to its high gluten content. The dough is soft and airy. This flour is the perfect solution to treat yourself to a delicious pizza!
2# Simple Mills Almond Flour Mix Pizza Dough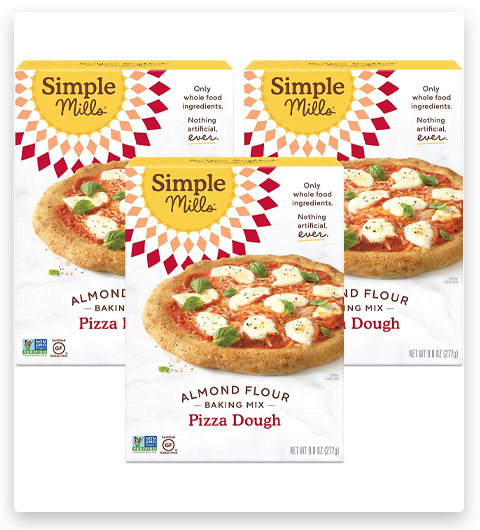 This flour is not like the others and is an excellent ingredient for making dough for any pizza. Its main ingredient is almonds. The pizza mix also contains arrowroot, linseed flour, cauliflower, baking soda, organic oregano, tartar cream, organic garlic.
This is a godsend for those who shouldn't eat gluten. This product is gluten-free so you can also enjoy delicious pizza without any health problems! Also, flour doesn't contain cereals, soybeans, corn, dairy products, and emulsifiers. Experiment in the kitchen and share your results!
3# Antimo Caputo Pizzeria Flour 55 LB Blue Bulk Bag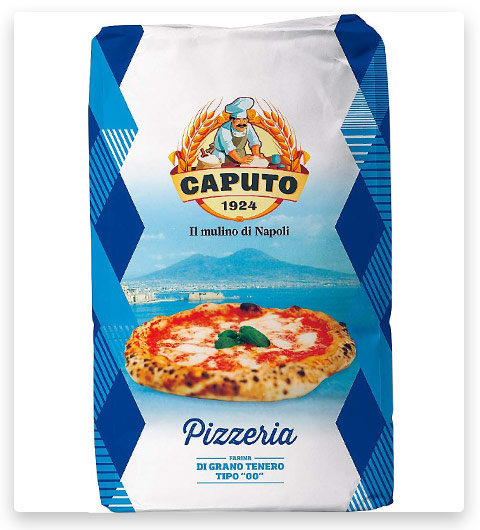 Flour from Italy is suitable for any kind of pizza. The dough is homogeneous and elastic. Flour contains 12.5% gluten. It is made from 100% wheat and doesn't contain preservatives, substitutes or flavors. The crust is soft and tasty.
4# Molino Dalla Giovanna Pizza Flour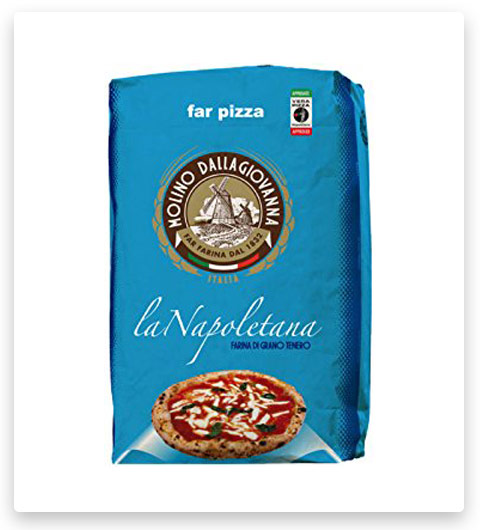 This flour creates the perfect texture for your dough! It turns out to be soft and tender. The crust may be different depending on your preference. But in any case, it turns out crispy and fragrant! Make pizza at home in the best Italian traditions!
5# Polselli All Purpose & All Natural Flour for Pizza
Ground flour in Italy! Italians like anybody knows the secret of great pizza dough. It is wheat flour that makes the dough soft and supple. It is made from natural products and doesn't contain GMO.
6# King Arthur Flour Sir Lancelot Hi-Gluten Flour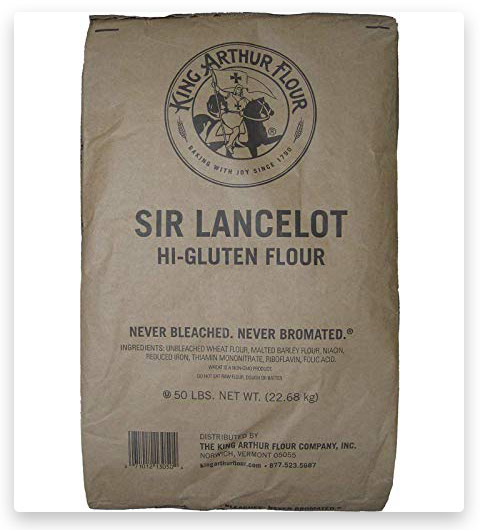 Your dough will be airy due to its high gluten content. This flour contains 14.2% protein. It is made of hard red spring wheat. The crust will turn out like in real Italian pizza! A paper bag provides convenient and safe storage of flour!
7# Molino Dalla Giovanna R Green Pizza W340 Pizza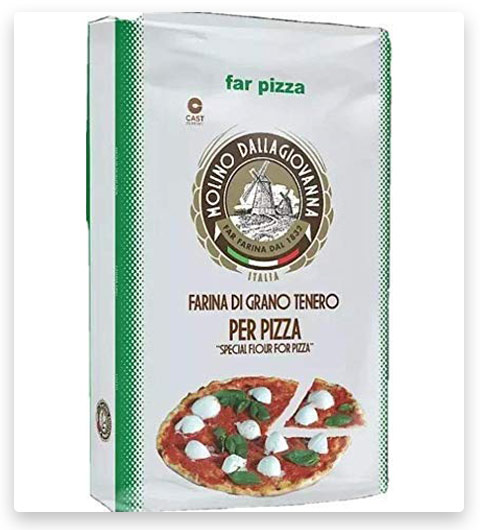 Your dough will turn out tender, and the crust is crispy! Wheat flour is created for the perfect texture of your dough. Pizza looks like in the best pizzerias in Italy. The flour is finely ground and made from high-quality ingredients!
8# ChefShop Caputo Pizza Flour – Italy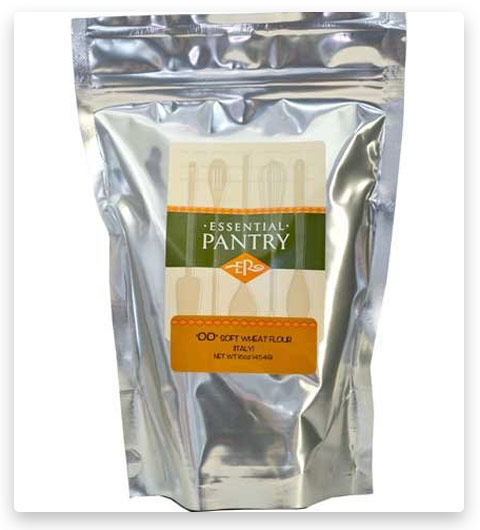 Wheat flour makes your dough soft! The pizza will turn out delicious, aromatic, and will have a wonderful texture. The flour is completely natural. The manufacturer doesn't use dyes, substitutes, preservatives. Therefore, the product is safe for your health. Flour is delivered from Italy.
9# Antimo Caputo Gluten-Free Pizza Flour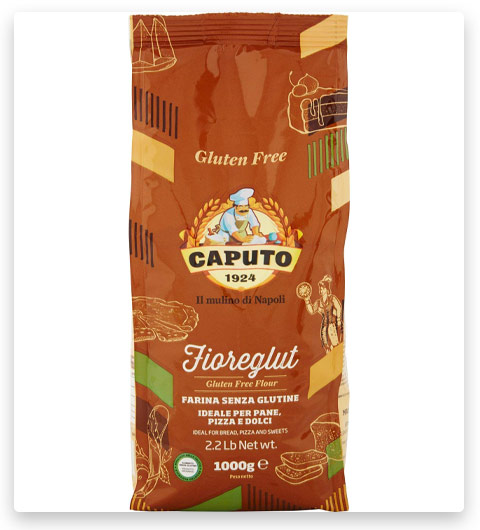 The popular Antimo Caputo brand has taken care of those who shouldn't use gluten or who want to stop using it. Flour is made from natural ingredients such as rice flour, soy flour, potato starch, rice starch, thickener, and sugar, as well as dietary fiber. You will appreciate the crust of your pizza. Thanks to this flour, it turns out crispy. Flour is easy to use, therefore ideal for those who have never baked pizza at home!
10# Antimo Caputo Chefs Flour 2.2 LB (Pack of 2)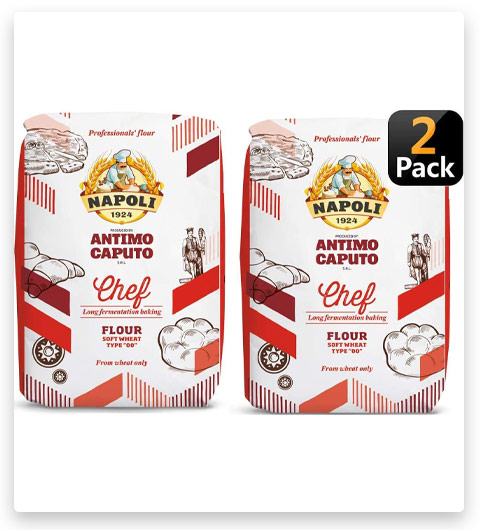 Great flour for pizza! You will immediately receive two packets of 100% wheat flour at 2.2 pounds. The flour is natural and made in Italy. If you want to cook aromatic and airy pizza at home, then this is what you need! Gluten will lift your dough and make it elastic! The product contains no additives. You will get great homemade pizza!
Best Pizza Dough Recipe
Making pizza at home with the right flour is easy! You can use my favorite recipes.
#1 Homemade Pizza Crust For Beginners
Ingredients
Dough: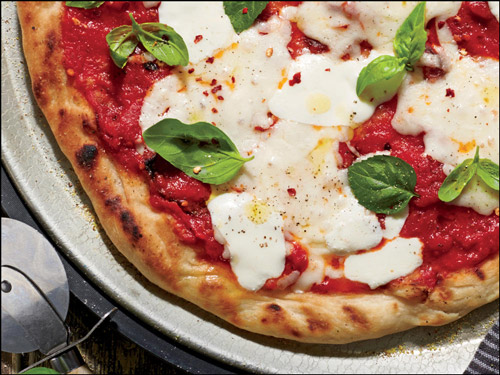 2 cups (280 g) pizza flour
1/2 tablespoon (5 g) dry yeast
1/2 tablespoon (10 g) salt
1/2 tablespoon (6 g) sugar
2 tablespoons (30 ml) of olive oil
2/3 cup (160 ml) of warm water
Sauce:
2 tablespoons (30 ml) of olive oil
1 minced garlic clove
2 tomatoes. Dice them into small cubes
1/2 tablespoon dried oregano
Salt and pepper
1 tablespoon with a slice of tomato paste
Topping (optional):
Grated mozzarella cheese, fresh mozzarella balls, basil, chopped mushrooms, spinach, olives, corn, onion rings, strips of zucchini or sweet potato.
Cooking method:
Dough: Mix all ingredients except water in a mixer bowl at low speed for a minute. Add all the water at once and mix until a dough ball is obtained. Knead an additional 5 minutes at medium speed.
Cover the bowl with cling film, cover with a towel (yeast loves the dark), and let rise for about an hour and a half until the volume doubles.
Sauce: heat olive oil with garlic, add tomatoes, spices, and tomato paste and cook for 15 minutes until the sauce thickens.
Heat the oven to 240 degrees (recommended upper and lower heating program). Cover the pan with baking paper.
Take the pizza. Divide the dough in half and roll to the desired thickness. Distribute the sauce, sprinkle with cheese, and lay out the filling. Bake for 12-15 minutes until the edges are fried and the cheese begins to bubble.
#2 Italian pizza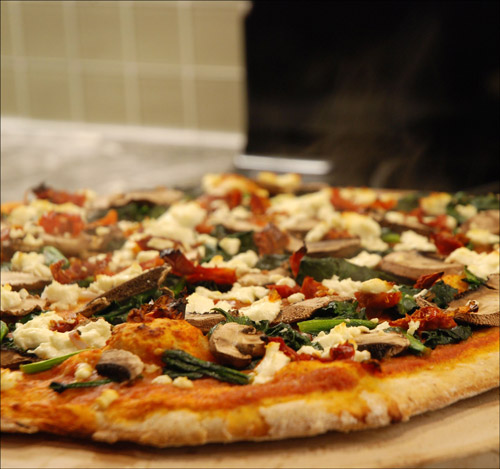 Ingredients
Dough:
Fresh yeast – 20 g or active dry yeast 4 g
Water – 1 cup (250 ml)
Vegetable oil – 1 tbsp. the spoon
Flour for pizza – 2 cups (300-320 g)
Filling:
You can use whatever you want: cheese, ham, mushrooms and so on. For juiciness, you can use tomatoes.
Sauce:
As a recipe for the sauce, you can use it from the previous recipe or just grease it with ketchup.
How to make simple pizza dough:
In one glass of warm water, dilute 20 g of yeast (or 1/3 sachet of dry active yeast), they should stand for 10 minutes.
Add 1 tbsp. of vegetable oil and pour it all in 2 tbsp. flour. Knead the dough.
The dough is quite soft. Cover the dough with a towel.
The dough will rise in about half an hour. It will increase in volume by approximately two times. When the dough rises, turn on the oven.
Add the filling and sauce.
Put the pizza in a preheated oven (180-200 degrees) for 20-25 minutes. Bon Appetit!
#3 The Best Pizza Dough Recipe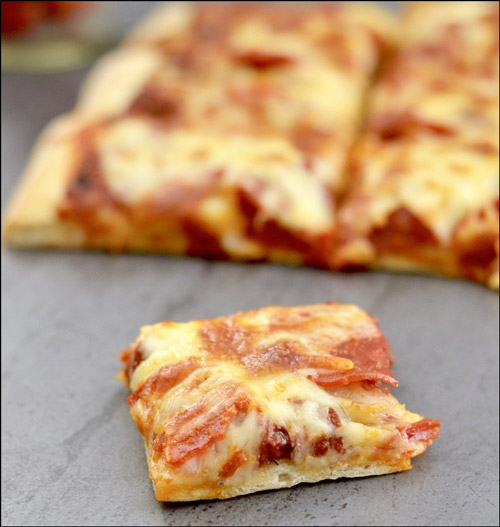 For 2 pizzas:
1 kg pizza flour
500 ml of boiled water
10 g yeast
50 ml of olive oil
27 g salt
1 tsp sugar
Steps:
Pour water into a large bowl (optimum temperature 25-30˚С), add yeast and sugar. This helps the yeast begin to work and mix. Pour three-quarters of the whole flour, mix so that the flour absorbs water.
Knead the dough. And only now we add salt, not earlier: salt shouldn't directly contact the yeast, it is not friendly with them and prevents their reproduction. Add olive oil and start kneading the dough, adding the remaining flour. Depending on which flour you take, you may need more or less. Feel your dough! It should be uniform and not stick to your hands.
Knead the dough for 5-7 minutes, fold several times in the process so the gluten will develop better, and our pizza base will be porous, airy.
We make two "buns" from the dough, put each in a bowl, and cover with a film. If we want to cook pizza on the same day, then we put the bowl in a warm place, you can just leave it at room temperature. When the dough rises and doubles in volume, it is ready.
Grease a baking sheet with olive oil. We put one part of the dough on it in the center and begin to knead it with our hands, stretching it all over the baking sheet. We work delicately, carefully, without putting too much pressure. I don't use a rolling pin in pizza and the texture of the baked dough is only better from this. When the dough is slightly stretched, let it rest for 5-10 minutes. Then we stretch to the end, to the edges of the pan. The dough should be from 0.5 to 1 cm thick. Homemade pizza is not at all thin.
If we are not in a hurry, close the baking sheet with a film or a towel and let the dough stand for another 40-50 minutes.
In the restaurant, the correct pizza is baked in a wood oven, the temperature in which can rise to 480 ° C. At home, we bake pizza at a temperature of 230–250 ˚С. Preheat the oven: it should be hot when we put the pizza in it. Cooking time depends on your oven, approximately 10-15 minutes. As soon as the pizza rim is well browned – it is ready. At the end of cooking, you can turn on the top heat.

Conclusion
Flour is the most important ingredient in baked perfect pizza. In this article, we also examined different manufacturers of pizza flour. You can use them all for your pizza! As a result, you get crispy, flavorful and delicious pizza! Cook according to my recipes and share your impressions.