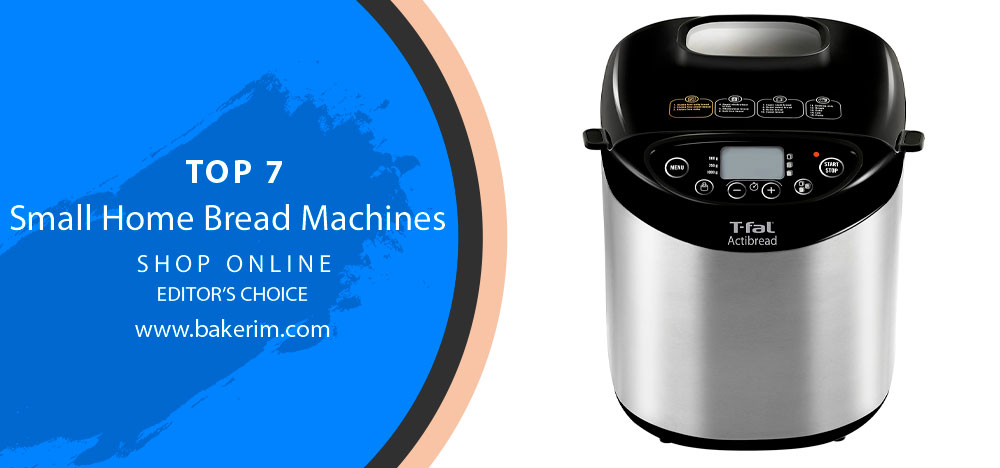 Best Small Home Bread Machines Reviews
Being a distant employee, I prefer not to buy products that I can easily make at home. And, bread at the stores is not only overpriced but also contains sets of ingredients I can't even identify.
| Image | Product | Brand | Link |
| --- | --- | --- | --- |
| | Hamilton Beach Bread Maker Machine 2 Lb Capacity Digital, Programmable, 12 Settings + Gluten Free, Dishwasher Safe Pan + 2 Kneading Paddles, Black (29882) | Hamilton Beach | |
| | Zojirushi BB-HAC10 Home Bakery 1-Pound-Loaf Programmable Mini Breadmaker | Zojirushi | |
| | Sunbeam Programmable Bread Maker, White | Sunbeam | |
| | SKG Automatic Bread Machine with Recipes Multifunctional Loaf Maker for Beginner Friendly - 1LB | SKG | |
| | T-fal Bread Machine, 14.02 x 12.52 x 16.06 inches, Stainless steel | T-fal | |
| | Cuisinart Bread Maker, Up To 2lb Loaf, New Compact Automatic | Cuisinart | |
| | KBS Pro Stainless Steel Bread Machine, 2LB 17-in-1 Programmable XL Bread Maker with Fruit Nut Dispenser, Nonstick Ceramic Pan& Digital Touch Panel, 3 Loaf Sizes 3 Crust Colors, Reserve& Keep Warm Set | KBS | |
I used to bake homemade bread in the oven, but then I started the exciting challenge of making healthy appetizing loaves in my bread machine. And this wonderful journey is lasting for years…
What are the advantages of bread makers for home use?
With the modern bread machines, you just spend 5-10 minutes to load the ingredients, then press a few buttons, and wait a couple of hours until your bread is ready.
Most bread machines come with various custom recipes, but you are always free to modify them according to your taste.
Plenty of models are equipped with automatic dispensers for yeast, spices, nuts, and fruits.
Most of the bread makers have pre-programmed settings along with various crust shades modes.
Some models allow you baking wholegrain, sourdough, or gluten-free bread for more healthy nutrition. They also make pizza dough, jam, cakes, or even rice wine.
Quick baking ensures getting a baked loaf within an hour or less.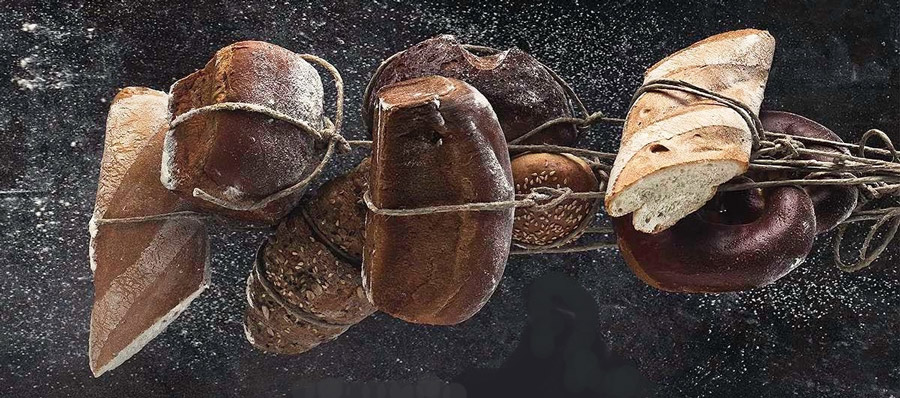 How do I Choose a Bread Maker?
Weight and Size. It's likely that you'll want your bread maker fits your kitchen and working surface and easy to access.  The weight is important as well. If you need to move it from time to time, look for a lighter model.
Kneading Paddle. All bread machines have a kneading paddle to mix the dough. Normally it stays in the bread while baking and making holes in the loaf. If you don't like holes in your bread, you'd better pick a bread maker with a collapsible paddle.
Viewing Window and Control Panel. If you want to control the baking process, go for a bread machine with a viewing window. Besides, some bread makers make a beep when the bread is ready, or when it's time to add ingredients. Control panels may vary, and it's worth looking for an easy one to program and understand.
Bread Baking Time and Rapid Bake. Bread makers usually have the standard baking time depending on the type of loaves. If you normally don't have much time, it's a good idea to look for a quick-bake setting that allows getting a ready loaf within an hour or even less.
Bread Maker Baking Settings. Most bread machines come with various options for changing the size and shape of the loaf, the sort of flour you use, and the shade and thickness of the crust.  Delay time setting is also a good option. Some bread makers also come with a setting for making rye, gluten-free or wheat-free bread, dough, cakes, pasta, or jam.
Noise. Please note that the mixing process can be rather noisy. Some bread machines can also make sufficient vibration while working. So keep it in mind when looking for an ideal model.
Do you really need a bread maker?
You can definitely say yes if you are interested in getting home-baked fresh bread any time you crave it and prefer controlling the process and quality of the product.
We went through hundreds of comments and ratings from customers and experts as we searched for the best bread makers.
The items we included in this guide can make various loaf types, require minimal effort in use, and are high at reliability and performance.
Top 7 of Best Small Home Bread Makers
1# Hamilton Beach 29882 Programmable Dishwasher Digital Bread Maker Gluten-Free Dishwasher Safe Pan Kneading Paddles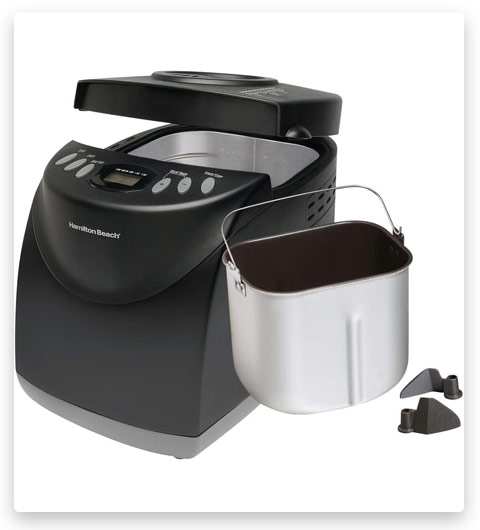 This compact baking machine makes its best as promised by the producers and even more. Both express-baked and full-term loaves are ideal for your breakfast or dinner. You can use recommended recipes or experiment using additional ingredients, the result will turn perfect anyway.
For those who need a quiet machine, you'll definitely be satisfied. For those who want quick, easy, and convenient bread maker you will also be happy. This machine lives up to the expectations and promises of the manufacturer. A great choice.
2# Zojirushi BB-HAC10-1 Pound Loaf Programmable Breadmaker Home Bakery Mini Breadmaker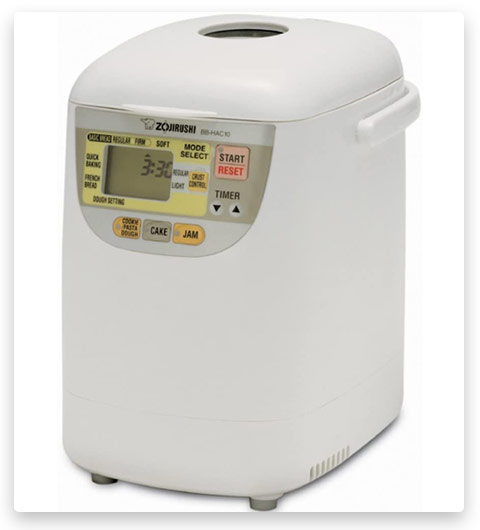 Small bread machine that produces a 1-pound loaf of bread, excellent for couples or singles and tiny families. It has only one kneading paddle and a removable pan. This bread maker stands vertically tall and takes a limited counter space. It has simple settings and is straightforward to use.
You can bake regular, firm, or soft bread; various types of crust.  This machine produces dough, rolls, and croissants too. A simple yet effective machine to uses. Well-built, with a beautiful, compact design. Good option!
3# Sunbeam Programmable Bread Maker 005891-000-000
This small programmable bread maker comes with a user-friendly design and 12 cooking functions. It makes a wide variety of bread, dough, cakes, and rolls. An express-bake cycle bakes appetizing loaves within just one hour.
The wide LCD display allows you to easily navigate the settings and control the whole process. The large window lets you take a glance at the baking cycle. The programmable timer can delay the cooking time by up to 13 hours.
Just load the ingredients, set the program, and wait for a while. Mmm, do you smell the aroma of a freshly baked loaf?
4# SKG 3920 Automatic Home Bread Machine with Recipes Multifunctional Loaf Maker for Beginner Friendly
With this compact easy to use bread maker, you can enjoy the pleasure of healthy homemade bread without any efforts. Just follow pick up the recipe, click a few buttons, and let the bread machine take care of the rest. Very quiet and easy to use. Good choice for first-time bread machine users.
It comes with 19 programs and can make any type of bread, including white, whole wheat, gluten-free, multigrain, rye, and French bread.
A delay timer allows you to program the machine to prepare the bread at a certain time. What a pleasure to wake up in the morning and smell the aroma of the fresh loaf. And 1-Hour automatic "keep warm" mode will keep it fresh bread anytime.
5# T-Fal ActiBread Machine Display Gluten 7211001527, Stainless steel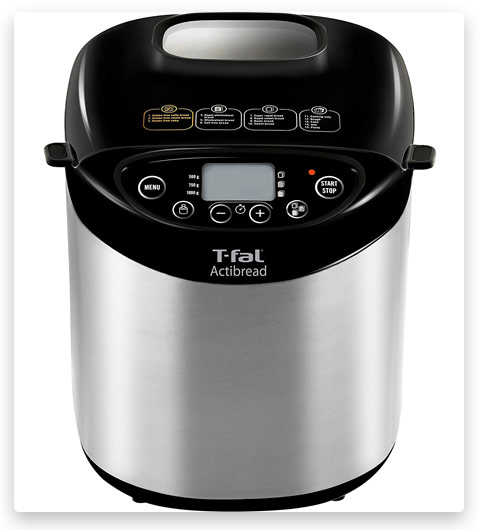 Compact bread machine with stainless steel housing and LCD display offers a nice alternative to costly, ingredient-heavy, store-bought bread.
15 programmable options, including gluten-free bread and cakes, rapid whole wheat, salt-free, super rapid bread, French bread,  cooking, dough, cake, jam, and pasta. Allows baking three loaf sizes (1 to 2 pounds) with three crust shades. Keep-warm mode saves the loaf fresh up to an hour.
Non-stick inner pan ensures effortless cleanup. Attractively housed in brushed stainless steel, this bread maker offers user-friendly controls. Accessories include a measuring cup and spoon, a recipe book with 25 tasty bread maker recipes for getting started.
6# Cuisinart CBK-110 Compact Automatic Silver Small Bread Maker, New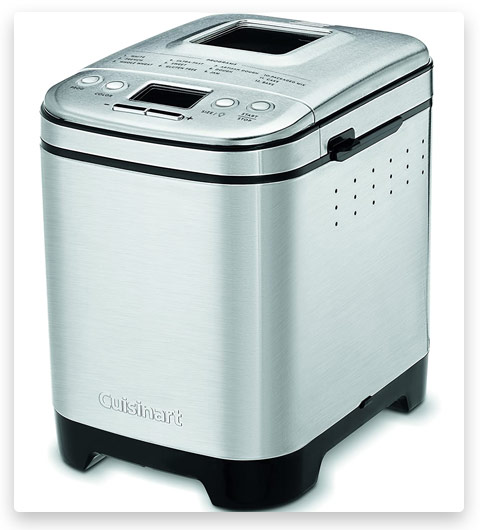 Do you love homemade bread, but have no time to make it? Cuisinart bread machine will do it for you. This makes the baking process as easy as it gets: just add the ingredients, press a button, and voila you will be enjoying bread in 4 hours. This versatile and compact automatic bread maker offers various crust colors and loaf sizes, thanks to its 12 preprogrammed menu options.
Loaves are thoroughly and evenly baked even on the light crust mode. The paddle is left in the pan when a loaf is removed, so there's no problem removing it. Makes any types of bread including gluten-free and artisan bread and also jams and sauces.
A convenient 13-hour delay-start timer ensures that the wonderful aroma of fresh bread will be waiting any time you crave it. Compact design is perfect even for a  tiny kitchen.
7# KBS Dispenser Programmable Stainless, Automatic 2LB Bread Maker with Nuts Dispenser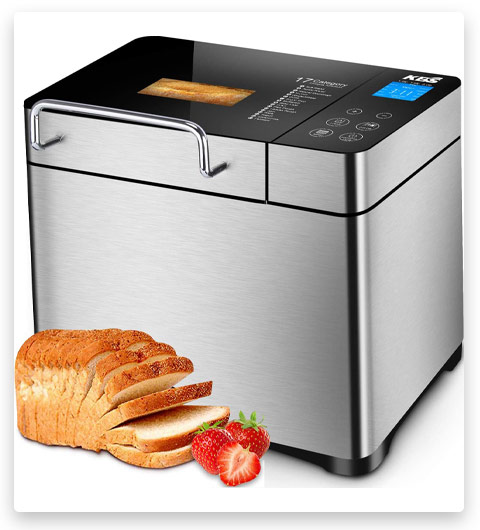 19 settings including soft and sweet bread, natural sourdough, French, whole wheat, quickbread, sugar-free, multigrain, milky loaf, cakes, raw dough,  jam, bake, yogurt, gluten-free, ferment, rice wine, stir-fry. 3 Crust colors — light, medium, dark.
3 Loaf sizes  to bake a large traditional up to 2.2-pound loaf.15-hour programmable delay bake and 1-hour keep-warm mode. This bread machine comes with a dishwasher-safe, non-stick ceramic pan. Removable automatic dispenser adds fruits and nuts at the right time.
Lid and panel are made of tempered glass — more stylish and sturdy. The entire housing with the brushed and no-fingerprint stainless steel.
The inner light, allows you to see all the processes. Just add ingredients you love, select the cycle, and press start then the bread maker will take care of the baking.

Frequently Asked Questions & Answers
Is it really cheaper to bake homemade bread?
Yep, it's considerably cheaper to make homemade bread than to buy it, if you compare similar types of products. Not to mention that your home-baked bread is much healthier and nutrient-richer. You always know what ingredients you've added to it.
Is it worth buying a bread maker?
I think yes if you prefer a fresh-baked bread made with your favorite sort of flour and additives. Also, the baking process is exciting. You can involve your friends and children in this culinary adventure and have a really good time in the kitchen.
Is bread maker better than an oven?
Ovens and bread machines have their own pros and contras. Let's have a quick look at them.
Bread machine cons
The bread machines always make holes in the bottom of loaves because of the paddles. So if you don't like the idea with the holes look for the model with folding paddles.
Bread size is limited by the size of the bread machine pan. And you always will have to strictly follow the indicated measurement of the ingredients.
The bread machines are a bit limited in functions although there are several models that can make jams, cakes, or homemade sauce.
Oven Cons
Ovens are rather expensive and consume much electric power.
Baking bread in the oven always means kneading your own dough which can be a lot of hassle and doesn't guarantee a good result.