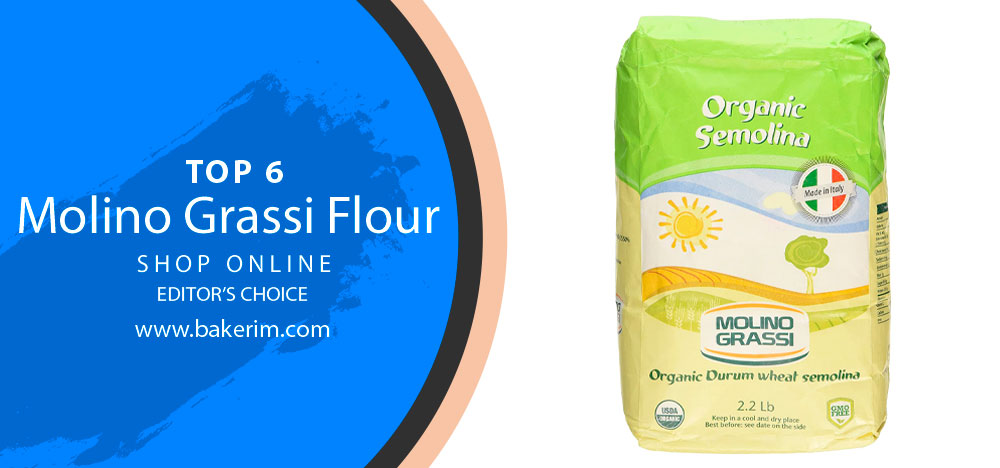 Molino Grassi
Today Molino Grassi is one of the leaders in the organic sector and a recognized reference point for experimenting with new wheat varieties and types of products. I like Molino Grassi flour which is high quality and affordable. In this article, I want to share with you the best types of Molino Grassi flour in my opinion.
About the Brand Molino Grassi
The Molino Grassi company was founded in 1934. The whole history of the company is the history of a family business: the founder, his son, who believed in his work with his father and carried it throughout his life and passed it on to his son, who continues today the business and follows the precepts of his grandfather…
Much has changed since the founding: a website has appeared, the assortment has increased, the production technology has improved, but respect and close attention to the characteristics of raw materials have remained unchanged, which is a decisive factor in the manufacture of high-quality products. The labor of three generations is embodied today in a strong organization.
The company recently started processing soft wheat and producing flour for pastry, but for over 30 years Molino Grassi has been processing durum wheat and producing semolina for pasta. Experience, craftsmanship, and comprehensive knowledge of flour have been and remain a valuable legacy, enabling the company to respond effectively to market demands and become more and more quality-oriented.
Today Molino Grassi is a modern industrial complex. Thanks to large investments in equipment, research, and organization, the company has the opportunity to strive for new goals. Currently, the plant consists of two separate chopping lines, fully automated and equipped with the most modern electronic control systems: one for durum wheat (185 tons per day) and one for soft wheat (115 tons per day).
Quality control is carried out in accordance with ISO and HACCP standards, which guarantee both the conformity and the safety of each product. The laboratory is equipped with state-of-the-art instrumentation for special tests, including the recent acquisition of an experimental bakery and a gas chromatographer equipped with a variety of spectrometers to measure precipitation of contaminants.
The entire company at every site operates in accordance with internationally recognized standards. Special care applies to each procedure: the selection of suppliers, purchase of grain, obtaining a "grain passport", which guarantees the quality of the product at each site, storage of grain with a certain temperature and atmospheric control (CO2 and nitrogen); production and storage of products, with particular attention to health and hygiene, packaging and loading of the final product, training of personnel.
Molino Grassi Products
The products can be divided into four main lines:
Wheat flour for bread, bakery products, confectionery
Semolina for fresh and dry pasta
Organic wheat flour and semolina
Homemade wheat flour and semolina
Our Top List 6 Best Molino Grassi Products – Editor's Choice
| Image | Product | Brand | Link |
| --- | --- | --- | --- |
| | Molino Grassi Extra Fancy Durum Wheat Semolina Flour, 2.2 lbs | Molino Grassi | |
| | Molino Grassi USDA Organic Italian "00" Soft Wheat Flour - 2.2 lb (2 Pack) | Molino Grassi | |
| | MOLINO GRASSI Organic Italian Semolina Flour, 35.2 OZ | Molino Grassi | |
| | Italian 00 All Purpose Flour by Molino Grassi (2.2 pound) | Molino Grassi | |
| | Molino Grassi 00 Pasta Flour 2.2 LB ( Pack of 4 ) | Molino Grassi | |
| | Miracolo Soft Wheat Flour - Ancient Grains Blend by Molino Grassi (2.2 pound) | Molino Grassi | |
1# Molino Grassi Extra Fancy Durum Wheat Semolina Flour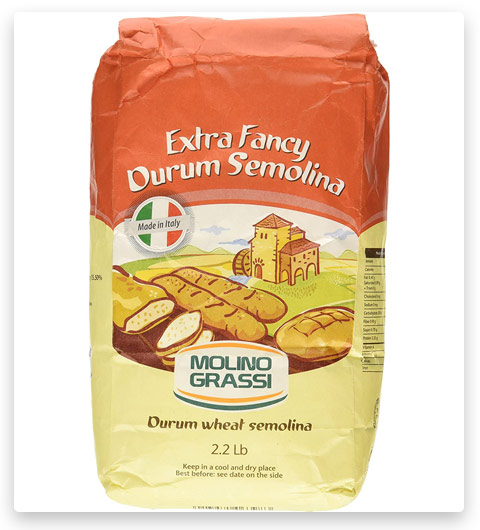 Durum wheat flour is the key to a healthy diet. All my life I have tried to use only homemade products made from quality ingredients. One of the best decisions of my life was buying Molino Grassi Extra Fancy Durum Wheat Semolina Flour. In addition to being a market leader and tested by many tests, the flour helps to create healthy culinary delights. The main purpose of Durum Wheat Semolina Flour is the preparation of pasta, and it is also suitable for baking certain types of bakery products of traditional Italian recipes. I recommend using it as a standalone product and also mixing it with soft wheat flour. Thus, you will get a new and interesting taste of your baked goods. In addition to all this, puddings, couscous, Italian gnocchi dumplings are also made from semolina, they are added to pizza dough and milk porridge is cooked.
2# Molino Grassi USDA Organic Italian "00" Soft Wheat Flour – Amazon's Choice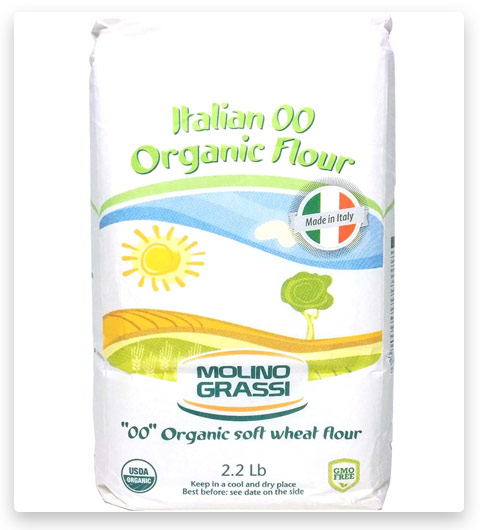 Who else but Italians know that high-quality flour is just as important for an excellent dough as it is for a figure. Soft wheat flour is great for everyday use, especially for making airy porous bread and biscuits. This is an organic flour from certified organic crops in Italy. Soft wheat is the most widespread type of grain. Its other name is bread wheat. It contains a lot of protein and gluten. I tried to make a classic Neapolitan pizza with this flour and it was delicious. It has a longer fermentation time (8-10 hours), during which it acquires a special aroma and elasticity. Suitable for baking in an electric oven or a wood-fired oven. I advise you to store this flour in a cool and dry place.
3# Molino Grassi Flour Semolina – Amazon's Choice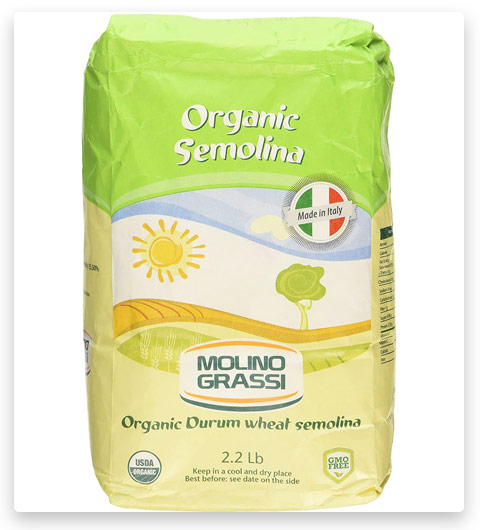 Semola flour has a pronounced yellow color and a large grain structure. Semolina is very rich in gluten and slow carbohydrates. I am a diabetic, and I was delighted with such a find, as this flour has a low glycemic index. Among the excellent properties of semolina, it is worth noting the high content of protein and fiber, so it is not only useful but also allows you to make lush bread and buns. The bread is crispy, with an unusual gritty texture and a bright yellow color. My friends from the East told me that sweets are made from semolina, mixing it with almonds, sugar, butter, and pine nuts. Semolina can also be sprinkled on a baking dish to prevent the cake or pie from sticking or burning.
4# Italian 00 All-Purpose Flour by Molino Grassi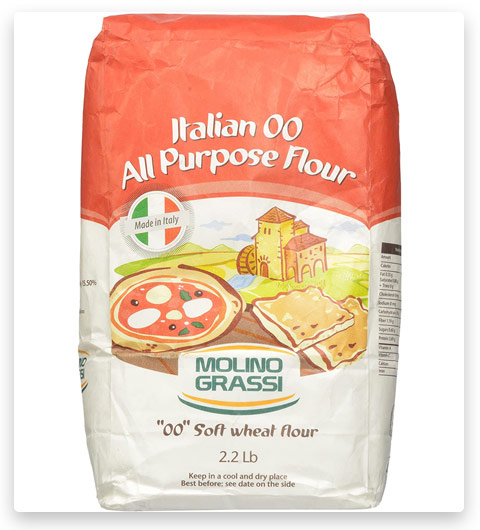 If you are looking for a flour that will perfect any of your baked goods, then choose Molino GrassiAll Purpose Flour. It is suitable for all baked goods, but especially for pizza bases and focaccia. It is very fine in texture due to the special grinding method. This is especially important when preparing pizza. I cooked not only pizza with this flour but also pasta, bread, cookies, and cakes. And I can say with confidence that the pastries turned out to be excellent. My family ate everything quickly and with pleasure.
5# Molino Grassi 00 Pasta Flour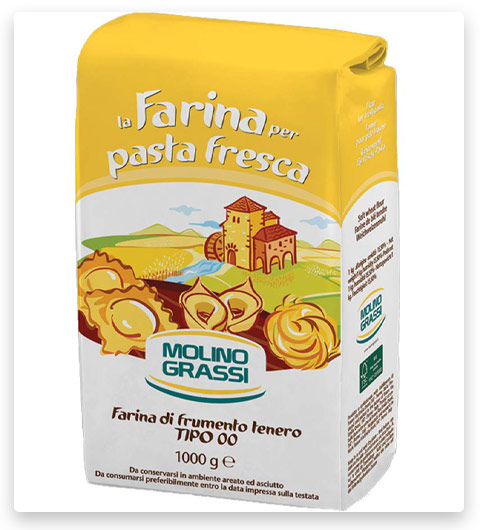 If you love homemade pasta, then you need this Molino Grassi flour. With its unique properties, this type of flour is ideal for all pasta, including Ravioli. Also, the pasta made from this flour retains a very good structure and texture during all cooking phases and retains the characteristic yellow color of the pasta for several days both when stored in the refrigerator and when freezing. This way, the yellow color does not get lost and does not turn into gray. Also, this flour is perfect for sprinkling on the table when making pizza dough.
6# Miracolo Soft Wheat Flour – Ancient Grains Blend by Molino Grassi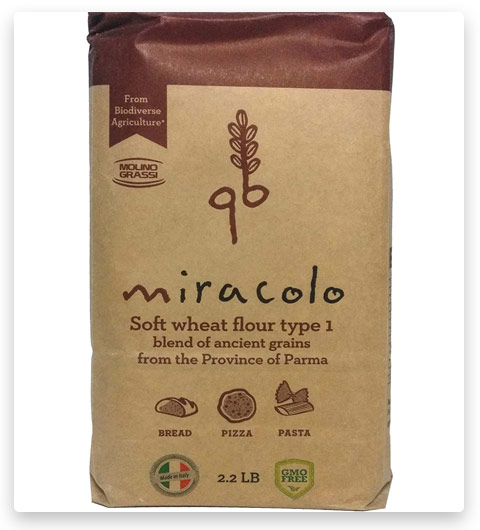 Professional premium soft wheat flour for pizza making. Ideal thanks to the careful selection and blending of high-quality soft wheat varieties, rinsed and milled, following the best Italian tradition, combining historical experience and modern technology. Perfectly balanced for making pizza doughs and also great for Neapolitan style pizzas. Pizza prepared using this flour is radically different from any other in all parameters (gustatory, aesthetic, physical). The base itself has exceptionally superior characteristics and properties.
What are the Features of Durum Wheat Flour
How to choose and use it? Many people know that durum wheat flour is ideal for baking and making homemade pasta. But not everyone knows why this is so, what properties such flour has, what technology it is produced by and how to use it correctly. Read the detailed answers to these questions below.
What is this Flour
What are its Features? Wheat is one of the most common grains on the planet. There are more than a thousand varieties of this culture. They are conventionally divided into soft and hard. A humid climate is suitable for soft varieties, therefore they are grown in Australia, Western Europe. Hard varieties grow best in dry continental climates, so most of the harvest is obtained in Canada, Argentina, USA, African and Asian countries. Durum wheat accounts for only 10% of the world's total cereal production, although it is popular in many countries.
Properties of Durum Wheat Flour
Durum wheat flour is primarily used for the production of pasta. The finished products are tasty and, most importantly, healthy.
Important! Contrary to popular belief, people who eat durum wheat pasta don't get fat. A striking example is the Italians. Their cuisine is based on various types of pasta, but most of the inhabitants of this Mediterranean country are slim.
The benefits of durum wheat flour products are explained by the properties of the cereal:
Unlike ordinary soft wheat, the main component of which is starch, durum cereals contain a lot of gluten and protein.
The main component of pasta or durum wheat is complex carbohydrates. They have a low glycemic index, so they do not stimulate insulin production and do not lead to weight gain. The flour obtained from such wheat contains a lot of vitamin B1, which prevents the development of cancer and strengthens the cardiovascular system.
Characteristics of Durum Wheat Flour
Durum flour is divided into two types: semolina Integrale and semolina.
Attention! Each type is divided into several types. They differ from each other in color and degree of grind (fraction size).
The main characteristics of any flour, including from durum wheat, are:
Nutritional value. When milled, the germ and endosperm of the grain turn into flour, and the shell is used in the production of bran. It is noteworthy that the lower the grade of flour, the higher the concentration of nutrients and vitamins in it.
Chemical composition. Determined by the content of proteins and carbohydrates. Durum wheat is high in gluten and protein, while complex carbohydrates provide long-term satiety.
General characteristics. These include the taste, color, and smell of the product. High-quality flour should be light, without foreign taste or smell. Ash content is considered an important criterion for evaluating durum wheat flour. This indicator is determined by the number of minerals. They are not contained in the embryo but in the shell of the grain. Therefore, the higher the ash content, the lower the flour quality according to the generally accepted classification.
Grinding Technology
The technology of grinding durum wheat grains differs from the similar production process for soft varieties. The primary product of processing is grits. So that there are no third-party things in it, they thoroughly clean and grind the grains.
Attention! The hardest wheat variety is durum. It is rich in gluten and protein, and the resulting flour has a high density and is used in Mediterranean cuisine for baking bread.
Grain processing takes place in several stages:
The grain is cleaned, treated with cold and hot water. To obtain the raw material of the required type, at this stage, the mixing of several varieties is allowed.
Next, geothermal treatment is carried out. Raw materials are moistened and heat treated. This removes excess moisture and increases the elasticity of the casing.
During the conditioning step, the outer layers of the beans are removed. Thanks to this, the membranes are easily separated from the endosperm.
Part of the grain mass is checked in the laboratory to determine the number of impurities, the level of wet gluten, and moisture.
For the manufacture of flour of a particular grade, different grinding parties are used. The process consists of crushing and sifting. During the first one, roller machines are used, the type of which determines the shape of the fraction of the final product. Sifting is the final stage, during which the finished product is finally cleaned from foreign impurities.
Benefit and Harm
Durum wheat flour is considered the healthiest. It is high in gluten and protein, complex carbohydrates, and fats. Durum wheat products keep you from gaining weight or raise your blood glucose levels.
In addition, it contains the following components:
Vitamin B – relieves stress and headache
E – antioxidant, reduces the effects of harmful radicals
A – strengthens the immune system, increases resistance to infections
PP – helps the body produce energy
C – increases the body's resistance and effectively fights against vitamin deficiency.
This type of flour contains minerals essential for the human body – calcium, potassium, phosphorus, manganese, sodium, etc.
There is no harm from eating durum wheat flour. Since it contains only unsaturated fats, pasta does not lead to weight gain. This is the product recommended for diabetics and overweight people.
Conclusion
Today, Molino Grassi has an advanced production facility designed with the best technology and therefore produces the best flour on the market. My top pick is Molino Grassi Extra Fancy Durum Wheat Semolina Flour. If you eat a healthy diet, then this is what you need. You can use this flour to make pasta, bread, cakes, cookies, and other baked goods.