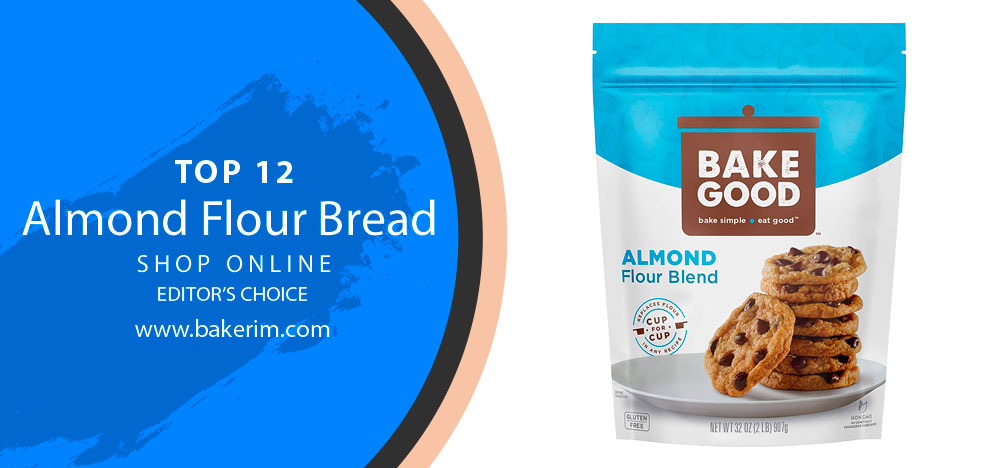 Almond flour is a useful ingredient for baking bread or other pastries. It is healthier than wheat, and its taste isn't worse. You won't find gluten in it. It is high in protein and low in carbohydrates. You can eat almond flour bread on a keto diet or other low-carb diets. The high fiber content in almond flour makes it one of the best for such diets. In my article, I want to tell you more about the benefits of this flour, share my favorite recipes for almond bread, and consider the best options for almond flour that you can get.

The Benefits Of Almond Flour
This flour is healthier than wheat. It contains fewer carbohydrates. This makes it suitable for low-carb diets or just a healthy diet. However, almond flour contains more fats. This makes it high in calories. Therefore, don't get involved in the consumption of pastries from such flour. Keep a balance and then everything will be fine for your health and figure. For a better understanding, a quarter cup of almond flour is 150 calories.
It contains 11 grams of fat, 6 grams of carbohydrates, 6 grams of protein, and 3 grams of fiber. Almond flour is also beneficial because it contains large amounts of vitamin E, which is an antioxidant. It not only cleanses the body of toxic substances, but also prolongs the life of cells and the body, and also reduces the risk of developing various diseases. The use of almond flour improves the state of the nervous system and relieves stress. This effect is provided by vitamin B contained in almonds.
Minerals found in almond flour normalize the functioning of the heart, kidneys, and liver. Due to the large number of useful vitamins and macro- and microelements, almond powder improves human immunity, protecting it from viruses and bacteria. This product is also rich in magnesium. This trace element helps regulate blood sugar. Flour has a low glycemic index. Therefore, sugar is slowly released into the blood.

Gluten-Free Diets
Almond flour is the perfect solution for a gluten-free diet. Gluten is dangerous for people with celiac disease (gluten intolerance). Intolerance to one degree or another can also manifest itself in the form of nausea, bloating, upset stomach, and vomiting. The goal of treatment is to exclude products containing gluten from the diet. People must follow a gluten-free diet. There are also people who are allergic to gluten. And in order not to forbid yourself to eat delicious pastries, use almond flour instead of wheat.
Keto Diet
The keto diet is now at the peak of its popularity. The essence of the keto diet involves the complete exclusion of carbohydrates from the diet. This is an updated version of a low-carb diet. Such diets are effective for weight loss, because, in the complete absence of carbohydrates, the body begins to actively burn fat.
The purpose of this diet is to achieve a state of ketosis. In this state, fats are extracted from the body's reserves, processed into free fatty acids, and then into keto-bodies. It is these keto-bodies that the body uses instead of carbohydrates. In order for the metabolism to reach the state of ketosis, the blood glucose level must be reduced to the minimum levels and stay in this state for at least 2 days. On average, people sit on a keto diet for about 3 months.
Due to the fact that almond flour is low-carb, it can be used for baking on such a diet. You can enjoy slices of delicious fresh bread without breaking the diet!

Using Almond Flour in Cooking and Baking
Almond flour is suitable for almost all of your favorite recipes. It is great for replacing wheat. But remember that it has an almond flavor so it may not be suitable for some recipes. It has a nutty taste and a grainy texture. Due to the lack of gluten, baking may not be airy. It can turn out flat. Keep this in mind when cooking. To make the structure better, add eggs. As a rule, almost all of the recipe for almond flour bread has eggs in the ingredients.
Almond Poisoning and Side Effects
Almond flour can harm the human body in case of excessive consumption since almonds are digested for a long time in the body and in large quantities can cause stagnant processes in the gastrointestinal tract. Also, if you are allergic to nuts, you shouldn't eat such flour.
To make fragrant almond flour bread, you need to purchase flour. I will help you make the best choice. Let's look at the best almond flour options on the market!
TOP 12 Best Almond Flours – Editor's Choice
1# Anthony's Blanched Gluten-Free Almond Flour Keto Friendly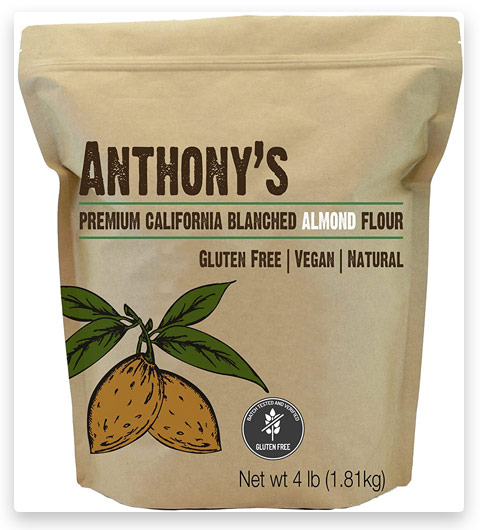 Gluten-free almond flour for your baking. You can trust this a flour since it doesn't contain GMO and passed the test for gluten successfully. It is made from natural ingredients and doesn't contain preservatives. Your bread will turn out healthy and tasty.
2# Nature's Eats Blanched Almond Flour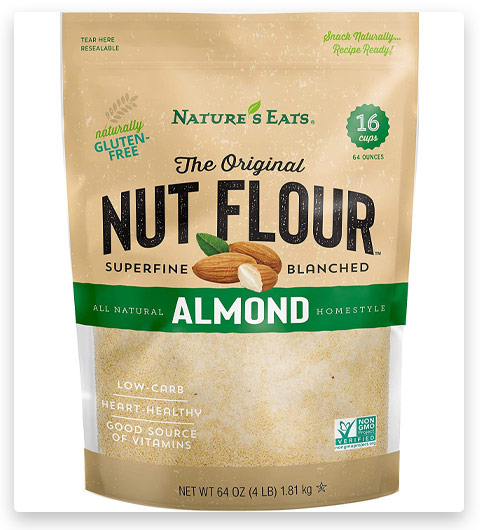 This flour is created for perfect and healthy baking. You can use it on keta diets. If you have a severe gluten intolerance, you should choose another option. This flour may contain wheat, milk, and soy. If you want to reduce the number of carbohydrates in your diet, this is ideal for you!
3# Blue Diamond Almond Flour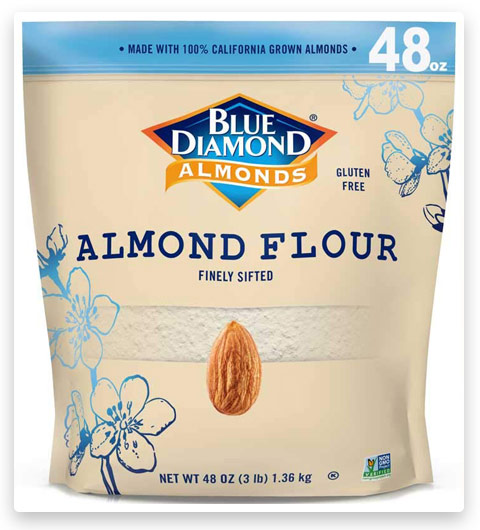 This flour will work well for baking bread as well as for cookies or muffins. It is made of high quality blanched almonds. It has a grainy texture and a nutty flavor. This is what you need for a keto diet or other low-carb diet, and is also suitable for a gluten-free diet.
4# Oh! Nuts Blanched Almond Flour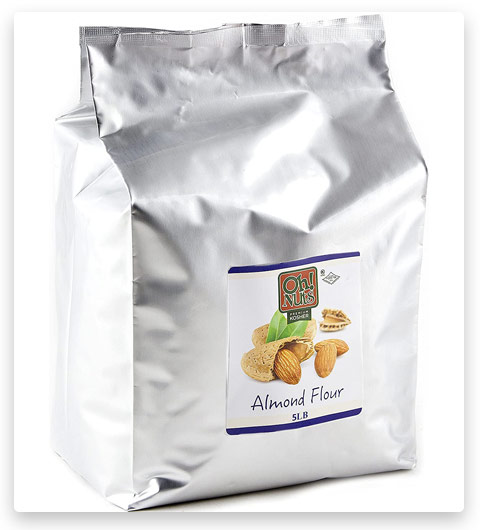 Making bread from this flour will not take much time. The taste will be sweet and nutty, and the texture is light. It is rich in protein and also low in carbohydrates. Only natural almonds are used to make flour. It has no additives and is finely ground.
5# Wellbee's Super Fine Blanched Almond Flour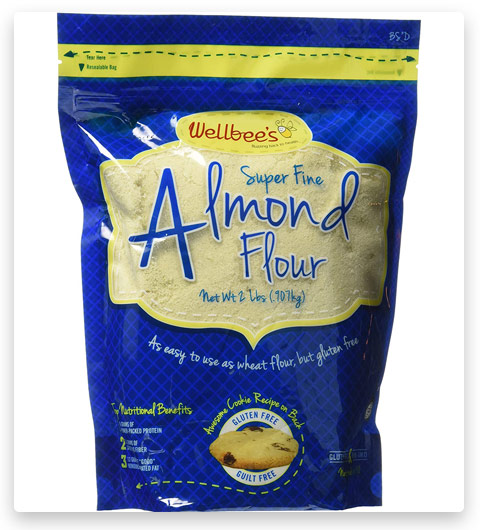 Finely ground almond flour for your best bread recipes! It doesn't contain GMO and goes without gluten. Flour comes in good packaging that is easy to open and close. This helps prevent a mess in the kitchen and makes use easier.
6# BakeGood Almond Flour Blend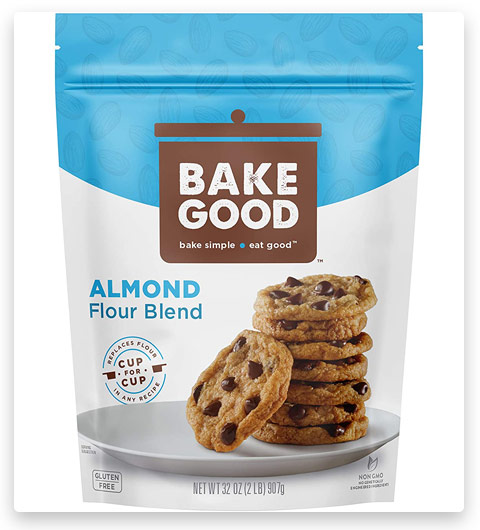 Try also the almond blend! It is also suitable for baking bread or cookies. But not suitable for many diets. It contains almond flour, white and brown rice flour. The blend doesn't contain GMO and gluten. Bakers note that it has a soft texture and rich taste.
7# Honeyville Blanched Almond Flour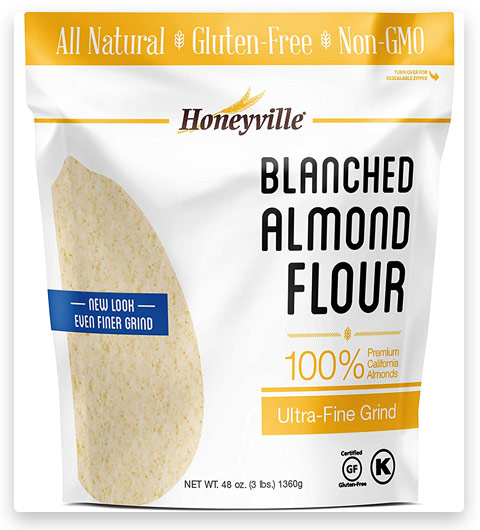 This is a great substitute for wheat flour. Suitable for a healthy diet and low carb diets. It contains 6 grams of protein per serving and is a source of vitamin E and B. Flour has been successfully tested for gluten.
8# Kirkland Signature Almond Flour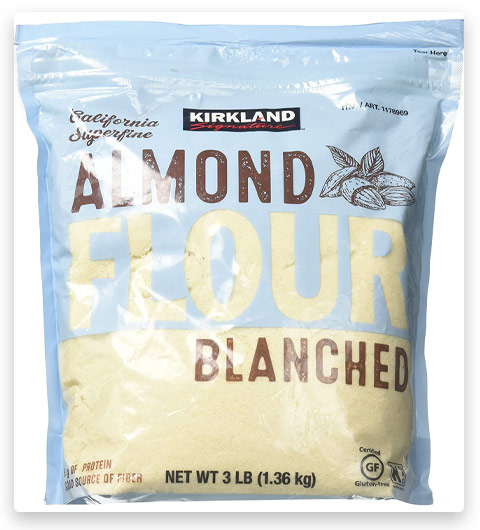 It is very easy to make bread with this flour! It contains a good amount of protein and fiber. Your family will appreciate the taste of bread and ask for more! It comes in easy-to-open packaging!
9# Bob's Red Mill Almond Flour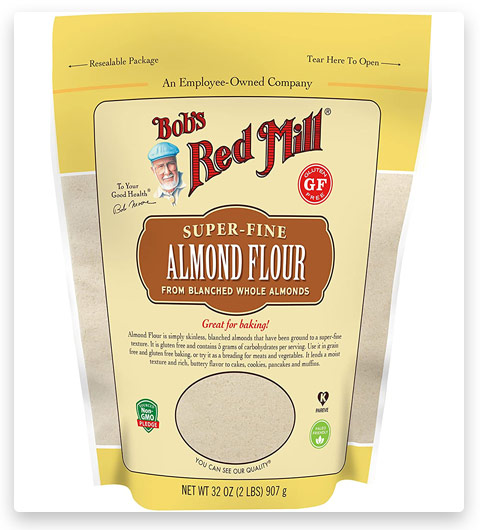 This almond flour doesn't contain preservatives, dyes or flavorings. It is suitable for people who have a gluten intolerance. And also for those who decide to reduce their carbohydrate intake. It is rich in vitamin E, magnesium and is a source of dietary fiber. Only natural almonds and nothing more!
10# NOW Foods Almond Flour With Essential Fatty Acids
Flour fully reveals a nutty flavor. Light baking texture. Replace your wheat flour with this and make your bread healthier! The packaging allows the flour to remain fresh and flavorful!
11# Pure Organic Ingredients Almond Flour Paleo & Keto & Friendly Gluten-Free & Vegan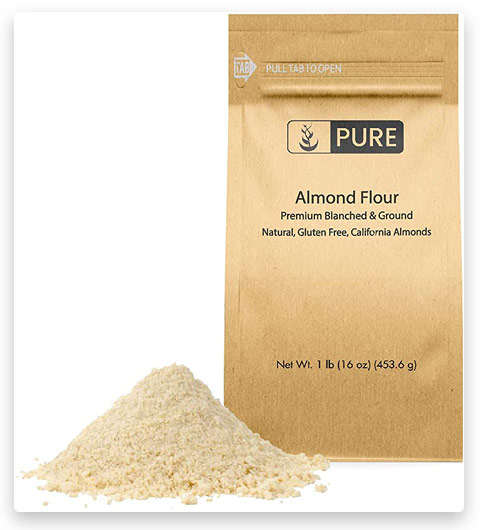 Organic almond flour without GMO! Well-ground bread flour. A good source of protein, fiber, vitamin E, B, and magnesium. Suitable not only for bread, pastries but also for pizza dough.
12# BARNEY Skin-Free Almond Flour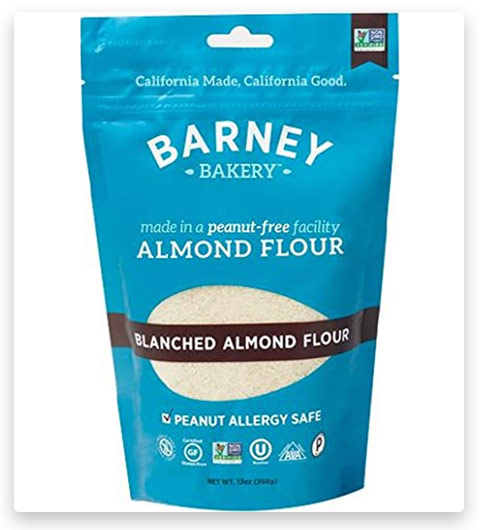 Well-refined almond flour. The almonds are peeled before they are ground into powder. It doesn't contain gluten, wheat, eggs, soy, dairy products. Please your family with fragrant bread or sweet cookies!
Almond Flour Bread
Almond flour is most often used for baking bread. It turns out fragrant and rich in taste. It can be consumed on a keto diet, as well as on other low-carb diets. Such bread is allowed for people who can't tolerate gluten. Such bread contains a large amount of protein, fiber and trace elements.
Now I will share with you some of the best recipes for low-carb almond flour bread. Cook with pleasure and make yourself and your family happy!
TOP 4 Best Almond Flour Quick Bread Recipes
1# Low Carb Keto Almond Flour Bread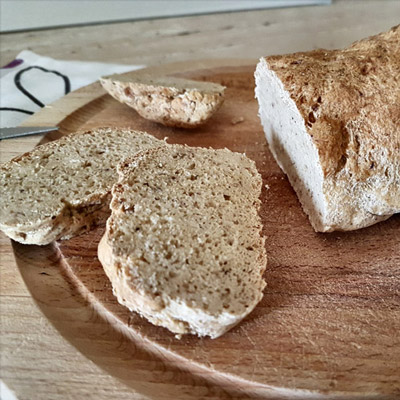 Ingredients:
Eggs 5 pcs.
Almond flour 250 g
Olive oil 1/2 cup (125 ml)
Baking powder 10 g
Water 1/2 cup
1/2 teaspoon salt
Chia or sesame seeds for adding
Steps:
Mix flour, salt and baking powder in a bowl.
Add olive oil and mix.
Pour the eggs and water into the butter and flour mixture and knead the dough with a whisk.
Fill the mold with parchment paper and grease with olive oil and put out the dough, top it up and sprinkle with chia or sesame seeds. Bake at 200 ° С for 40-50 minutes.
2# Homemade Almond Flour Bread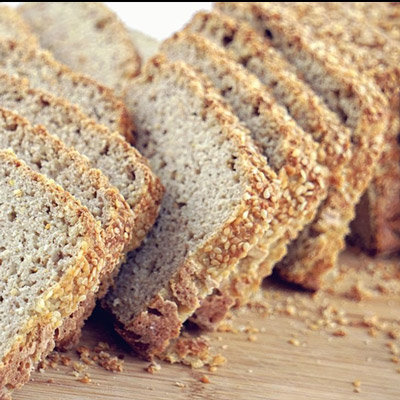 Ingredients:
Almond flour (500 gr.)
Eggs (3 pcs.)
Almond milk (160 ml.)
Coconut oil (2 tablespoons)
Salt (2-3 pinches)
Baking powder (1 tsp)
Making bread:
Mix almond flour with salt and baking powder.
In a separate little bowl, beat the eggs with milk. Instead of almond milk, you can use regular milk.
Make a deepening in the almond flour, pour the liquid mixture into it and begin to stir the dough.
When the dough is almost ready, add 2 tablespoons of coconut oil to it. Don't keep the oil in the refrigerator, otherwise, it will be difficult to mix in the dough. It is best to use coconut oil at room temperature.
Stir the bread mass well and put it into a rectangular shape, pre-covering it with baking paper.
Put the form in the oven preheated to 180 degrees for an hour.
The bread is ready when the dough has risen slightly and is covered with a golden crust.
Bon Appetit!
3# Delicious Low-Carb Bread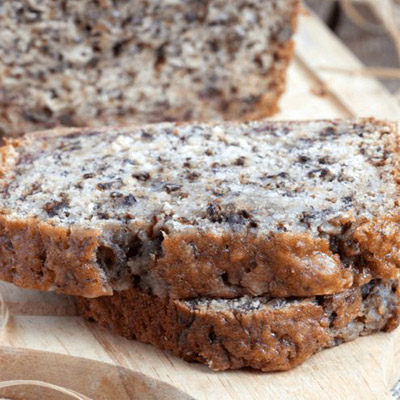 Ingredients:
Almond flour 240 g
Tapioca 120 g
Salt 0.5 tsp
Italian seasoning 1 tsp.
Baking soda 0.5 tsp.
Psyllium husk seeds 2 tbsp. l
Water 0.5 tbsp.
Apple cider vinegar 1 tsp.
1 tsp olive oil
Chicken egg 1 pc.
Step 1: Preheat the oven to 210C.
Step 2: Combine almond flour, tapioca flour, salt, seasoning, and soda in a large bowl. Set aside.
Step 3: Mix the husks of plantain seeds with warm water, mix until the mass thickens.
Step 4: Add a mixture of plantain with water, vinegar, olive oil and an egg to the flour mixture and beat well with a mixer. The dough should be thick and sticky.
Step 5: So that the dough doesn't stick to your hands, dip your hands in tapioca flour and spread the dough with a cake of the thickness you need.
If the dough is too sticky, you can sprinkle it with a little flour.
Step 6: Bake for 4-5 minutes until a crust forms.
Step 7: Add topping (if used) and bake for another 10-15 minutes until the crust is slightly browned. If you don't use topping, continue to bake the bread itself for 10-15 minutes.
Step 8: Topping. If you intend to serve bread as an appetizer with olive oil and balsamic vinegar, you can grease it with melted butter and chopped garlic.
4# Flavored Bread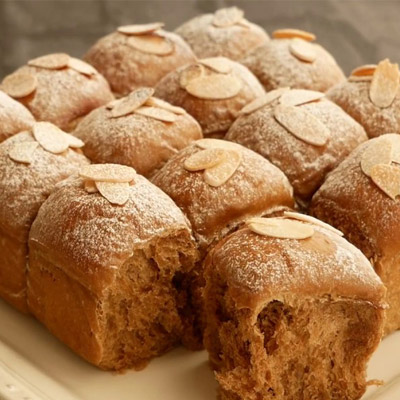 Ingredients:
2 tbsp coconut or butter
2.5 tbsp. blanched almond flour
¼ Art. ground flaxseed (or flaxseed meal)
1 tsp baking soda
1 tsp cinnamon (optional)
½ tsp salt
4 large eggs
1 large egg white
2 tbsp honey
1 tbsp apple cider vinegar (unsweetened apple cider or apple juice is suitable)
Instructions:
Heat coconut oil to room temperature. Preheat the oven to 180°C. Cover the baking sheet with greaseproof paper and oil. In a large bowl, combine almond flour, flaxseed, soda, cinnamon, and salt. In a separate bowl, beat eggs, egg white, honey, apple cider vinegar, and chilled coconut oil until smooth.
Mix wet ingredients with dry ingredients until smooth. The dough will be thick and wet (as for muffins). Put it in the prepared bread pan and flatten on top. Bake until the top is golden brown (about 35-40 minutes). Remove the bread from the oven and let cool for 10 minutes directly in the baking dish. Then put on a plate and let cool completely. Now you can cut and eat.
Conclusion:
Almond flour is an excellent substitute for wheat flour. It is healthy and rich in vitamins, fiber, and protein. It contains fewer carbohydrates than wheat, so it is great for low-carb diets. If you refused gluten use almond flour to bake gluten-free bread! I hope my recipes and article have been useful to you!