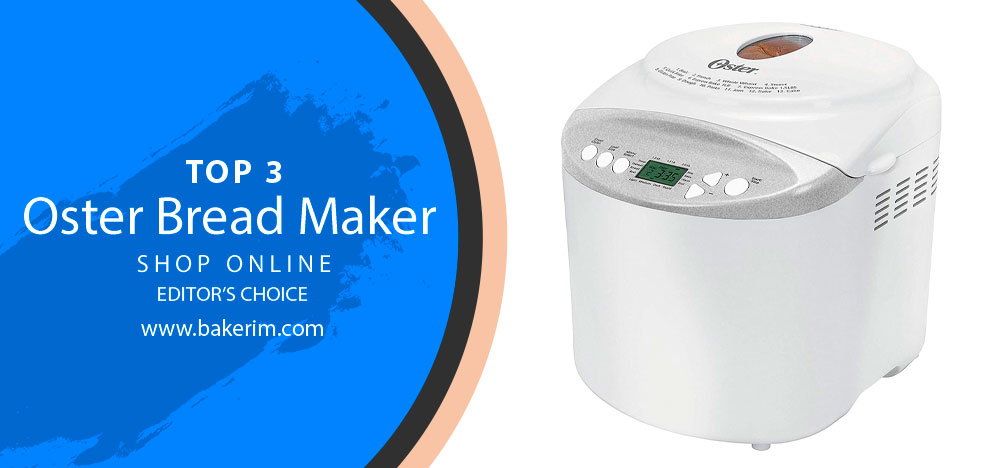 Top 3 Oster Bread Makers for Baking at Home
Before I started to make my own bread at home, I was perfectly content with buying fresh pastries from local stores. However, I can say that about a lot of things. I was content with an old push-button phone before I got my hands on a smartphone.
I was OK with browsing on a laptop before I got my first iPad as a gift. Previously, I boxed only at the gym a few days a week. After I installed a punching bag at home and bought boxing equipment, I started to train on a daily basis.
I can say the same about breadmaking. After I got myself my first bread maker and started to bake my own meal, I simply can't go back to buying store bread. The quality of the bread I make at home and the cost-effectiveness of such an enterprise just can't be overlooked.
Throughout my breadmaking hobby, I managed to get my hands on many bread machines. And what manufacturer I found to be best suited for me? My personal preference hands down go to Oster bread makers.
Want to know why? If so, continued to read below. Today, I want to talk about the advantages of baking at your home and why I recommend Oster machines for that goal.

Benefits of Making Bread at Home
Let's look at it from the position of a price. According to statistics, a whole-wheat loaf of bread costs about $2. If you want something tastier or spicier, like cinnamon-raisin, for example, then the price can get up to two times bigger.
If you decide to bake at your home, you'll notice a dramatic decrease in expenses. With all the ingredients, you can cook a tasty loaf for under 1 dollar.
Do I even need to mention how much better it tastes? You get the freshest, chewiest, and heartiest product at the confines of your home. It does not only taste better objectively but also gets even tastier because you realize it's YOU who made it.
Aside from that, your bread will have much more nutrition. You'll also derive enjoyment out of the baking process. You'll save time because you don't need to go to the store every time you want fresh bread. And, most importantly, you can craft your food using custom recipes.

What Makes Oster Bread Machines Stand Out?
You know, there are many ways to bake. There's a no-knead method, slow cooking, and there's baking in batches. Using a bread machine is, in my opinion, the leas time consuming and cost-effective way to go! It's the perfect way for beginners. The device takes care of all the necessary processes, kind of like a slow cooker.
You can choose a recipe or a product, put all ingredients inside, set a timer, and voila! You are going to have a tasty and freshly made food just when you need to. A machine like this also uses almost five times less energy than a regular oven does.
Also, what makes them stand out from other baking methods, is the cleanness of your kitchen after you finish baking. The bread machine does all the processes, including mixing the dough, kneading, and baking, inside.
All you have to do is just place ingredients. Therefore, after you finish your cooking, you wouldn't even need to clean anything aside from the removable pan of the device.
To sum it up, with bread machines, you get the following benefits:
It is cheaper than buying a pre-baked thread.
It's a more affordable method of baking.
It's tastier, more nutrient-heavy, and fresher.
Your kitchen remains clean after baking.
It's super-easy to use and has a low entry barrier.
There are a vast number of recipes online.
You can control the ingredients and create your own recipes.
You aren't limited just to breadmaking.
What also can you do with this machine? Read below to find out.
What Can You Make with Bread Machine?
The bread machines come with an instructional manual and a handful of useful recipes for bread, as well as pizza, pastries, and other useful baking products.
Where can you those recipes? Don't worry; there's an almost unlimited pool of them online. As you master how the bread machine works, although it's straightforward to understand it, you can start using custom recipes or enhancing already existing ones.
This way, you'll be able to make products that better suit your taste just as effortlessly.
What is the Best Bread Machine for Home Use?
The market is quite overpopulated with all sorts of brands. There's Panasonic, Cuisinart, Breville, and, of course, Zojirushi. However, my favorite is definitely Oster. Why? Because unlike other manufacturers, who are insanely overpriced and offer little advantages in terms of features, Oster produced excellent and affordable bread machines. Oster devices can be about 2 or 3 times cheaper, but just as modern, dependable, and reliable.
Oster machines are also compact, which means they don't limit your kitchen space. Their devices are so user-friendly that amateurs can use them from the get-go. I don't usually advise to go for the cheaper stuff, but, in my opinion, the difference in pricing makes Oster almost non-compatible to other overpriced brands.
The brand itself is famous for various kitchen accessories, including air fryers, coffee, and kettles, skillets, griddles, grills, panini makers, streamers, and fryers. Oster products combine compactness, versatility, affordability while remaining durable and long-lasting. Outside of kitchen-related tools, they also make trimmers, clippers, and other sorts of hairstyling devices.
I don't know about all their products, but their bread machines are an amazing choice for those willing to try in-home breadmaking. Aside from the technological aspect, Oster is known for its amazing service, shipping costs, and customer support.
To make you even more intimately acquainted with bread machines, I managed to choose three of my favorite Oster models: CKSTBRTW20, 5838, and CKSTBR9050. Today, I'm going to talk about them in detail and describe their pros and cons so you can figure out which one suits you better.
| Image | Product | Brand | Link |
| --- | --- | --- | --- |
| | Oster Expressbake Breadmaker, 2-lb. Loaf Capacity, 2 lb, White/Ivory | Oster | |
| | Oster Expressbake Bread Maker with Gluten-Free Setting, 2 Pound, White (CKSTBR9050-NP) | Oster | |
| | Oster 5838 58-Minute Expressbake Breadmaker | Oster | |
1# Oster Bread Maker CKSTBRTW20 Expressbake 2 Pound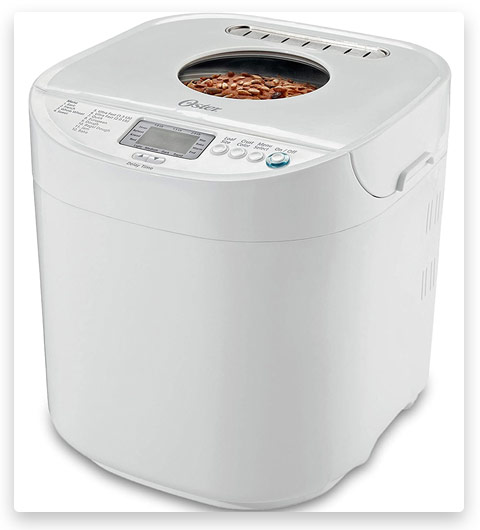 Oster Expressbread maker is one of the most prominent examples of having quality and cost-effectiveness. Many machines that cost over $200 don't come close to it, and Oster's product costs under $60.
I used this machine every couple of days to bake some bread for my family, and I was pleased with the experience.
Oster is generally lighter and more compact than other overpriced brands. It also doesn't stop if you open a lid, which I find frustrating and common in other products.
Don't think that this product is ideal. Yes, it has some downsides, like simple appearance and below-average plastic hinges. The crust and texture of the bread also lose in comparison to other expensive machines. However, as a standalone product, Oster performs admirably.
It offers high-quality baking products very fast (under 1 hour) and insignificant dosages (over 2 pounds per cooking), making it a great buy for the money.
Highlighted features:
The capacity of over 2 pounds of the loaf
Includes 12 settings for bread and also 3 crust settings
Includes a wheat setting to make gluten-free bread
Large LCD display
Good for making dread, dough, and jams
13-hour programmable baking timer
ExpressBake for rapid baking
Removable pan
Weight about 8 lbs
Dimensions: 12 x 11 x 11 inches
The package includes a dual measuring spoon, measuring cup, and a kneading paddle
2# Oster Expressbake Bread Maker Gluten-Free Setting CKSTBR9050-NP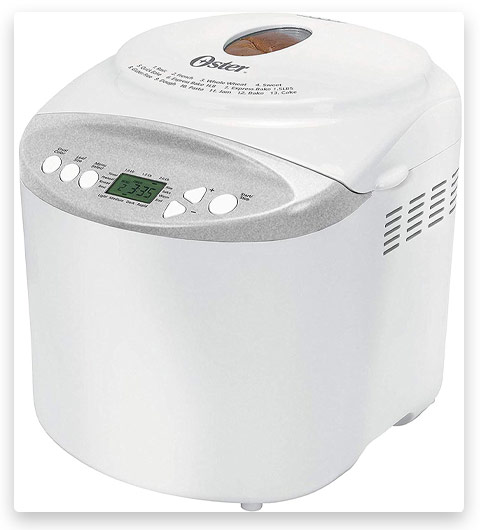 This is a little more expensive machine than the previous one. It's a little more technologically and has a slightly better outlook. It has a bit more options and a more developed timer.
The Expressbake option will cook up to 2 pounds of a loaf per baking in under 50 minutes, which is sure a lot.
It comes with a variety of accessories (basically, all you need to start baking from the get-go). Other than that, it also comes with an instruction manual and a recipe book to help you started.
The main difference between this model and CKSTBRTW20 is that this one has a big viewing window at the top use can use to monitor the baking process. It also has much better hinges.
On the downside, this machine can make quite a racket when it's operating. You can put something under its legs to help with the shaking and noise it makes. Also, it doesn't have the durability of other, more expensive products. As some customers say, in a few years, it starts to make uneven texture and crust. Also, the kneading blade accessory is lacking.
Highlighted features:
Can produce around 2 pounds of a loaf per baking
13 different cooking settings
Ideal for jams, dough, and gluten-free bread
It can make light, medium, and dark colored crust
Expressbake option to bake in under 1 hour
Adjustable timer
Weight under 8 pounds
Dimensions: 13.5 x 12.1 x 13.2 inches
Large LCD display to monitor the process
Includes a recipe book to help you get started
The package includes a scoop, a measuring cup, and a kneading blade
3# Oster 5838 58 Minute Expressbake Breadmaker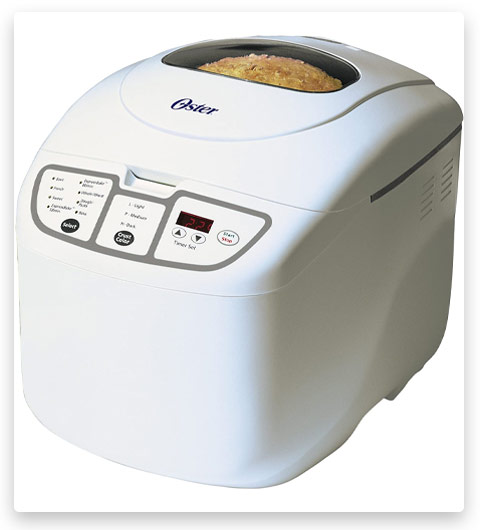 The last model in this list features most of the pros of the other two units. It can make up to 2 pounds of bread per baking, which it makes in under 1 hour (the manufacturer insists that it takes precisely 58 minutes). It has a bigger viewing windows and a better LCD panel. Additionally, it has a handy feature called "warm bread."
It means that the completed product remains warm for about an hour after completing baking. I think it can be useful in you are in a sudden rush or during a busy morning, when you have some work to do and can't eat your bread fresh out of the unit.
The one major downside of this machine is the absence of a second paddle. To prevent your ingredient from not mixing very well, you may have to manually check the dough before the start of the first cycle, which can be frustrating.
Highlighted features:
Can make up to 2 pounds of bread
Expressbake feature that makes 1 baking in under an hour
8 cooking settings to choose from
Includes an aluminum bread pan and a kneading paddle
Suitable to make jam/marmalades, dough, bread, and pasta
Weighs about 10 pounds
Dimensions: 11.5 x 14 x 11 inches
Includes additional cooking accessories, like kneading knife and measuring cup
Large glass LCD
Where to Buy Them
Oster bread machines can be found in supermarkets and retail stores all over the US and Europe. You can also order them directly on Oster's website or through Amazon.
In Conclusion
From my point of view, the Oster Expressbake Bread Maker CKSTBR9050-NP takes the crown as the best Oster machine and the leading budget bread unit overall. It has all the upsides of other Oster baking units and the least amount of the downsides.
I hope that this article has sparked your interest in home breadmaking and led you to a bread maker that suits you most.