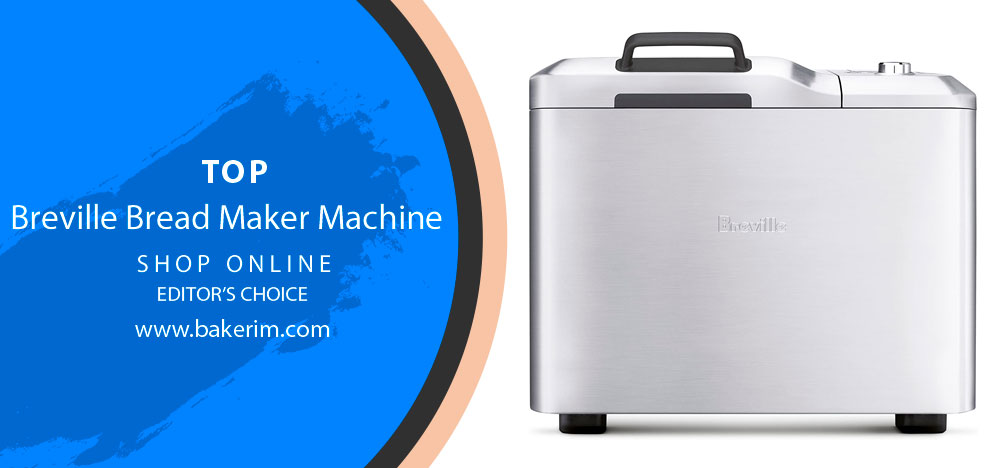 Breville Bread Maker BBM800XL Custom Loaf for Best Baking Bread
Every time I bake bread I remember my childhood. My grandmother always baked bread when I visited her. All my adult life I bought bread at the store. I never thought about baking it at home. Everything changed when I took a cooking master class. There a cook talked about the types of bread, flour, and the benefits of homemade bread.
I was interested in listening to it, but I thought I wouldn't bake it myself anyway. I didn't understand how I can bake delicious and crunchy bread at home. But then, in the cooking class, we moved on to practice. Then I found out that you can buy a bread maker and use it at home, which can be said to bake bread for you.

This master class changed my ideas about bread. Since then, I have never bought the bread at the store, but bake it at home. I've probably tried most of the bread recipes already.
I decided to write this article to tell you about how you can bake bread at home and share it with you, my favorite bread maker. If you like me a couple of years ago I didn't know which one to choose, then my recommendation will help you.

Advantages of homemade bread
The most important advantage for me is that I know what ingredients I use. If you compare the composition of purchased and homemade bread, then you will understand why homemade bread is healthier.
Homemade bread contains flour, water, yeast, salt, water.
Store-bought bread, as a rule, contains flour, water, yeast, wheat protein, salt, vinegar, dextrose, soy flour, vegetable fat, emulsifier E-472e (glycerol, diacetylvinci, and fatty acid esters), food additive E-300 (ascorbic acid), preservative calcium propionate (to suppress mold growth).
I think for you it became clear why I bake bread myself. I try to stick to a healthy diet and bread is no exception. If I use it, it's only homemade. And my family hasn't looked at bread from the store for a long time.
But this is not all the advantages of homemade bread that I found for myself. Baking bread at home is much cheaper than buying it. At least twice. You only need basic ingredients and if you want to add fruit or nuts to your bread. At the same time, baking bread will not take much time and effort.
But this requires a bread maker. You need to add the ingredients, turn it on and it will bake the bread itself. Nothing creates a home like the smell of bread. A hot loaf of delicious bread can be a great addition to a family dinner.
Making homemade bread, you can adjust the additives yourself, make spicy bread from sprouted grain, with raisins, cheese, bran, and so on indefinitely. Homemade bread can be lightly baked and then frozen. When it is necessary, you will get it and finish baking. Very fast!

I Use a Bread Maker from Breville
Choosing a bread maker wasn't easy for me. There are a huge number of them on the market. Everyone has different functions and features. I read hundreds of articles and reviews about bread makers and chose Breville.
About Breville
Breville is an Australian brand of kitchen appliances. Breville was founded in Australia in 1932 as a manufacturer and seller of small appliances. In 1974 the company produced an original product. It was a sandwich toaster (sandwich maker) and sold more than 400,000 units in the first year after its release.
After that, the company entered foreign markets, and it was such a success that in some countries the Breville brand became a household name for sandwich toasters. Today the company's products are manufactured and sold worldwide under various brands, such as GASTROBACK, KAMBROOK, BORK, SOLIS, Breville, SAGE, and others.
The basis of the company's growth and continuous increase in sales of Breville products is an investment in the development of products focused on design and innovation. Since 1999, the holding's shares have been listed on the Australian stock exchange.

Breville Products
They produce not only bread machines, but multicookers, vacuum cleaners, fans, kitchen scales, kettles, meat grinders, electric grills, microwaves, and mobile air conditioners, coffee makers, toasters, blenders, and so on.
Interesting Facts About Breville
You can see models of this brand in the movie called Fat, Sick, and Nearly Dead. The products Breville brought a large number of awards to this company. It's not for nothing that customers have been choosing their products for so many years. This brand has a great reputation. It trades in more than 30 countries around the world.
They really know a lot about food and therefore create high-quality devices. Their slogan is "We're Food Thinkers!". They use a type of software called NX. It allows them to develop ideas and implement them much faster and without errors.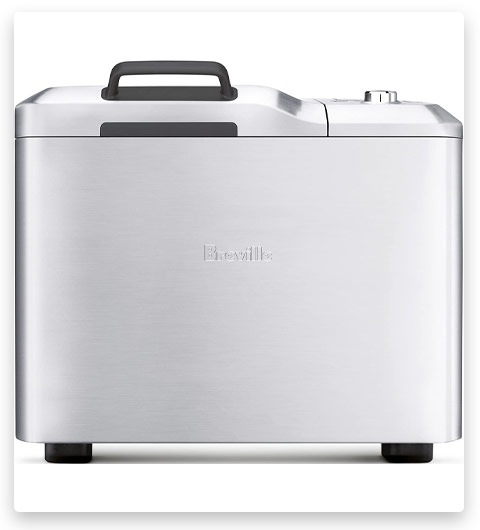 Now I will tell you in detail about the bread maker, which I use myself. You will find out why I love it so much, and also tell you about its disadvantages. I have been using Breville BBM800XL Custom Loaf Bread Maker for many years. I will tell you about each moment separately and I will use any questions you may have so that you have a clear idea about this bread maker.
Design
When I chose a bread maker, the first thing I paid attention to was the design. It is important for me that the device isn't bulky and fits into the interior of my kitchen. I have a small kitchen so it was important for me that the bread maker was compact. And this model is exactly like that. I won't say it's small, but it's also not big.
Something in between. It has a neutral color that is suitable for any kitchen. It doesn't stand out in the interior, but I think it should be like that. Therefore, if you are considering a medium-sized bread machine, this is what you are looking for.
Control Panel Buttons
This bread maker has many buttons for its operation. They are not difficult to understand, but I will describe each of them to you so that you have an idea about it. The buttons are located at the top and bottom. There are three buttons on top. The first button is responsible for changing the weight and temperature.
You can choose pounds or kilograms. And the temperature should be measured in Celsius or Fahrenheit. The button in the middle is responsible for sound signals. Namely, for disabling them. And the 3 button is light. Press it to turn on the light inside the stove. This is necessary to see the process of baking bread.
At the bottom, there are 4 more buttons and a disk. The first is responsible for the delay in launching the bread program. (13 hours). There is a change button. You can change the temperature and cooking time of the bread. Using the cancel button, you can cancel your actions. And there is a start/ pause button. To select a setting, the color of the crust, or the size of the loaf, you need to use the push dial. Just need to turn.
What is the Delay Start Button in the Bread Maker?
When I first heard about this feature, I asked the same question. In fact, this is a very convenient setting. You can delay the start of the bread baking program for up to 13 hours. This is useful if you want to get fresh bread for breakfast, but don't want to get up earlier to make it.
Dispenser
I love raisin bread. And I bake it often. For people like me, the dispenser was invented. In it, you add nuts, fruit, or whatever your heart desires and the bread maker automatically adds them about 10 minutes before the end of the second phase of kneading the dough. Just be careful. Add only dry ingredients, otherwise, the dispenser will fail.
His advantage is that it does everything itself. You only need to add the ingredients. There is one disadvantage that irritates me, but it is no big deal. The door of the dispenser opens very loudly. It always scares me.
Collapsible Kneading Paddle
This bread maker from Breville also has a collapsible paddle. It is necessary for kneading, mixing, and punching the dough. It should be in an upright position. In another position, it won't be able to mix the ingredients. Check the position before starting the bread machine. The kneading paddle can be removed if you need it. But also this bread maker has a fixed paddle that is used to stir the jam when you use the jam setting.
Pause feature
The bread maker has a pause function. You can find the corresponding button on the control panel. If you want to pause the process of baking bread, you can do this. This function is not available if you want to use a warm upcycle.
Crust
You have the option to choose the crust color of your bread. This can be a light, medium, or dark color. The choice depends on your taste and preferences. Personally, I love dark crust. Experiment to find your favorite crust!

Washing the Bread Maker Breville BBM800XL
When I first started using this bread maker, I had difficulty washing it. I didn't know how to clean it. In fact, it turned out to be simple. You need to get a bread pan and wash it with a sponge and dish detergent. But in any case, don't scratch it.
It is made of non-stick coating. You can easily scratch it and ruin it. And you don't need to put it in the water. Just gently rinse with water. The paddle can also be washed with a sponge and soap. Wipe the remaining parts of the bread machine with a damp cloth.
What bread loaf sizes can it bake?
It can bake 4 loaf sizes: 1,1,5,2,2,5 pounds. This is very convenient. I often bake a 1.5-pound loaf for my family. That's enough for us. If I only bake raisin bread for myself, I choose a size of 1 pound. If we are going to have guests, then I bake the largest size. But you need to understand that in the end, the loaf may turn out to be a little more or less in weight. It depends on the amount of flour and nuts, fruit if you add them.
Does it make gluten-free bread?
Yes, one of the settings of this bread maker is baking gluten-free bread. It kneads and rises faster than with other settings. And the bread is baked at a higher temperature. If I make gluten-free bread, I use rice or pumpkin flour. The dough is more elastic than when baking from wheat flour.
Conclusion
I wrote this article to tell you about the benefits and advantages of homemade bread. I am sure that after you bake your first bread, you will never want to buy it in the store again. You will enjoy this process and the taste of fresh fragrant and crunchy bread. To make this process simple, I use the Breville BBM800XL, bread maker.
It's been baking delicious bread for me for years. This is a great device with a large set of features at an affordable price. I recommended it to all my friends and relatives.
Everyone who has this bread maker is happy with the purchase. They bake bread with pleasure. I've never heard them complain about this bread maker. At first, you may only have a problem with washing it. But I told you how to avoid these problems and how to properly wash this bread maker.
Follow my advice and you will be fine. I tried to tell you about it in simple language. If you want to start baking bread at home but don't know which bread maker to choose, then choose this model. I recommend it to you based on my experience!