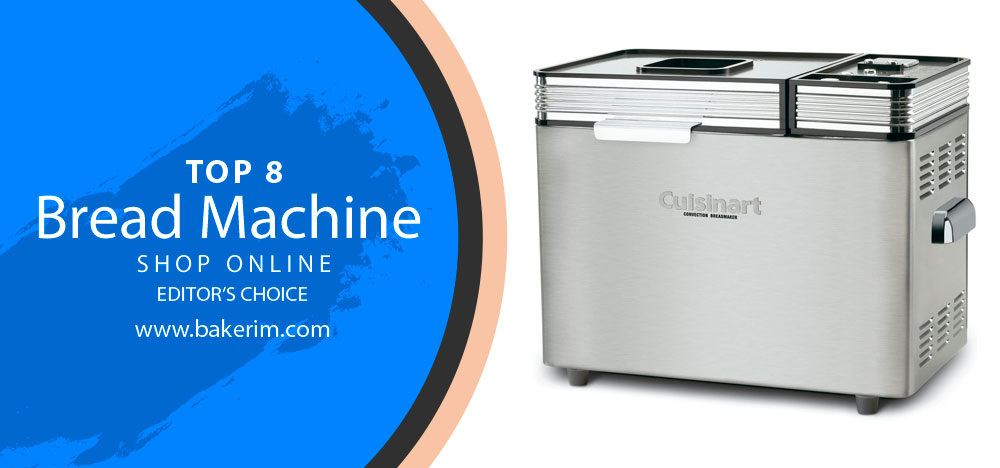 Your Personal Guide to the Best Bread Makers
Wake up and smell the aroma of fresh bread all over the house! Sounds good, eh? Isn't it a dream? Hmm, it's high time the dreams came true.
Imagine you have your own bakery in the kitchen. You can bake fresh bread any time you crave it. And you do not even roll up your sleeves for it. Just prepare your favorite ingredients and put them into the baking machine.

Your electronic friend will take care of everything. Just set the table and wait. If you are on a diet or just prefer some special products, it is easy to add them to your home bread.
Whole grain or gluten-free flour, various additives, fruits, nuts, or herbs — your fantasy can be boundless. So, if you are ready to become your own baker, let's have a quick look at the types of bread makers you can have at home.

| Image | Product | Brand | Link |
| --- | --- | --- | --- |
| | Hamilton Beach Bread Maker Machine 2 Lb Capacity Digital, Programmable, 12 Settings + Gluten Free, Dishwasher Safe Pan + 2 Kneading Paddles, Black (29882) | Hamilton Beach | |
| | Sunbeam Programmable Bread Maker, White | Sunbeam | |
| | Zojirushi Home Bakery Virtuoso Plus Breadmaker, 2 lb. loaf of bread, Stainless Steel/Black | Zojirushi | |
| | Zojirushi BB-HAC10 Home Bakery 1-Pound-Loaf Programmable Mini Breadmaker | Zojirushi | |
| | Cuisinart CBK-200 Convection Bread Maker, 12" x 16.5" x 10.25" | Cuisinart | |
| | Zojirushi BB-CEC20 Home Bakery Supreme 2-Pound-Loaf Breadmaker, Black | Zojirushi | |
| | KBS Pro Stainless Steel Bread Machine, 2LB 17-in-1 Programmable XL Bread Maker with Fruit Nut Dispenser, Nonstick Ceramic Pan& Digital Touch Panel, 3 Loaf Sizes 3 Crust Colors, Reserve& Keep Warm Set | KBS | |
| | Breville BBM800XL Custom Loaf Bread Maker | Breville | |
Types of Bread Machines
It seems difficult not to drown in the sea of proposals at the market. But really it is rather easy to make a choice if you do understand your requirements and needs.
Bread makers are typically categorized based on their size, a number of programs and modes, special settings, quantity and size of kneading paddles, type of bread pan,  and last but not least — the price.
Size
Small bread makers work best for limited kitchen place and little families or singles. But if there are many bread-lovers in your family, you would better think about a bigger one. Otherwise, you are at serious risk to leave someone hungry.
Programs and settings
All the bread makers have various sets of programs, such as crust control, different types of loaves, dough without kneading, and so on.
Some of the bread makers also have settings for special types of bread, e.g. gluten-free or whole-grain bread, sweet cakes, pasta dough, cookies or even jam and rice wine.

The advanced machines allow you to pre-program your own settings. What about making bread with your favorite additional ingredients like fruit, nuts, seeds, spices, and herbs?
Some devices alert you when it's time to add nutritional supplements or have automatic trap doors for this purpose. Some bread makers come with time delay settings. So you can set the machine to bake bread by your morning wake or otherwise by your return from the job.
Kneading paddles
Bread machines can have one or more kneading paddles. They also come in different types. Some of them have special paddles for various types of dough.
Make sure the kneading paddles are removable if you don't want to get your loaves with the holes at the bottom.
Bread pan
The bread pan is an important part of the machine. We recommend you buy the machine with the removable pan, so you cal easily clean it up. Also, make sure it is dishwasher safe. And non-stick coating is also important.
Noize
All the bread machines are noisy to some extent because they mix ingredients and knead the dough. Some of them have loud beep signaling about the steps of the process. They can vibrate and even risk falling from the counter. It depends on the quality of a particular unit. So take it into consideration while choosing your machine.

Price
It's quite natural that the more equipped your bread machine is the more it will cost. So just evaluate your needs and demands to pick the perfect price/quality ratio.
We have prepared a list of 8 best bread machines to make your choice easier. Here we go.
Top-8 Best Bread Makers
1# Hamilton Beach 2 lb Black 29882 Digital Bread Maker Dishwasher Safe Pan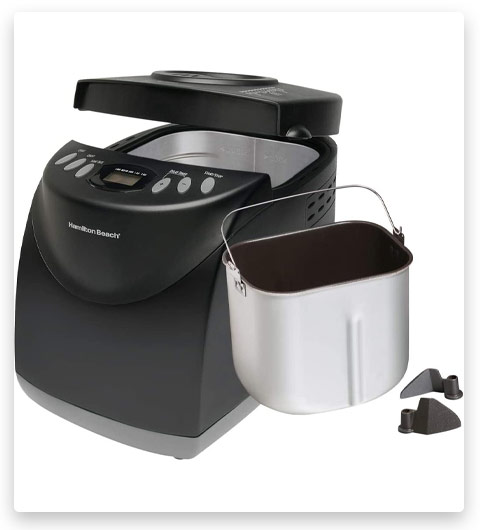 The art of bread-baking has never been as easy as with this smart machine. All you need is to add flour, water, and your favorite additional ingredients, select one of the 12 programs and press the start button. Voila!
If you are a fan of proper nutrition, it will make you happy. This wonderful machine bakes quick bread without yeast, wholegrain, and gluten-free bread. It is equipped with an audible reminder for adding extra ingredients.
2# Sunbeam Programmable Bread Maker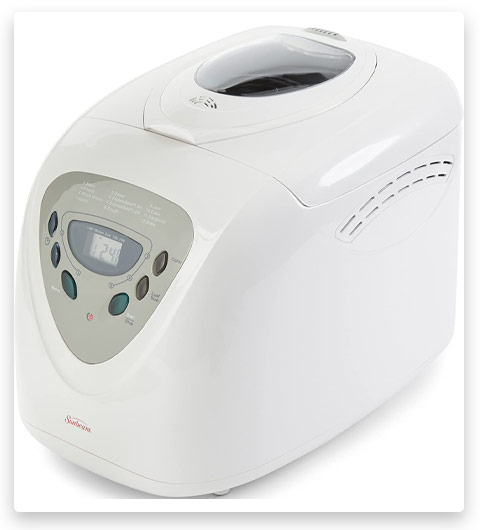 This friendly easy to use device helps you to bake any kind of bread, dough, cake, or jam. It has 12 baking settings and a convenient express cycle that bakes bread within one hour.
The warm setting allows keeping bread fresh and hot after baking. Thanks to the timer this bread maker can delay the bake time by up to 13 hours. You just set it to bake bread by the time you need it.
The large LCD display allows you to easily switch the settings and shows each stage of the process, while the large glass viewing window lets you take a sneak peek as the bread is baking.
3# Zojirushi BB-PDC20BA Home Bakery Virtuoso Plus Breadmaker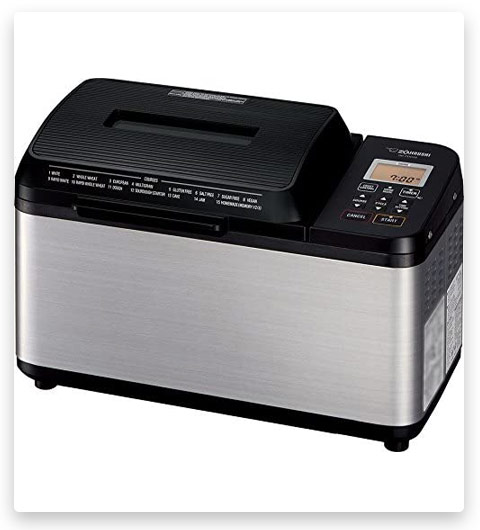 This baking machine is truly a luxury one. Its name Virtuoso speaks for itself. A unique heating element allows you to choose from three crust shades — light, medium, dark. You can bake any kind of bread including gluten-free or wholegrain, salt-free and vegan.
Easy to use. You just add your favorite ingredients, make a selection of mode, and wait. With the rapid course, you can get a fresh loaf within just 2,5 hours. The timer allows delaying the baking process by up to 13 hours.
4# Zojirushi BB-HAC10 Home Bakery Programmable Mini Breadmaker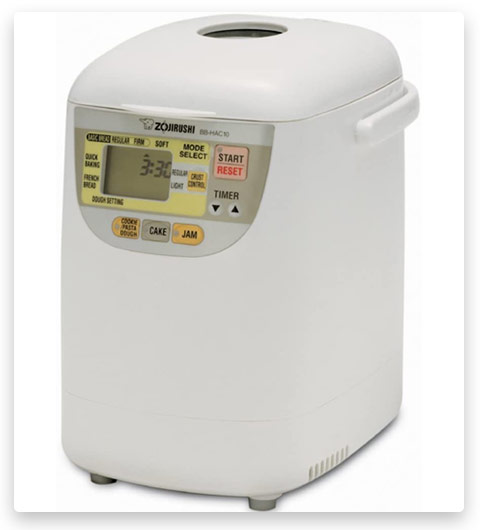 This compact machine is just ideal for your kitchenette. It's easy to place it in a limited spot. Easy to use, it's an irreplaceable assistant for any home-baker.
Despite its small size, the machine comes with various settings for bread, pasta dough, cookies, cakes, and jams. It also has three regimes — for a regular, firm, or soft bread texture.
5# Cuisinart CBK-200 2-Lb Convection Bread Maker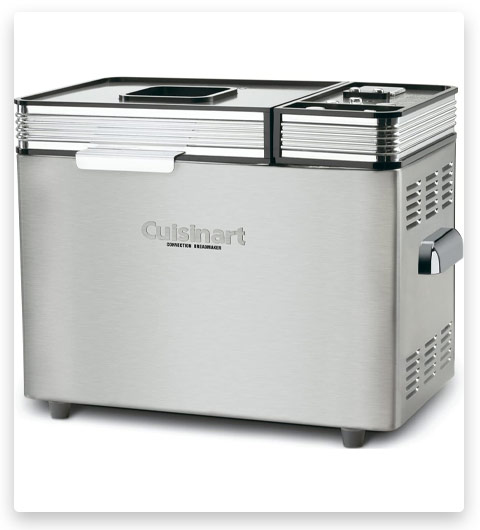 Bring the real bakery and cuisine art to your kitchen with this unique bread maker.
16 pre-programmed settings, over 100 kinds of bread, dough, pizza dough, jam, and other delicacies are available at one touch of a button.
Low carb and gluten-free bread will help you to keep your family healthy and happy. A perfect combination of speed, proper air circulation, and settings to ensure an ideal nutritional and healthy loaf.
6# Zojirushi BB-CEC20 Home Bakery Supreme 2-Pound-Loaf Breadmaker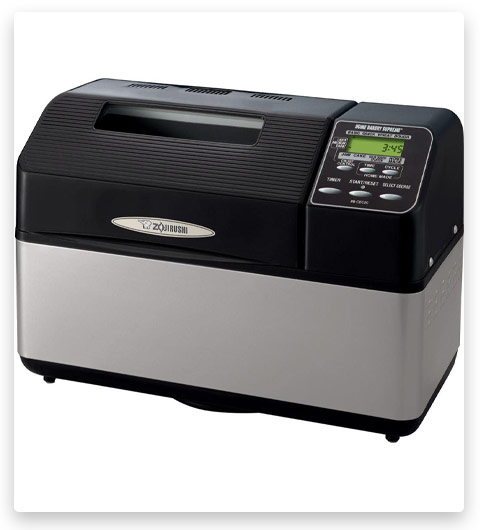 This bread maker has 10 pre-programmed settings and can bake anything you want. Traditional rectangular shaped 2-lb loaf or various types of recipes including basic dough, quick dough, cakes, jam, sourdough starter, and many others.
You can choose one of the three crust shades: light, medium, or dark. The machine's timer can be set to delay the end of the baking cycle by up to 13 hours.
Just imagine — any day you can wake up to the smell of a freshly baked loaf in the morning or come home to a warm homemade bread at the end of a long day at work. Sounds good, right?
7# KBS Bread Machine Automatic 2LB Bread Maker Stainless Steel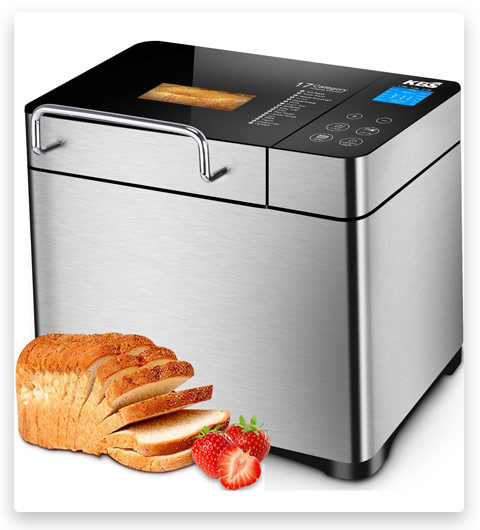 Do you want to get an automatic bread machine with advanced features for an affordable price?
It's possible. Let's try this simple and efficient bread maker. What is really pleasant — it's ideal for any user from beginners to advanced bakers.
This smart bread maker with 19 menus including whole wheat, quickbread, gluten-free, stir-fry, and even rice wine allows you to pursue all your culinary dreams. 3 crust colors settings: for light, medium and dark crust. 3 loaf sizes: from 1.0 to 2.2 lb loaf.
The machine is equipped with a 15-hour programmable delay bake, 1-hour keep warm, and 15-minute power interruption recovery which allows you to wake or to come home to the divine aroma of freshly baked bread. Great choice. All the power of the best bread maker at the most reasonable price.
8# Breville BBM800XL Custom Loaf Bread Maker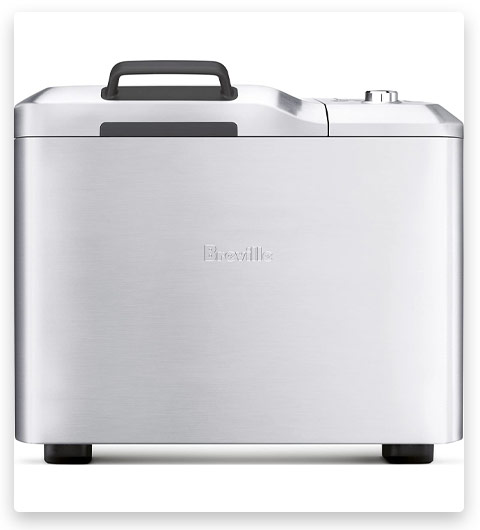 One of the smartest bread makers ever. If you are a creative person you will definitely appreciate it. There are over 60 different custom recipes. But in addition to the pre-programmed settings, you can manually input selections for kneading, rising, baking, and warming steps.
Smart interface computes the temperature and baking time when you make a selection, while a super easy dial gets you started on any recipe in seconds. It lets you select what time you want the bread to be ready.
Capacious automatic fruit and nut dispenser allows adding ingredients at the appropriate time. You are free to create your own recipes. It gives you quite a wide field for creativity. Let's try.
How To Choose Your Ideal Bread Maker
It's a good idea to consider the needful features of your ideal bread machine before going to the shop:
Size and design: the device should match your kitchen. Think of color and shape that match your kitchen appliances.
Productivity: estimate the quantity of bread you need day-to-day.
Viewing window: it's always interesting to check on the process.
The shape of bread: would you prefer traditional rectangular or round.
The bread pan: better choose the machine with a removable pan to easily wash it.
Programs and sets: delayed start, timer, warm setting, dispenser for nuts and fruits, etc.
Easy use and programming: friendly intuitive interface
Special features: do you need a machine that produces whole grain or gluten-free bread, pizza dough, cakes, cookies, jam, etc.
Noize level: quiet mode without loud beeps.
Warranty: it offers free or cheap repairs should it break, so you enjoy your machine without a headache.
Price: don't look for the lowest prices. Quality and price go hand in hand.
We highly recommend the above Top-8, but it's always up to you. Hope this short review will help you to make the right choice and really enjoy your bread machine and the baking process. Have a nice shopping!