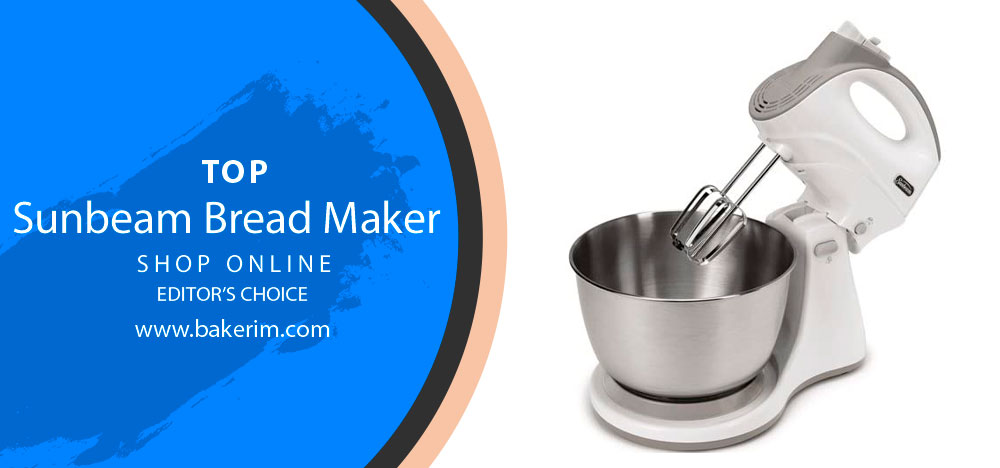 Sunbeam Programmable Bread Maker Machine – Full Review 2021
Sunbeam is a company that has been producing various products for your home for more than 100 years. This technique was the best in the days of our grandparents and remains so to this day. The company's goal is to improve our daily life. Technology makes it easier.
Sunbeam's innovative technology simplifies cooking, cleaning, and more. Sunbeam technology is not only about modern and smart gadgets but also about elegant and attractive design. It will complement the interior of your home. The design of the technique is recognized as the best again and again. The brand confirms this by winning awards. They were awarded the international award for the design of the Innovo 2 Burner barbecue.
And in 2008 they won against 3,000 participants from more than 50 countries with their contact Grill cafe series. The brand received the Red Dot Award. Sunbeam offers a large selection of electrical appliances. You can buy coffee makers, waffle makers, toasters, mixers, bread makers, household goods and more.
Buyers note that this is the best technique they have used. It is durable, made of quality materials. People have been using it for years. If something breaks due to expiration, customers will return to the Sunbeam brand again. In my article, I will tell you about the products of this brand, such as a bread maker, toaster, mixer, and sunbeam knives. And you will see how good this brand is.
1# Sunbeam Programmable Bread Maker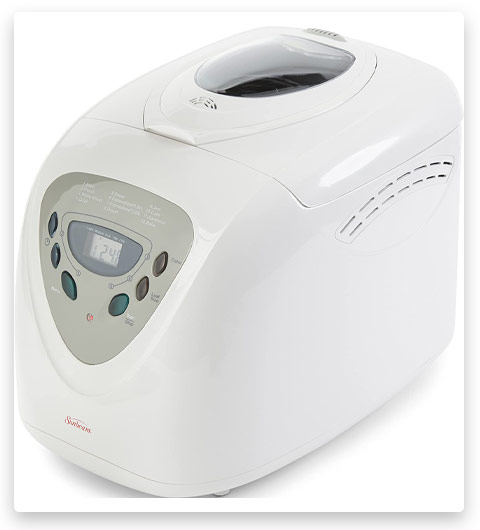 It's hard to find a person who doesn't like bread. There are some, but this is the exception rather than the rule. Basically, everyone buys it in the store. But at the same time, we do not know exactly what ingredients and under what conditions it is prepared. We can not be sure that there are no preservatives in it. Therefore, many people prefer to bake bread at home.
And you can start doing the same. You will be sure that the bread is baked without extra ingredients and that no additives are added there. You also have a choice of what bread to bake. The choice is unlimited. It all depends on your imagination and the recipes that you can find. So you will be able to bake bread without gluten and not be afraid for your figure.
To bake bread at home you only need ingredients and a bread maker. As I wrote earlier, Sunbeam is one of the best manufacturers of electrical appliances. And bread makers are no exception. Sunbeam 5891 Bread Maker Machine is one of the best on the market. It has 12 different settings.
You will be able to bake not only bread but to make cakes, jam, jelly and more. This bread maker is able to bake any bread. Whether it's white, cranberry, banana, pumpkin or almond bread with chocolate. From the classic to the more unusual options. You will be delighted. What specific settings does this bread machine have? This is basic, French, wholegrain, fast, sweet, express baking, jam, dough, baking, sandwich.
So you can choose the settings of the bread crust. It can be lighter or darker. Managing the bread maker is simple. There is a control panel. All the buttons are large. After reading the instruction, it immediately becomes clear what each button is responsible for. But it has one drawback. It is poorly illuminated.
Also, I would not recommend using the recipes that are in the instruction. They are not all accurate. It is better to find on the Internet or buy a special book.
The bread maker has a non-stick tray. You can not worry about the fact that your bread will burn. The maximum weight of your loaf should not exceed two pounds. But that's not all about the Sunbeam bread maker. Customers love this device because it has a 13-hour function. You can put the dough in the bread maker in the evening and get it ready in the morning, right for Breakfast.
The design will perfectly fit into the interior of your kitchen. Cool white color looks stylish and attractive. The bread maker is stable. Even if during the kneading it will start to shake a little the rubber legs will not allow it to move. There is a transparent lid that allows you to observe how the baking process is progressing.
This is a great product from the Sunbeam company. For a reasonable price, you will get a multifunctional bread maker that will bake delicious fresh bread and serve you for many years. Treat yourself and your family to crusty bread.
It is also important
In addition to this product, we suggest considering other additional devices from this brand that will fill your kitchen and bring a good mood while cooking.
2# Sunbeam Wide Slot 4-Slice Toaster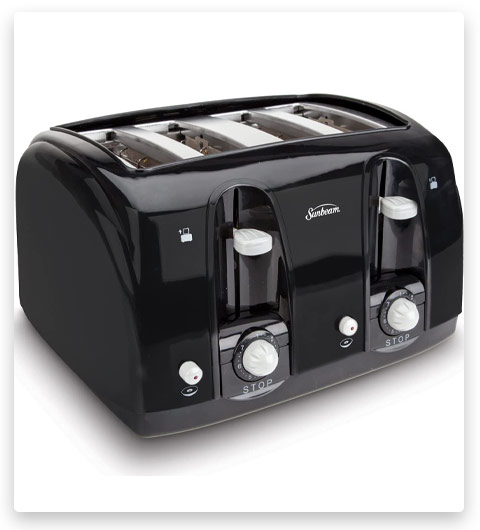 Toasters are a great Breakfast dish. Delicious, nutritious, and most importantly it can be quickly prepared. It is valuable when you are in a hurry. Sunbeam toaster toasts 4 slices of bread at a time. You can quickly and easily load bread into the toaster thanks to the wide slots. Someone likes when the bread is fried, and someone on the contrary.
The toaster has the function of changing the shade of bread. Everyone can bake bread according to their taste. If your toast is stuck, the toaster prevents a fire situation. It doesn't matter whether the bread slices are thinly or coarsely cut, the toaster is able to fry slices of any size well. The color of the toaster is black. It looks stylish and elegant.
It won't take up much space in your kitchen. It is not only easy to use but also easy to wash. Take any rag and wipe the inside of the toaster. The price of a toaster is available. It will fit into any person's budget. Save yourself the hassle of making a long Breakfast with a sunbeam toaster!
3# Sunbeam FPSBHS0301 Mixmaster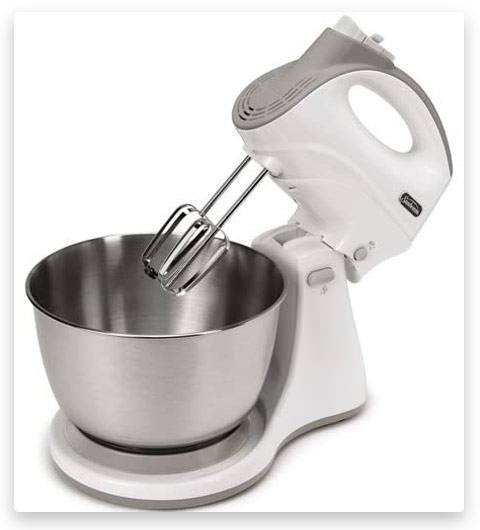 A mixer is a kitchen tool without which it is difficult to do. Especially if you like to bake. You always need to whip something up. Eggs, butter and sugar, and more. The sunbeam mixer does a great job. It combines high quality and reasonable price.
It is not suitable for a high-level bakery, but for home cooking, it is what you need. The mixer itself is standing, but it can easily become manual. You just need to click on the button. And now you have a hand mixer. The mixer has 5-speed settings. Therefore, it is suitable for different recipes that you will want to cook.
You can whip up your ingredients in a 3-liter bowl, which is made of stainless steel. This material is safe for your health. It is durable and resists rust and corrosion. It takes up little space and weighs only 3 pounds. It is not hard to hold in your hands and therefore convenient to work with it.
You will have no problems cleaning the mixer. The bowl and nozzles are quickly and easily removed. It is enough to wash them under hot water or you can put them in the dishwasher. Sunbeam mixer is what your kitchen needs!
4# Sunbeam 70329.13 Cutlery Set, STD, Multi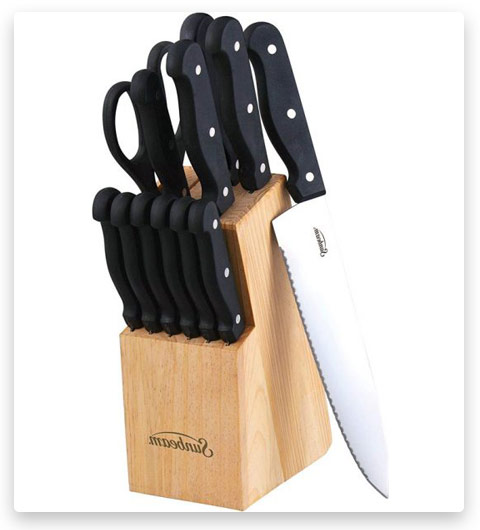 Knives are indispensable things in the kitchen. Without them, we can cook no dish. To cut the ingredients beautifully and quickly, you need high-quality knives. Therefore, it is important to approach the choice responsibly. Otherwise, the result will quickly dull knives. Sunbeam is known for its quality products. It doesn't matter if it is a bread maker or small knives.
So you can safely rely on this company. As a result, you will get a decent product. This set of knives is suitable not only for housewives but also for chefs. Many of them say that this is the best thing they have used. You will get a set of 13 knives. 6 steak knives, boning knife, bread knife, chef knife, woodblock, scissors, paring knife, utility knife.
You will have knives for all the dishes. You won't have any problems slicing bread, buns, or butchering meat.  The knives are made of stainless steel. This material is the best that can be for knives. It is safe for food. This material does not emit any poisonous substances. Also, the knives will not be quickly worn off.
Corrosion and rust are not afraid of stainless steel. Convenient to use. The handle allows your hand to not slip and hold the knife comfortably. High-quality knives at a good price from the Sunbeam brand.

Conclusion
Sunbeam is the brand that you can trust in the choice of kitchen appliances. The company has repeatedly proved that it is the best on the market. I think that after reading this article, you are also convinced of this. In conclusion, I want to say that you can safely buy a bread maker about which I told you in the beginning.
You will always have fresh and healthy bread in your home, without preservatives. At the same time, you do not need to put a lot of effort. The bread maker will do almost everything for you. It is reliable and time-tested. I have read a lot of positive reviews about her. Customers note that this is the best device for such an affordable price that they have ever had. Enjoy your shopping!