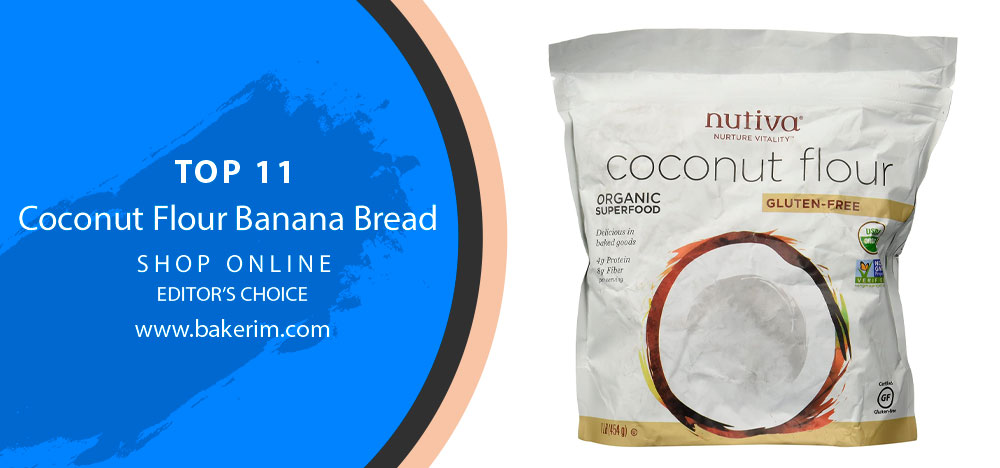 Are you tired of the eternal search for gluten-free and healthy bread on the shelves of the store? Stop doing this and cook your own fragrant, tasty, and healthy bread using coconut flour.
The ideal use of coconut flour is to bake banana bread with coconut flour. This is an easy recipe that doesn't require much effort. Bread is tender, moderately sweet, and most importantly healthy and gluten-free. I will share some coconut flour banana bread recipes with you so that you can choose the one that suits you best.
What Is Coconut Flour?
Coconut flour is made from coconut pulp that has been dried and ground. It originated in the Philippines, where it was first obtained as a by-product of coconut milk. During production, coconuts are first cracked and coconut juice is drained from them. The coconut pulp is then peeled, rinsed, grated, and filtered to separate the solid particles from the milk. This product is subjected to heat treatment at a low temperature until dry, and then crushed into flour. The resulting white powder looks and feels like flour made from grains, such as wheat, and it is very mild in taste.
Summary: Coconut flour is made from dried and chopped coconut pulp. The taste and texture are similar to other types of flour.
Gluten-Free Coconut Flour
Coconut flour doesn't contain gluten, which makes it suitable for people with certain diseases, such as celiac disease, wheat allergy, or non-celiac sensitivity to gluten. Gluten is a group of proteins found in grains, such as wheat, barley, and rye, which are difficult to break down during digestion. People who can't tolerate gluten can experience symptoms ranging from flatulence, cramping, or diarrhea to damage to the intestines and impaired absorption of nutrients.
People with celiac disease or allergies to wheat should avoid all grains containing gluten, while people with gluten sensitivity can either reduce or completely eliminate this protein from their diet. Coconut flour is an alternative to wheat or other gluten flour. It is also not a cereal meal, which makes it a popular choice among people who follow grain-free diets, such as the Paleo diet.
Summary: Coconut flour is gluten-free. This makes it a great alternative for people with celiac disease, wheat allergies, or non-celiac gluten sensitivity.
Coconut Flour And Health Benefits
Coconut flour has a good nutritional profile and can be good for your health. Nevertheless, several studies directly studied coconut flour. The potential beneficial properties of coconut flour are based on studies that have shown the nutrients or beneficial compounds contained in it.
Coconut flour contains many nutrients, including healthy fats. Besides the fact that coconut flour is very rich in fiber, it contains medium-chain triglycerides. It is a type of fat that has several beneficial properties, such as helping to reduce body weight, protecting against bacteria and viruses, and improving brain and heart health
Maintains Stable Blood Sugar
Coconut flour contains fiber, which can help control blood sugar. Coconut flour contains 37 g of fiber per 100 g of product – this is a record among other types of flour. Fiber-rich foods help regulate your blood sugar by slowing down the rate at which sugar enters your bloodstream. Coconut flour also has a low glycemic index (GI), which means that bread and pastries made from this flour are less likely to increase blood sugar.
May Promote Healthy Digestion
High fiber in coconut flour can also help your digestion. Most of its fiber is insoluble, which helps to smoothly move food through the intestines, reducing the likelihood of constipation. In addition, coconut flour has a small amount of soluble and other fermentable dietary fiber that nourish the beneficial bacteria in your intestines.
Coconut Flour May Improve Heart Health
Coconut flour can also be good for heart health. Studies show that consuming 15-25 grams of coconut fiber per day can help lower total blood cholesterol by 11%, and blood triglycerides by 9%.
Moreover, coconut flour contains lauric acid, a type of fat that is believed to help kill bacteria that cause the formation of cholesterol plaques on the walls of arteries. Cholesterol plaques are associated with heart disease. However, other studies show that lauric acid may not affect or even raise cholesterol, so the effect of lauric acid on cholesterol may vary depending on the person.
Can Help You Lose Weight
Coconut flour can help you lose weight because it contains both fiber and protein, two nutrients that reduce hunger and appetite. Unlike wheat flour, coconut one is low in calories. Coconut oil in large quantities is squeezed out and bread remains with a minimum amount of fat. Those who want to lose weight, but can't refuse baking, it makes sense to switch to coconut flour.
Is It Possible To Freeze Banana Bread With Coconut Flour?
There is a definite answer to this question – yes. You can freeze the ready-made coconut flour banana bread to eat it later. Just before you put it in the freezer, the bread should be cooled. I recommend freezing bread in a plastic bag. In this form, bread is stored for up to 3 months. It takes about 3 hours to defrost bread. No matter how long it lay in the freezers for 2 days or 2 months, the bread will be fresh.
Our Top List 11 Picks Best Coconut Flour – Editor's Choice
| Image | Product | Brand | Link |
| --- | --- | --- | --- |
| | Anthony's Organic Coconut Flour, 4 lb, Batch Tested Gluten Free, Non GMO, Vegan, Keto Friendly | Anthony's | |
| | Terrasoul Superfoods Organic Coconut Flour, 6 Lbs (3 Pack) - Gluten-Free | Unrefined | Fine Texture | Premium Quality | Terrasoul Superfoods | |
| | Coconut Flour Organic, 3 lb w/ E Book, Gluten-Free, Raw, Keto, Paleo Friendly | Cookoo for Coconut | |
| | Nutiva Organic Unrefined Gluten-Free Coconut Flour, 25 Pound | USDA Organic & Non-GMO | Vegan & Gluten-Free | High-Fiber and Non-Grain Flour Alternative for Cooking & Baking | Nutiva | |
| | Coconut Flour Organic 1 lb, Raw, Premium Low Carb Flour, Keto, Paleo Friendly | Cookoo for Coconut | |
| | Milliard Organic Coconut Flour (5 lb) Batch Tested Gluten-Free, Non-GMO and Vegan 100% Pure High Fiber | Milliard | |
| | Let's Do Organic Flour, Coconut, 16 Pouches (Pack of 6) | Let's Do Organic | |
| | Arrowhead Mills Organic Coconut Flour, Gluten Free, 16 Ounce Bag | Arrowhead Mills | |
| | Nutiva Organic Coconut Flour - 1 lb | Nutiva | |
| | Pillsbury BEST Organic Coconut Flour, 16 Ounce, Gluten Free | Pillsbury | |
| | Prasada Organic Coconut Flour (48oz) | Wheat-Free, Non-GMO, Gluten-Free, Keto-Friendly, Paleo Diet Friendly… | Prasada | |
The perfect Banana Bread With Coconut Flour is made with the flour manufacturers listed below. Each time I tried to bake with new flour in order to find out which coconut flour should be purchased and which not.
#1 Anthony's Organic Coconut Flour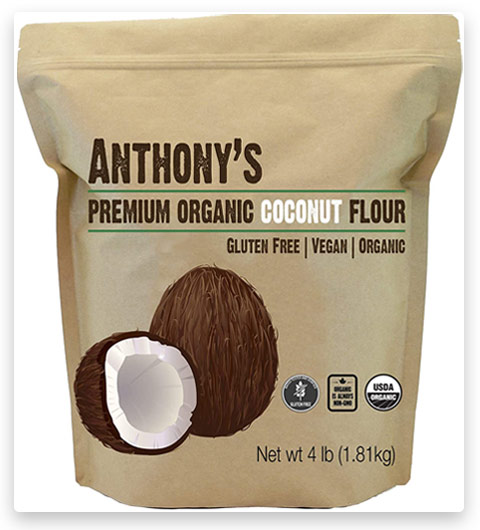 I love Anthony's products. All flour of this brand corresponds to the highest quality and bakery products always turn out as they should be. This fine flour, it is cream in color and the bread has a pronounced coconut smell. Flour doesn't contain gluten and can be used on pale and keto diets. Flour contains a lot of protein and fiber for your health.
#2 Terrasoul Superfoods Organic Coconut Flour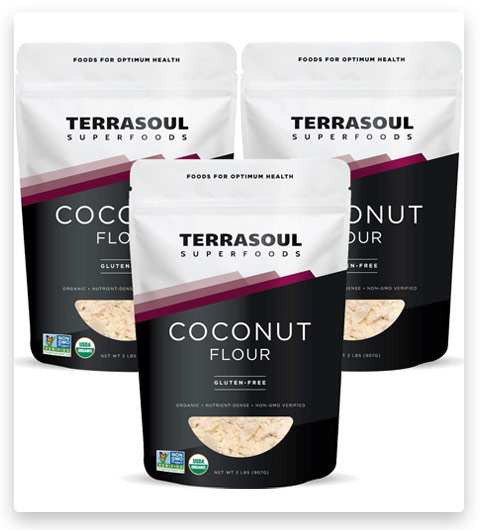 You have the opportunity to get 3 packets of organic coconut flour. Each weighs 2 pounds. Flour is substituted in convenient packaging that is easy to open and can be closed to preserve the flour. Flour has a natural color. When I cook coconut flour banana bread with this flour, the whole apartment smells like coconut. No GMO or preservatives. Reasonable price and high quality!
#3 Cookoo for Coconut Coconut Flour Organic – Amazon's Choice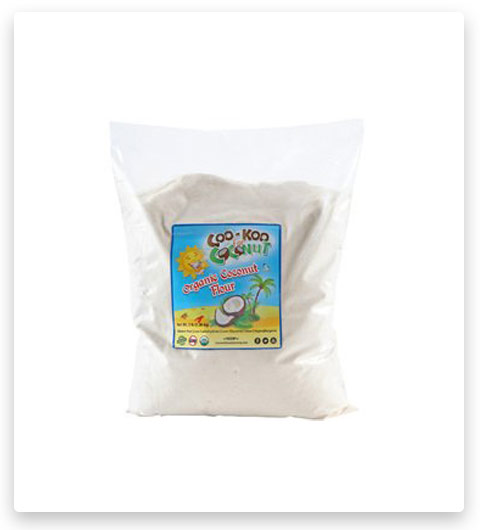 It is an organic certified gluten-free flour. This flour also has a low glycemic index and low carbohydrate content. However, this coconut flour is rich in protein and fiber for better digestion. Finely ground flour and has a rich cream-white color. Delight your family with delicious banana bread with quality coconut flour.
#4 Nutiva Organic, non-GMO, Gluten-free, Unrefined Coconut Flour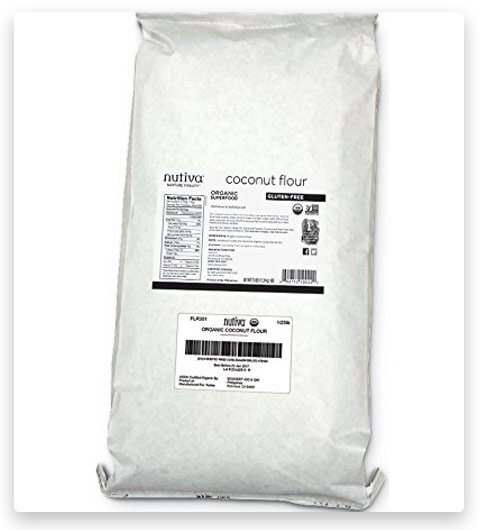 This flour is made from naturally grown coconuts in Southeast Asia. Flour does not contain GMO and doesn't contain chemicals. Suitable for people with gluten intolerance. The bread is moderately sweet with a pronounced coconut flavor thanks to this flour.
#5

Coconut Flour Organic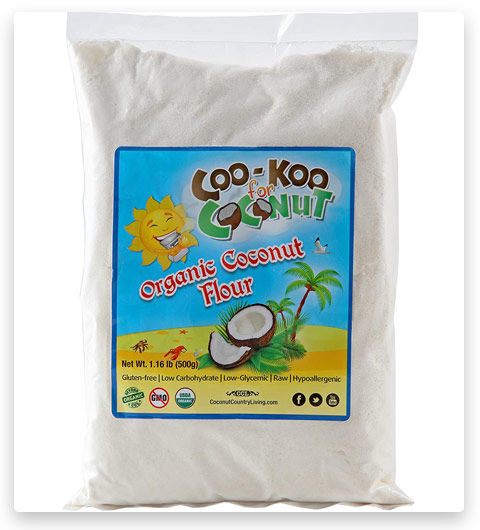 It is a hypoallergenic flour that has a low carbohydrate content and a large amount of protein. If you want to lose weight, you are advised to use this flour in your recipes. It is a safe product for your family. Flour does not contain GMO, preservatives, or chemicals in its composition.
#6 Milliard Organic Coconut Flour – Amazon's Choice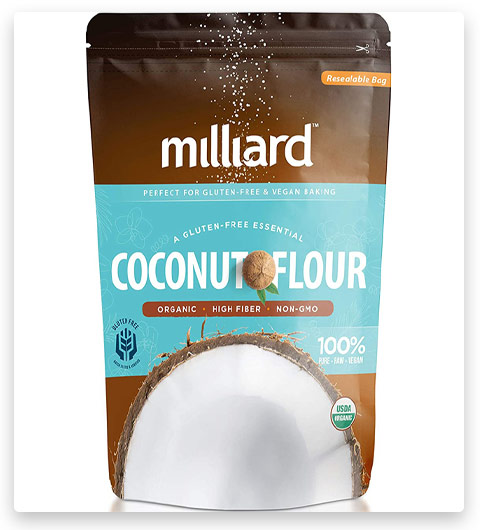 This flour is unbleached and contains no artificial ingredients. This flour fully reveals the taste of coconut flour banana bread and other dishes. This flour has been tested for gluten and GMO by Natural Food Certifiers. Flour comes in a packaging that closes. So the product will stay fresh longer.
#7 Let's Do…Organic Coconut Flour, 16 Ounce Pouches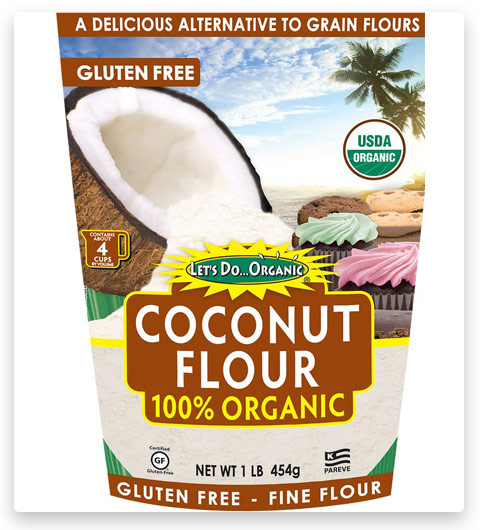 This flour is extracted from naturally grown coconuts. Flour production is in accordance with standards. This is a certified product that you can use to bake coconut flour banana bread. For an affordable price, you get 6 packs at once, each weighing 16 ounces. This is a useful substitute for wheat flour!
#8 Arrowhead Mills, Organic Gluten-Free Coconut Flour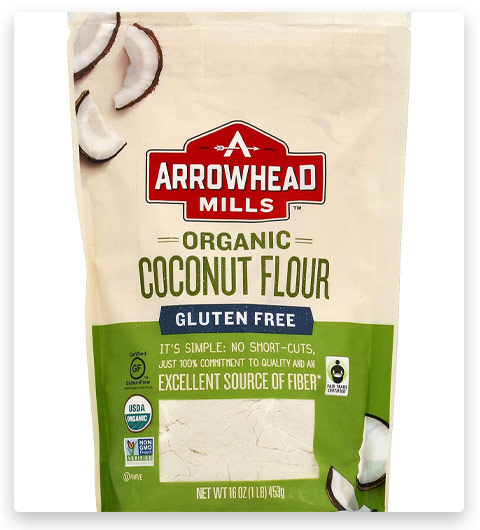 Flour from this manufacturer has a natural color, not bleached. This is an organic product that has passed all quality checks successfully. Convenient packaging that allows you to preserve the freshness of coconut flour and leave your kitchen clean.
#9 Nutiva Organic Coconut Flour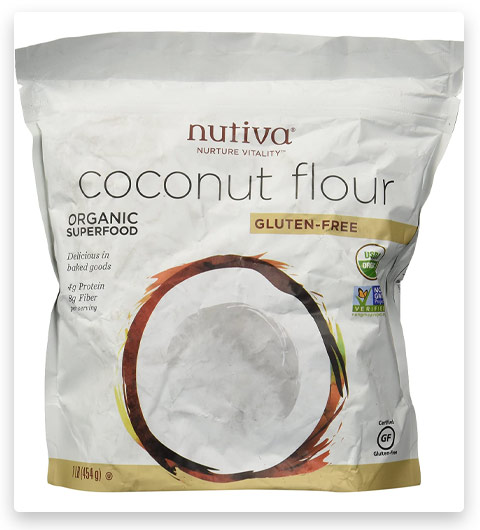 You can trust the quality of this coconut flour. It is harvested from organically grown coconuts that are ground in the right way. Coconut pulp doesn't contain GMO and chemicals. This is the main ingredient for coconut flour banana bread. It will be slightly moist with a natural coconut flavor.
#10 Pillsbury BEST Organic Coconut Flour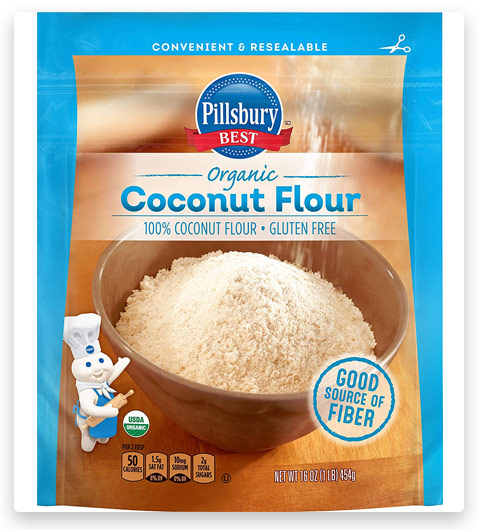 For your ideal banana bread with coconut flour, you will also need a natural flour that meets high-quality requirements. Flour has a natural coconut color and a rich taste and smell. It comes in well-sealed packaging. Gluten-free and preservative-free!
#11 Prasada Organic Coconut Flour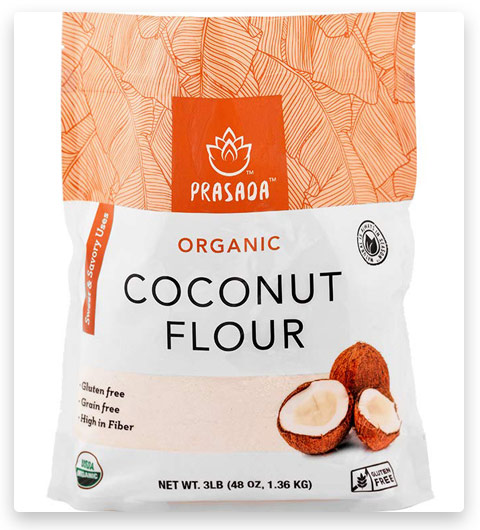 This coconut flour works great in baking recipes. And banana bread with coconut flour is no exception. If you like the taste of coconut, then this is what you need. Banana bread is moderately sweet with bright notes of coconut. The flavors of coconut and banana are perfectly combined with each other and like children and adults alike. Try and share your impressions in the comments!
Best Coconut Flour Banana Bread
Coconut flour can be used in a variety of recipes, both sweet and savory. It is ideal for baking different pieces of bread such as coconut flour banana bread. It goes well with banana and adds zest to your bread. It is excellent for baking bread and adds a naturally sweet taste and you will get moist bread.
1# Bread Recipe
Ingredients:
3 ripe bananas
3 tbsp. melted coconut oil
60 ml of milk
4 eggs
½ tbsp of coconut flour
¼ tbsp of chia seeds
50 g raisins/cranberries
2 tsp baking powder
1 tsp cinnamon
Instruction:
In a blender, beat eggs with bananas, milk, and coconut oil until smooth.
In a bowl, mix coconut flour with chia seeds, baking powder, raisins, and cinnamon.
Then combine the egg mass and the dry mixture and leave for 5 minutes.
Pour the resulting mixture into a silicone bread mold or a baking sheet covered with parchment paper and bake at a temperature of 150 ° C for 50-60 minutes, until the toothpick comes out clean.
Before slicing the bread, let it cool.
Bread goes well with butter, peanut butter, premium jam, honey; it is no less tasty in itself.
2# Bread Recipe
Ingredients:
3 bananas
1/3 cup coconut flour
4 eggs
1/4 cup honey (can be replaced with coconut syrup)
1/3 cup coconut oil
3 tbsp arrowroot starch
1 tbsp cinnamon
1/2 tsp soda
1/4 tsp salt
Cooking:
Preheat the oven to 175C. Lubricate the small but deep bread pan with coconut oil.
With a fork, crush bananas, mix with eggs, honey, and coconut oil.
Add the remaining ingredients and mix well. The dough should turn out liquid, and if you are not used to coconut flour, then it will seem small to you. Don't worry, bread should rise and coconut flour will increase in size several times.
Bake bread for 45 minutes. Enjoy your meal!
3# Bread Recipe
Ingredients:
4 medium bananas (ripe)
4 eggs in the original ( 2 squirrels and 1 whole egg)
2 tbsp olive oil (can be not added)
½ cup chopped nuts (I used walnuts and pistachios – I dried them in a dry pan)
1/3 cup coconut flakes
4 tbsp coconut flour
½ teaspoon baking powder
½ teaspoon ground cinnamon
Cooking:
Preheat the oven to 180 C. Prepare a baking dish (it is better to use a small baking dish or a pan), grease with coconut oil, especially the walls of the form. In a small bowl, combine flour, powder, coconut flakes, and spices. In another bowl, knead the bananas and add the eggs, beat at an average speed for 1-2 minutes. Then add oil, mix well. Add a mixture of flour and nuts and mix well again, 1-2 minutes. Pour into a baking dish. Bake for 20-30 minutes or until the toothpick comes out dry. Remove from oven, allow to cool, then carefully remove from the mold. You can pour dark chocolate (melt in a water bath) and sprinkle with coconut flakes or nuts.
Conclusion
If you are a supporter of a healthy lifestyle or you are intolerant of gluten, then you will definitely like coconut flour and become a welcome (or maybe permanent) guest on your table.
Coconut Flour Banana Bread is the perfect dessert that will appeal to both children and adults. It does not require professional culinary skills, complex ingredients, and a lot of your time. Delight your family with the delicious and healthy Banana Bread With Coconut Flour.