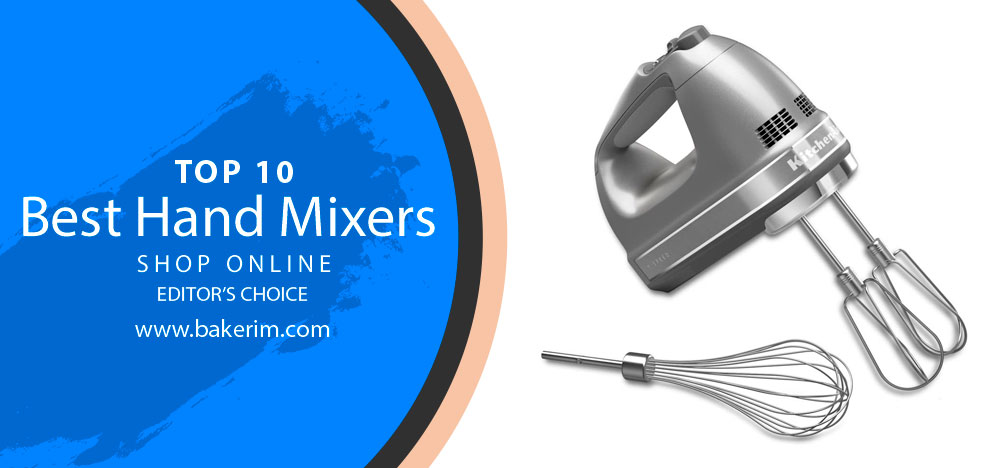 Best Hand Mixers – Top 10 Mixers In 2021
Have you ever had to mix ingredients for dough or baking? If yes, then you understand that mixing until you get a homogeneous mass by hand is a long and difficult process.
It would seem that you can use mixers to save time and energy? But the problem is that stationary mixers are very bulky and take up half the table or even more while cooking.
Therefore, the ideal solution would be to use hand mixers. They have no problems with space; can easily fit in a kitchen drawer or on a shelf. But they work with the same efficiency as standing mixers.
The biggest problem when choosing a hand mixer is to decide on the budget that you are willing to spend on the purchase of the device. Therefore, we have selected for you a list of the top 10 hand mixers available on the market today.
Best 10 Hand Mixers For Your Kitchen – Hand Mixers Reviews
| Image | Product | Brand | Link |
| --- | --- | --- | --- |
| | KitchenAid 6 Speed Hand Mixer, Contour Silver | KitchenAid | |
| | BLACK+DECKER Lightweight Hand Mixer, White, MX1500W | BLACK+DECKER | |
| | Proctor Silex 5 Speed Easy Mix Electric Hand Mixer with Bowl Rest, Black (62507PS) | Proctor Silex | |
| | Cuisinart HM-90BCS Power Advantage Plus 9-Speed Handheld Mixer with Storage Case, Brushed Chrome | Cuisinart | |
| | BLACK+DECKER 6-Speed Hand Mixer with 5 Attachments & Storage Case, MX3200B | BLACK+DECKER | |
| | VonShef BLUE 250W Hand Mixer Whisk With Chrome Beater, Dough Hook, 5 Speed and Turbo Button + Balloon Whisk | VonShef | |
| | BLACK+DECKER MX600B Helix Performance Premium 5-Speed Hand Mixer, 5 Attachments + Case, Black | BLACK+DECKER | |
| | Oster 2500 5-Speed Hand Mixer, 240-watt | Oster | |
| | Hamilton Beach 6-Speed Electric Hand Mixer, Beaters and Whisk, with Snap-On Storage Case, Red | Hamilton Beach | |
| | KitchenAid KHM7210CU 7-Speed Digital Hand Mixer with Turbo Beater II Accessories and Pro Whisk - Contour Silver | KitchenAid | |
In our selection, there are models from a large price range, starting with simple but functional budget models and ending with high-tech expensive mixers.
Let's not wait and look at them!
1# KitchenAid 5-Speed Hand Mixer – Best Value For Money
KitchenAid has a fairly extensive range of mixers with 3, 5, 7, and 9 speeds. At first, I wanted to put a mixer with 9 speeds in 1st place, but when I tried it, I realized that it included functions and accessories, that most people either simply won't use or will use very rarely.
So 5 speeds are the golden mean. Plus, it's cheaper than 7 and 9-speed. Besides, the extra nozzles that come with these mixers are sold separately and are universal, so you can just buy a nozzle and put it on any hand mixer from KitchenAid.
This mixer is good because it starts very smoothly, and there's no problem when all the ingredients are sprayed around the edges of the bowl and on the table. The beaters are made of stainless steel, so the mixer is designed for fairly long service life. This is also evidenced by the braided cord, which saves the wires from kinks and tears, which is a very common problem for mixers. Also, the model is quiet and doesn't vibrate too much.
Of the minuses, I note that although the beaters are made of stainless steel, they are quite thin, and sometimes break at the joints. But usually, this happens only if you hit the beater hard on the edge of the bowl if the mixer is on. I also note that the quality of the plastic mixer is not the best, but for that price it's normal.
In general, if you handle this mixer well, it will last for several years. For the money, this model is better than most of those that you find on the market.
2# Black Decker Hand Mixer – Best Lightweight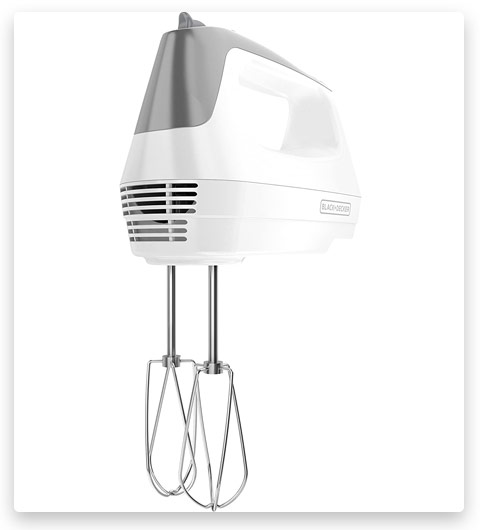 Often the hand gets tired when you whip the ingredients in a bowl for 5-10. Having picked up this mixer, I realized that there would not be such a problem with it. Despite its low weight, this unit is quite powerful. It slowly picks up speed so that the contents of the plate are not scattered throughout the apartment.
At maximum speed, it whips the cookie dough in just a few minutes. There is also a "turbo" mode, but it's not needed very often, the standard 5 speeds are enough for any task. I have rather big hands and often I can hold some mixers with my fingers only.
But here is a very wide handle, which allows you to grab hold of it with your whole palm. Your hands will get tired even less because of this. The mixer plastic is very pleasant to the touch, it is matte and looks luxurious.
The beaters are sturdy and thick, but many users say they don't use it just because the beaters are made of lead. Although this is not a problem for me, this material may be inhibited for someone to buy this model.
In the end, this is an excellent mixer with durable beaters, made of high-quality materials.
3# Proctor Silex Easy Mix Hand Mixer – Best Durable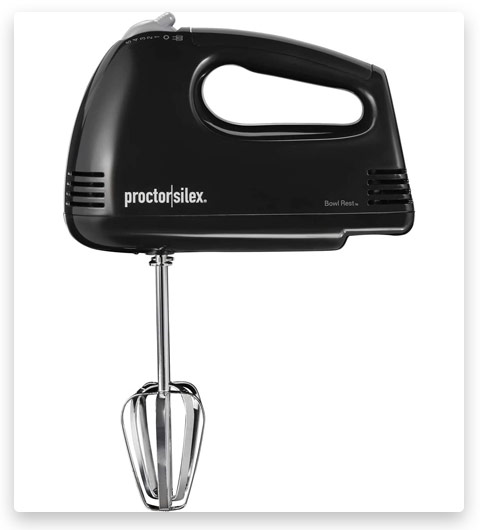 The mixer already out of the box seems pretty high quality, but also for this the manufacturer gives a 3-year warranty. Although usually, mixers give a six-month warranty or a maximum of one year.
The mixer is quite compact and light, but the size of the handle suffers due to its compactness – it's very small. Therefore, the hand does not completely crawl, only to the knuckles of the fist.
The model has a standard 5 modes, starts very smoothly, without splashes. The beaters are metallic, but this is not stainless steel, but chrome, which is quite good, since it doesn't have negative effects like lead.
A distinctive feature is a rather powerful motor of 150 watts, this allows you to whip your products very quickly, with thick mixes, it also copes better than its counterparts. But this carries a big minus – such a motor is very hot. When you pull out the beaters, they are very hot, so be careful not to burn yourself.
Apart from its temperature, this is an excellent hand mixer designed for several years of operation. By the way, the model is available in two colors – black and white.
4# Cuisinart HM-90BCS Hand Mixer – The Fastest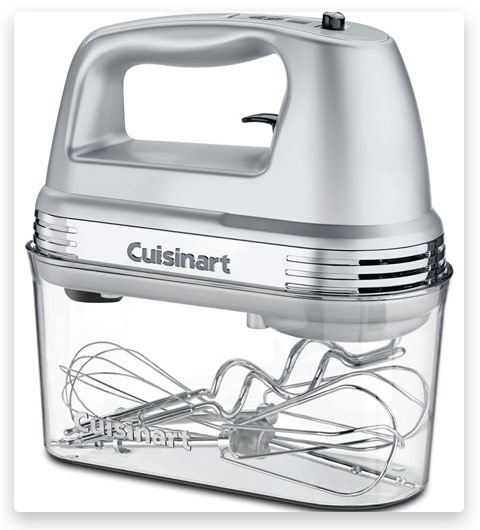 The portable elegant model of mixer with a powerful motor. Unlike many other similar products, this mixer has its own storage case. Efficient control for all 9-speed options. This mixer has 3 low start speeds to avoid splashing and wasting of components.
The model comes with such accessories as spatula, extra-long beaters, chef's whisk, dough hooks. You shouldn't worry about arranging a storage place for it, because the mixer has a compact size and doesn't require a lot of space.
It's made in the USA and excellent quality proved for more than 30 years on a market. Besides, you getting a warranty for 3 years.
Also, you will receive a detailed recipe book as a bonus, which will be your guide in the culinary world. This cooking device will help you to whip airy meringue and rich cream, mix butter, form a homemade dough, and explore many other recipes.
5# Black Decker 6-Speed – Best Compact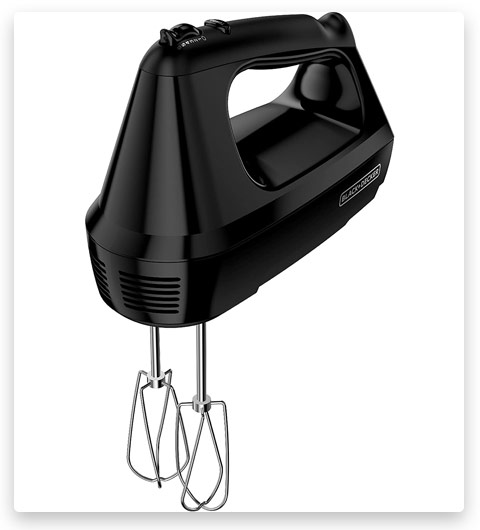 This electric kitchen tool with storage case includes such accessories as two beaters, one whisk, and a couple of dough hooks.
It has 250-Watt Motor with 6 speeds, starting from slow speed option with finishing on fast to complete mixing, blending, or whipping. Using this mixer, you won't have wastage of products, because it designed to maintain all food inside.
Instead of keeping store mixer and whisks, hooks, and beaters in different drawers, Black Decker mixer has an internal storage case that keeps everything in one place.
Delight your friends with homemade pizza or crunchy cookies. The power-boosting button decreases the time of mixing and increases the speed of the mixer to the fastest level to finish any complicated tasks.
6# VonShef Blue Hand Mixer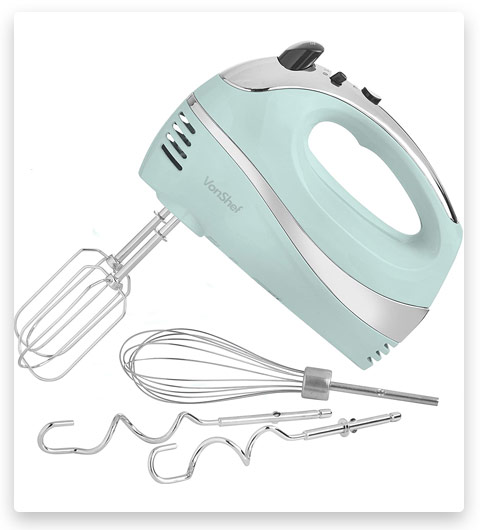 Electric stylish mixer made with stainless steel. It's unique because of its lightweight nature. Use it for hours and you won't be tired. Even if you have a small kitchen it will be easy to find space for storing this mini device.
Main functions: mix toppings, knead the dough, and whisk the cream. Plenty of desserts and pastry masterpieces can appear on your table with the assistance of Vonshef mixer. Improve yourself as a chef and demonstrate your impressive skills to friends, family, and colleagues.
Includes pair of balloon whisk, two professional beaters, and a couple of dough hooks. Super easy to clean. For removing attachments just press on the ejection button.
Enjoy adjusting the mixer's speeds at your convenience. You can select one from five and add power with a boost button if necessary.
7# Black Decker MX600B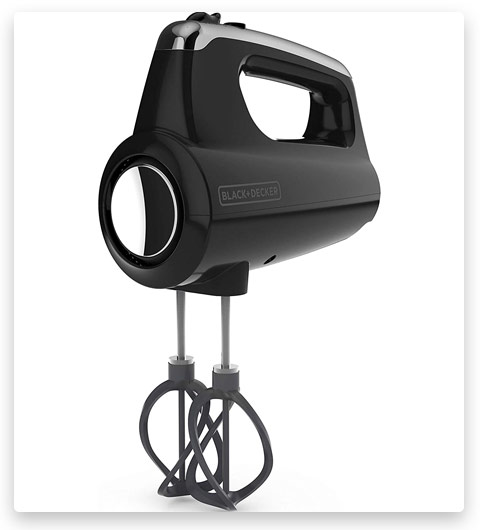 The advanced design makes a big difference in the mixing of batters, dough, and toppings extra smooth.
Explore excellent performance with Helix Beaters. Since the beater surface is doubled, it makes wider contact with the product and better version of blending and whipping control. The mixer comes with a full set of accessories of premium quality (nylon beaters, wire whisks, storage case, and dough hooks).
The material of the beaters is nylon, bringing power to manage mixes of solid food items and long-lasting outstanding performance.
Beneficial to start from slow mode and after to increase slowly to prevent food from falling out of the plate. With this model of the mixer, you shouldn't wait for a certain occasion to delight your family with tasty cakes or freshly baked bread, because mixing takes only a few minutes.
By the way no need to hold the mixer in the hands all the time, you can leave it on a bowl to rest and it will remain in a fixed and stable position. It might take some time to master all mixing techniques, but in the end, you definitely will be satisfied with the result.
8# Oster FPSTHM2500B Hand Mixer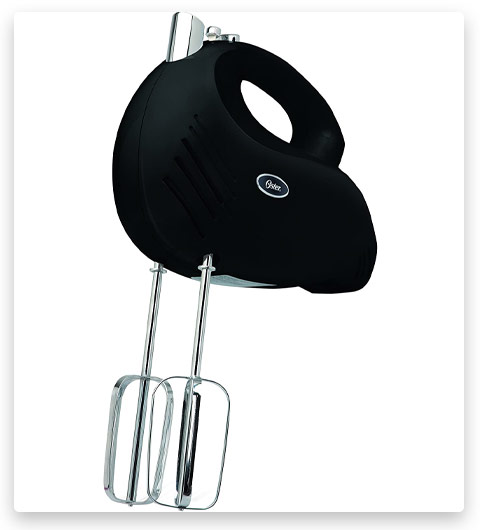 This mixer is the best assistant for cooking homemade bread, tarts, and cakes. If you have a plan to arrange a party or your birthday is coming soon, it's better to have such a powerful and useful cooking tool in your kitchen.
Together with a mixer you getting all essential attachments: for kneading the dough – hooks, for eggs – beaters, and whisk for meringue. Each of those you can simply place in the dishwasher and get it perfectly clean. For pulling out the attachments, you just do one touch.
Depends on recipe requirements select one of five speeds or press the Turbo button for hard tasks. Having 250-watt motor and smart design this cooking tool can assist you for decades.
The storage container is not included, but the size of the mixer is very compact, so you still able to place the whole set on one shelf.
9# Hamilton Beach Electric Hand Mixer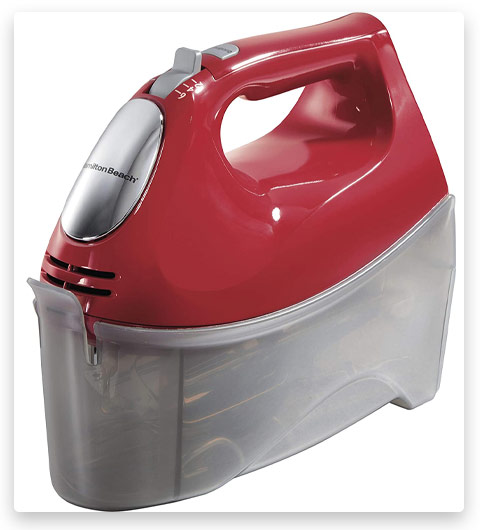 Hand mixer with a snap-on case. Capable of powerful mixing. Operates with 6 speeds and low-speed one reduces messy spatters. With various options of speed this kitchen tool blends, mixes, or beats ingredients for any recipe you choose.
The model has a very convenient design, including a snap-on storage case. The door of the case is easy to open and created for convenient storage of mixer attachments inside.
Electric cookware contains traditional beaters, dough hooks, and whisk. The container is deep enough for food products to stay inside without running away. Mixer washing is effortless, but it is crucial always put inside of storage case only perfectly clean items to avoid appearing of mold
10# KitchenAid KHM7210CU 7 Speed Digital Hand Mixer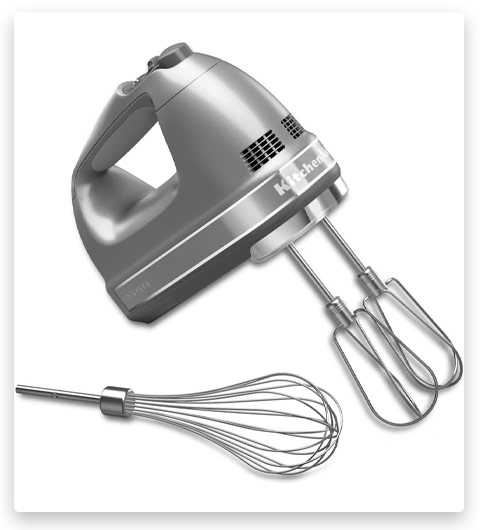 Handheld, easy in use, cookware. It is powerful and can blend heavy ingredients. The mixer made with premium stainless steel allows using for solid products and easy to wash.
Each speed has its designation. Soft start first-speed preventing combine chunky food from splattering, speed 4 for mashing vegetables, speed 7 for whipping cream, and meringue.
Approach components from any angle because you can lock the cord from both sides of the mixer. A comfortable handle allows relaxing while mixing. The way how it's made simplifies the whole cooking process.
Produced in the USA, this mixer has proved high quality.
How to Choose the Best Hand Mixer?
Traditionally, this section is devoted to those qualities that you need to rely on when choosing one or another device. Therefore, we will consider the key parameters that you need to consider when choosing a hand mixer.
Number of Speeds
Although almost no one uses all the speeds on a mixer for mixing, they are needed to smoothly pick up speed and reduce splashing. Accordingly, the more speeds, the smoother this transition. Therefore, choose a mixer that has at least 3 speeds. Ideally, take 5 or 6 speeds.
Mixer Weight
You will constantly hold the hand mixer on weight, and with only one hand, because it is inconvenient to hold with two. Therefore, it must be light enough. On average, a mixer is considered light at 1 to 2 pounds.
Accessories
This is not the most important component, but very enjoyable. It's good if the mixer comes with accessories like dough hooks or brooms. They make whipping work much easier.