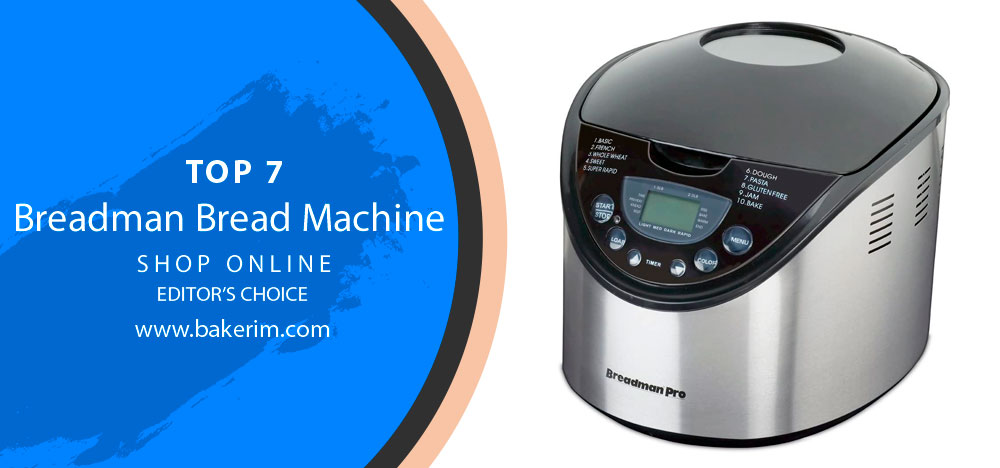 Breadman: Best Bread Makers for Home Baker
It is difficult to find a person who doesn't have warm memories when he feels the smell of freshly baked bread. Many people buy bread in the store. But we can't be sure that it's baked with fresh ingredients. And we don't know if there are preservatives. Therefore, those who take care of their health and keep their figure start baking bread at home.
You don't need special skills or special ingredients to do this. The main ingredients are flour, water, salt, and yeast. But there are also many recipes with additional ingredients. This is another advantage of baking bread at home.

You can experiment and try baking bread from different flour and add various ingredients. When I first baked my bread at home, I was very happy. It was a lot easier than I thought.
Since that time I never bought bread in the store again. The mere knowledge that there are no preservatives in home-made bread encourages me to make baking experiments. Bread can be baked at home in several ways. The easiest of them is to use a bread maker.
It's where I bake my bread. Also for baking bread fit the multicooker and a conventional oven. In fact, those who have a bread maker at home participate minimally in the process of baking bread.

My task is to measure the ingredients correctly and load them into the machine. For example, a great white bread will turn out if a glass of warm water is poured into a ladle or bowl, stir in one and a half teaspoons of dry yeast, and a couple of tablespoons of sugar.
Add 3-4 tablespoons of vegetable oil. All this should stand in a warm place for ten minutes. Then this is poured into the bread maker's container, there is also added a teaspoon of salt and wheat flour sifted through a sieve.
The flour should be about 450 g. it remains to select the "White bread" or "Main" mode, the desired color of the crust, and press the "start" button. The bread will be ready in about two and a half hours. To facilitate the existence of owners of bread machines, special ready-made baking mixes are produced. But if you still prefer to compose the ingredients yourself, you can experiment.
For example, to add a vegetable, and the melted butter to the taste of the bread was softer. Or replace the water with milk. You can add eggs, cottage cheese or dried fruits, bran, sprouted wheat grains, nuts, seeds, spices to the dough. There are many options. But how to choose a good bread maker?
I advise you to pay attention to the Breadman brand. I have used it myself for many years and have never seen anything better. Therefore, I can also advise you about this brand. That's why I decided to write this article, where I will tell you in detail about the bread maker that I have and about other bread makers of this brand that are praised by bread lovers.

Why did I choose Breadman?
When I decided that I wanted to bake bread at home and needed a bread maker, I didn't know anything about it. I didn't know how they worked or how to use them. I started looking for information on the Internet. And I came across this brand. I trusted this brand, as it is an American brand and they specialize exclusively in bread makers.
This means that all their efforts are focused on developing a specific product, while other manufacturers spend their energy on other equipment. I read the reviews of other users of this technique and more than 80% of them were positive. And as you have already understood I wasn't mistaken with the choice. Now, this is my favorite device in the kitchen.

1# Breadman Professional Bread Stainless BK1050S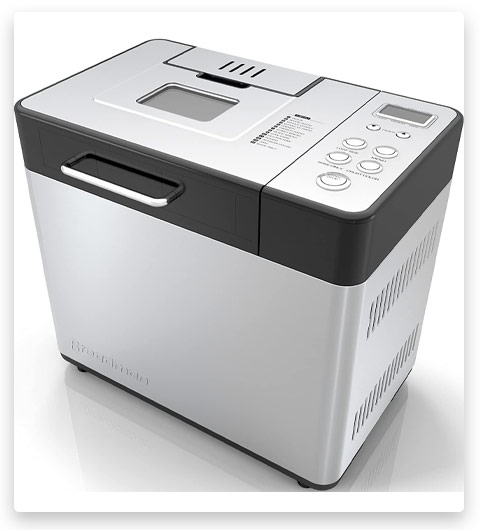 I use this Breadman bread machine model. And in it, I not only bake bread but also make jams, pizza dough. This can be done thanks to the bread maker's functions. In total, it has 14 baking functions.   For example, such a mode as baking white, french, wheat bread.
The function of jam, pizza dough, and more. What I love about this bread maker is its dispenser. If you decide to make bread with the addition of nuts, chocolate, fruit, or anything else, then you add these additional ingredients to the dispenser.
Then it automatically adds them at the right time. This is very convenient and simplifies the cooking process. Because I can do something else and not think about it. I also want to add about the baking functions. My child shouldn't consume large amounts of carbohydrates. But she loves bread.
I hadn't known what to do until I found a recipe for low-carb bread. This bread maker also has a mode for baking bread with a low content of carbohydrates.
I like that I can bake different sizes of a loaf. If I have visitors, I bake a 2-pound loaf. If I bake for the family, I just need to bake a 1.5-pound loaf. There is also the option to bake a size of 1 pound. The bread maker also has a crust selection mode. You can bake bread with a light, medium, and dark crust.
Choose according to your preferences. I want to add about the display. It is small, but everything is clearly visible. The buttons are simple and convenient. Crust selection, loaf size, timer, menu, baking only, start and stop. Everything is simple and clear. There is a window where you can see at what stage of baking your bread.
I'll tell you more about the timer. You can delay baking up to 15 hours. The bread will be ready when you need it. I don't often use this feature, as I like to use milk in recipes. And it is better not to use dairy products when cooking with a delay. They can mess up. But in general, this function is very convenient.
The pan itself has a non-stick coating and it is horizontal. But the bread after baking combines a horizontal-vertical shape. There are of course disadvantages of this bread maker, but they are not significant. I don't like the way this bread maker's paddle is built. The loop is loose.
This causes the blade to sink and scrape the coating off the pan. And sometimes the bread has a touch of the flavor of this coating. This is probably the only drawback that I noticed for all the time using this bread maker. As it is, I love this bread maker very much and hope that it will serve me for many years.
2# Breadman TR875 2-Pound Breadmaker
I liked this bread maker as soon as I saw it. It looks quite compact. It shouldn't take up much space in the kitchen. This is especially good if you have a small kitchen. It has 10 functions. Baking, dough, pasta, gluten-free, and others.
You can choose the color of the crust. From light to dark. You can bake a loaf of 1.5 and 2 pounds. If you have never baked bread yourself and didn't use a bread maker, then with it comes a detailed instruction. There is a good explanation of how to use the bread maker and there are recipes for you to bake.
I have read them and I can say that they are perfect for beginners. The bread maker has a large viewing window. You can watch the process of making bread. There are small disadvantages. The bread maker makes noise during operation. And it is quite difficult to wash.

3# Breadman TR2500BC Convection Breadmaker Stainless Steel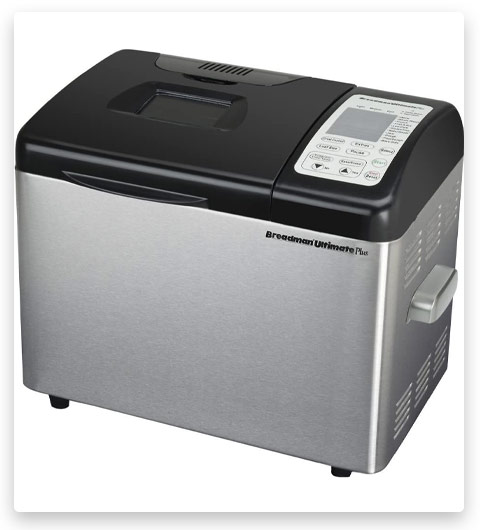 Another bread maker that will be a great helper in baking bread. I advise you to carefully read the instruction before you start working. It was clearly is written how the bread maker works and how to load the ingredients correctly.
There are also recipes that you can use to make your first bread. The bread maker has 11 functions. You can bake not only white, french, and other bread, but also make pizza dough, jam, pasta and more. Makes a crust for everyone. You can select light, medium, and dark. It depends on your preferences.
There is a 24-hour delay timer. And a fruit and nut dispenser. The bread maker automatically adds them during baking. The disadvantage is that the screen doesn't have a backlight and because of this, it is sometimes difficult to see what is shown there.
4# Breadman BK2000B Pound Collapsible Automatic Pro Bread Maker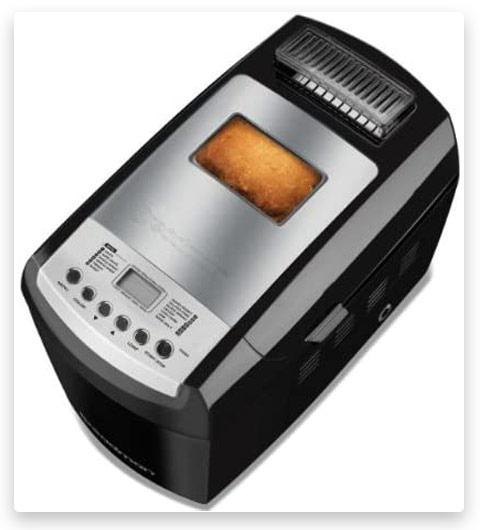 I like this device because you can bake one large loaf of bread or two small ones at the same time in this bread maker. This is very convenient. The maximum size of one loaf is 2.5 pounds. Small ones weigh 1 pound. She has 14 cycles of baking and dough.
The crust can be light, medium, or dark. There is a 15-hour delay timer. You can enjoy fragrant and warm bread whenever you want. You can use the dispenser to add nuts, fruits, or herbs to your bread. It will do it itself while baking bread. I would buy such a bread maker for myself.
5# Breadman TR520 Programmable Bread Maker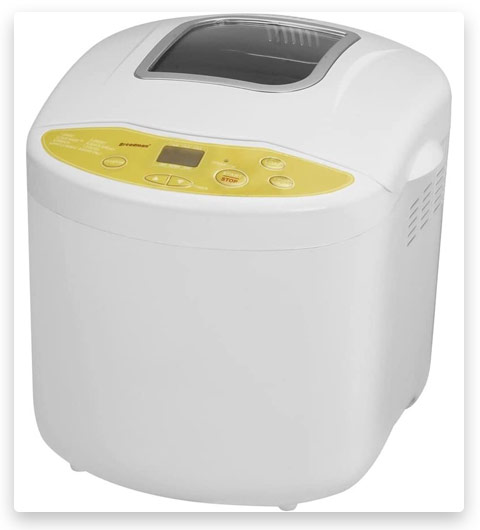 Multifunctional bread maker at an affordable price. It has 8 modes. You can bake french, whole wheat, sweet and other bread. And there is also a dough cycle. You can choose the color of the crust depending on your preferences.
From light to dark. You can bake a loaf of 1, 1.5, and 2 pounds. The texture of the bread is excellent. The bread maker has a 13-hour delay timer. A large window allows you to monitor the readiness of bread. The only thing I don't like about this bread maker is the display. It is small, you need to work hard to see the numbers.

6# Breadman BK1060S 2-Pound Professional Bread Maker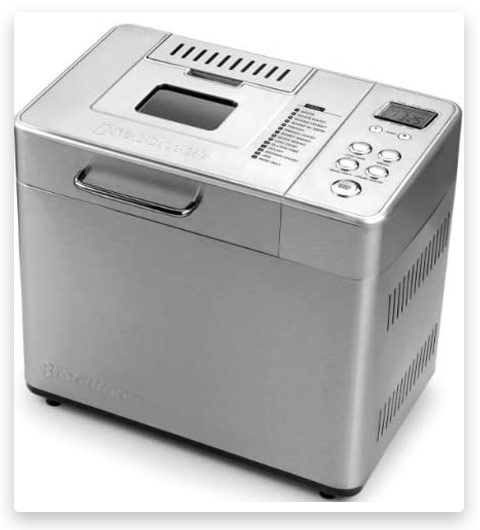 You will love this bread maker. It has 14 baking functions. You can make low carb bread, craft dough and jam, and more. If you like sweet bread with nuts or fruit, it is easy to add them using the dispenser.
You can choose the color of the bread crust. It can be light, medium, or dark. The size of the loaf can be 1,1,5 or 2 pounds. If you are just starting your way in baking bread, the recipe book will be a great helper.
7# Breadman TR2700 Stainless-Steel Programmable Convection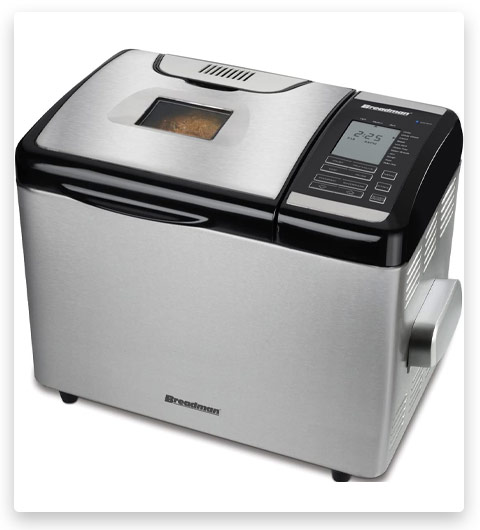 With this bread maker, your bread will have a great texture, a crispy crust on the bread. The bread maker is made of stainless steel. It will please you with a large number of features.
It has 16 different modes. You can choose the size of the loaf. Only three sizes: 1,1,5 and 2 pounds. The crust of the bread can be light, medium, and dark. Choose according to your taste.
You can bake bread in 24 hours thanks to the delay timer. This is convenient if you are busy and don't have time to cook. This bread maker is what you need for baking delicious bread!

Conclusion:
I have been using the Breadman bread maker for many years. And I can say with confidence that this is a quality product that I can recommend.
If you want to bake bread at home and are looking for a good bread maker, then pay attention to the bread makers of this brand. In my article, I shared with you my impressions of my bread maker and reviewed 6 others from this brand. I'm sure you won't regret choosing one of them.