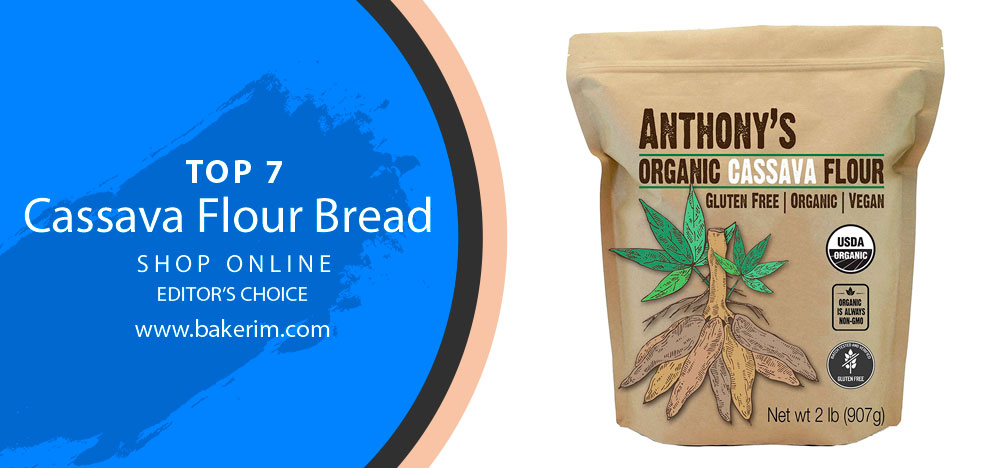 Things You Need to Know About Cassava Flour Bread | Paleo Cassava Bread Recipe
Cassava is a perennial tropical plant of great economic importance due to the high nutritional value of its root crops. Its homeland is considered to be the Amazon basin (territory of Brazil). It contains up to 40% starch. Therefore, this is one of the sources of carbohydrates.
Cassava plays a leading role in the nutrition of Africans and many developing countries. Root crops are high in starch and therefore serve as valuable raw materials for the production of sugar, glucose, alcohol, and acetone. Also, a very tasty and nutritious, granular, starchy product is obtained from the pulp in the form of translucent balls of irregular shape. It's tapioca. Cooked cassava can serve as a side dish for meat or fish. It is added to soups, broths. Especially popular in recent years has acquired a dessert drink with balls of tapioca. This cereal is also used to make jelly, puddings.
The pulp of root crops is rich in vitamins A, C, D, E, K, and group B. It contains a set of trace elements necessary for life (potassium, calcium, iron, zinc, selenium, magnesium, etc.).Therefore it helps to increase the body's immunity. The use of cassava normalizes blood sugar, helps to prevent the development of arthritis, gout and other inflammatory processes in the joints. Nigeria is the largest producer in the world. Other major manufacturers are Thailand, Brazil, and Indonesia.
Flour is also made from cassava. And my article will help you learn more about it and I will share with you some of the best bread recipes from this flour! Few people know about such flour and its advantages. Therefore, I consider it my duty to tell you about this. You will learn how to use it and will be able to cook baked goods in a completely new way!

How to Use Cassava Flour?
Cassava flour is mainly used on a gluten-free or grain-free diet. People who decide to change their diet are faced with the problem of choosing flour. But cassava makes a good substitute for wheat flour in baking and other recipes. Although it is generally accepted that you can change cassava to universal flour 1: 1, in practice you may need to play a little with your favorite recipes to adapt them. Although cassava is light and powdery, like universal flour, it absorbs more liquid, so you may need a little less cassava than you are used to with universal flour.
Tip: Cassava flour is usually very light in texture, but different brands vary in weight. When preparing the recipe, it is better to weigh the cassava flour, and not measure it with a cup to make sure that you get the right amount.
Here are some tips for working with cassava flour:
Before using cassava flour, thoroughly beat it to remove lumps.
Try different flour combinations to see which results you like best. For example, mix cassava with other varieties of gluten-free flour, such as rice, oatmeal, or coconut flour.
If you replace another flour with cassava and feel that the finished product lacks moisture and it feels too grainy, try using 15% to 20% less cassava next time.
Some cassava flour suppliers deliberately use only young, tender Yuki roots instead of more mature roots. This reduces the amount of fiber and grain in the flour, so look for these varieties if you are not initially satisfied with the results.
How is Cassava Flour Made?
Flour is obtained from the root of the cassava plant. Raw cassava is strictly prohibited. To eliminate the risk of poisoning the tubers must be pre-treated. Before cooking, they are thoroughly washed, repeatedly changing water, and then subjected to heat treatment (boiled, fried, stewed, baked) or crushed, soaked in water for several hours and dried for 5-6 hours, spreading a thin layer in the shade of the mass. The peel is cut, and the pulp is crushed, washed, dried in the sun, and then ground into flour, known as cassava.

How to Store Cassava Flour?
Store cassava flour in an airtight container in a cool, dry pantry. You can store it in the refrigerator or freeze, but this is not necessary.
Is Tapioca Flour and Cassava Flour the Same Thing?
No, these are different things. People often confuse these two concepts, in which there are significant differences. Tapioca is a starch flour obtained from the root of a cassava plant. It is mined by cooking. Then the resulting pulp is compressed and gets starch fluid. Cassava flour is the entire root of the fruit, which is peeled and dried. And then grind it. As for fiber, there is more in cassava flour.
Cassava Flour Doesn't Contain Gluten?
This flour just got its popularity due to the lack of gluten, as well as nuts and grains. When ground, it serves as a source of nutritious flour, which is close to wheat in culinary properties. But at the same time, the flour doesn't contain gluten, which means it is ideal for special nutrition suffering from celiac disease or allergies to cereals.
Is Cassava Flour Low Carb?
On the contrary, it is a high carbohydrate. Therefore, if you strictly monitor the intake of carbohydrates in your diet, you need to control the use of this flour. Also, if you monitor blood sugar, control the amount of cassava flour in your diet. Don't eat pastries from this flour at every meal, otherwise, you will have a surge of insulin. Here the measure is important and then everything will be fine.

What Can I Bake With Cassava Flour?
The texture of this flour is well suited for baking cakes, cookies, and more dense bread. Baking from cassava flour doesn't have a sour taste or smell, which can sometimes be present in cereal flour. Cassava flour can be used to replace part of the flour when baking bread or pastries. In recipes that don't require raising the dough, cassava can completely replace cereal flour.
Can Cassava Flour be Used for bread?
You can use this flour for baking bread. It will be gluten-free, nuts and grains free. There are many recipes and one of them I will share with you below.
What is Cassava Bread?
Bread from this flour is not quite like bread from white. It has a flat shape and is also thin and slightly hard. Now is the time to tell you about the best varieties of cassava flour, which you can purchase and cook with pleasure! And at the end of the article, I will share with you bread recipes!
TOP 7 Best Cassava Flour Bread – Editor's Choice
| Image | Product | Brand | Link |
| --- | --- | --- | --- |
| | Anthony's Cassava Flour, 2lbs, Batch Tested Gluten Free, Non GMO, Vegan | Anthony's | |
| | Otto's Naturals Cassava Flour (2 Lb. Bag) Grain-Free, Gluten-Free Baking Flour - Made From 100 % Yuca Root - Certified Paleo & Non-GMO Verified All-Purpose Wheat Flour Substitute | Otto's Naturals | |
| | Cassava flour 2lbs No grittiness, no smell (Manioc or Yuca flour) nut-free, grain-free, gluten-free, non-gmo, 100% Naturally Grown | JEB FOODS | |
| | Anthony's Organic Cassava Flour, 2 lb, Batch Tested Gluten Free, Vegan, Non GMO | Anthony's | |
| | Paleo Snacks - Cassava Chips - Baked Chips - Sea Salt Chips - Gluten Free Chips - Vegan Chips - Cassava Flour Chips - Vegan Gluten Free Snacks - ARTISAN TROPIC Cassava Strips - 4.5 Oz - 2 Pack | Artisan Tropic | |
| | Hearthy Foods Delicious Cassava Flour, Gluten Free, Non-GMO, Sixteen Ounces | HEARTHY FOODS | |
| | Cassava flour bulk 10lbs bag -No Grittiness, No Smell (Manioc or Yuca Flour) nut- free, grain-free, gluten-free baking, non-gmo, 100% Naturally Grown (10LB) | JEB FOODS | |
| | Terrasoul Superfoods Organic Cassava Flour, 2 Lbs - Tested Gluten-Free | Smooth Texture | Wheat Flour Substitute | Terrasoul Superfoods | |
1# Anthony's Cassava Flour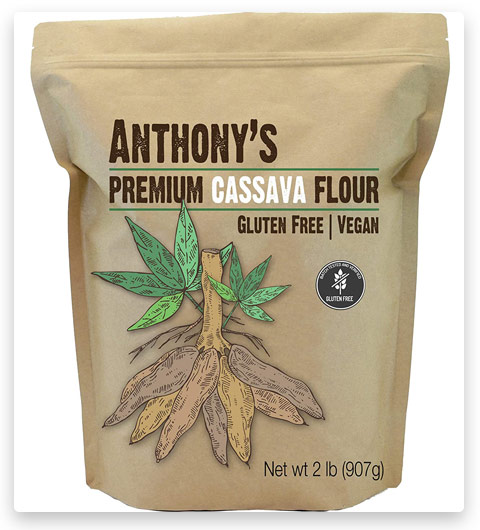 A good producer of cassava flour. It doesn't contain GMO, preservatives or flavorings. It has no lumps and has a light texture. You will get the best gluten-free bread, you can bake cakes or other pastries. It can be used for vegan recipes. It comes in good paper packaging. It is convenient to use and not to mess.
2# Otto's Naturals Cassava Flour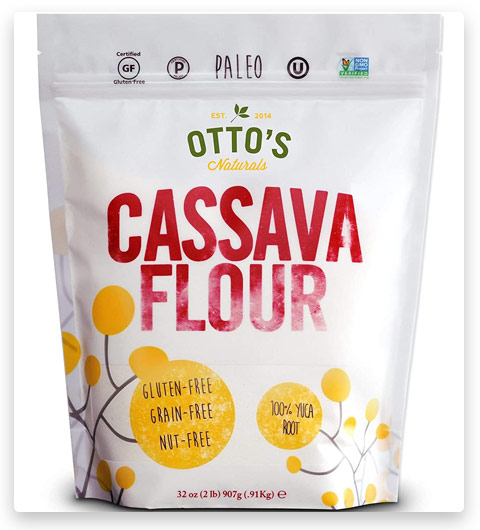 Flour from one ingredient! The texture is soft and light. It can be used by allergy sufferers as it doesn't contain foods that often cause allergies. Such as nuts, dairy products, eggs, grains, gluten, and so on. It is an ideal substitute for wheat flour. Your family will not notice the substitution, but will enjoy more wholesome pastries! Bright packaging inspires baking.
3# Cassava flour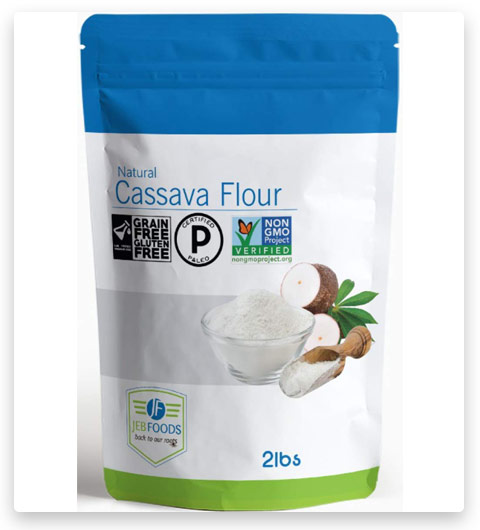 Having once tasted bread from this flour, you will no longer return to wheat! It has a neutral taste and no smell. The bread and other pastries are tasty and healthy. The flour is finely chopped and the dough is light. It is convenient to open and close the packaging for comfortable use.
4# Anthony's Organic Cassava Flour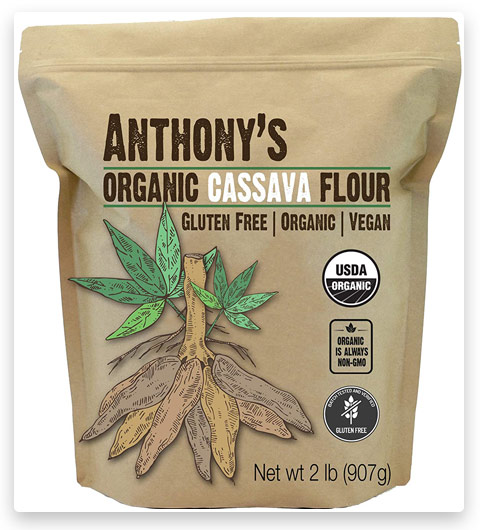 Experiment with this cassava flour. This flour is an excellent alternative to wheat flour. It is good for your health. Although it contains a large number of carbohydrates, they are absorbed more slowly. This means that blood sugar will be regulated better than with wheat. The dough is elastic and works well with it. Grown in Brazil and does not contain GMOs and preservatives.
5# Artisan Tropic Cassava Strips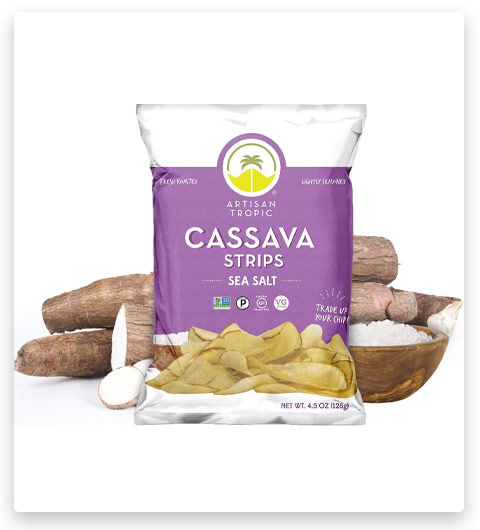 If you don't want to waste time baking, then you can buy a ready-made snack from cassava flour. The strips are somewhat similar to a potato, but much more useful. Suitable for vegans. They are gluten-free and GMO-free. They don't contain preservatives. They are tasty. This will become your favorite quick snack! Your children will also like it.
6# Hearthy Foods Delicious Cassava Flour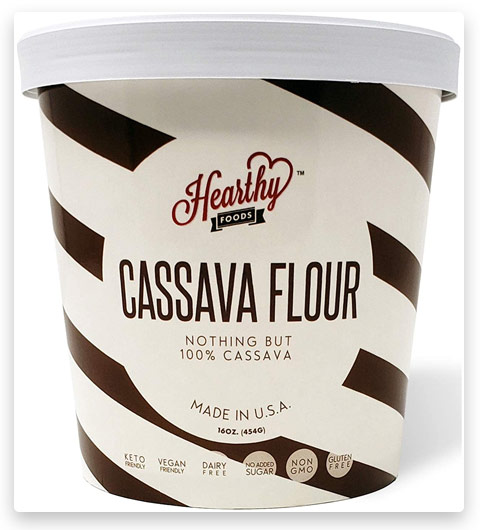 Do you want to switch to a healthy diet and remove gluten from your diet? Then start using this cassava flour. This is an excellent substitute for ordinary universal flour and the taste does not get worse. Cook your favorite bread, pancake or other pastries and make your loved ones happy! And the main plus is the packaging. Flour comes in a jar with an easily openable and closing lid.
7# Cassava flour bulk bag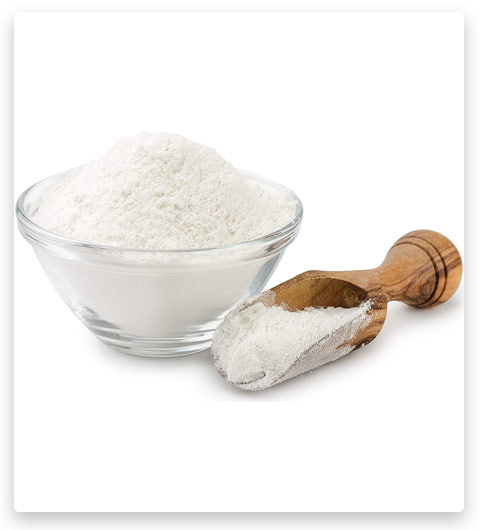 Cook your favorite bagels, bread, pancakes with cassava flour! It is useful for people with poor health and those who can not gluten. Delight yourself and your family with delicious pastries!
Cassava Bread Recipes
You can't wait to find out the bread recipes from this new flour for you. Here's a couple of recipes for experimenting in your kitchen or bakery!
#1 Gluten-free cassava bread
There is nothing complicated in making this bread from cassava flour. It will take you a little over an hour. And you will get fresh and healthy bread for your family!
Ingredients:
2 cups manioc flour
6 eggs
1 teaspoon of baking powder
1 tablespoon of apple cider vinegar
1 tablespoon of honey or can be replaced with maple syrup
1 teaspoon of sea salt
1/2 cup avocado oil
And half a cup of warm water
Cooking:
First, preheat your oven to 350 degrees. Take a pan in which you will bake your bread and cover it with parchment. And also add a little oil so that you can easily get it later. Take a bowl and beat eggs in it. Then add apple cider vinegar, honey, water, and a little avocado there. But they do not need to be mixed. In another bowl, combine flour, baking powder, and salt.
And now slowly add the first bowl of wet ingredients to the dry ones. Add gradually and stirring. Remove lumps. Now take your bread pan and pour the dough into it. And put in a preheated oven. Cooking time 1 hour. Next, remove the bread from the oven and pan and let it cool for about an hour and a half. Your bread is ready!

#2 Flat cassava bread
This recipe is for those who want to make bread similar to cakes. It is convenient to take for a snack.
Ingredients:
1 cup cassava flour
1/3 teaspoon of Himalayan pink salt
1/4 teaspoon baking soda
1/4 tsp Tartar Cream
6 tablespoons of palm oil
half a cup of a glass of water
1 cup avocado oil or other hot fat
Cooking:
First, mix all the dry ingredients in a large bowl. Cut the shortening with a fork. Next, stir the water with a fork. Use your hands when it starts to gather. You need to knead the dough in a ball. Then divide the finished dough into 8 parts. Preheat the pan. Next, align each part of the dough so that you get a patty. Next, add 1/4 of the cooking oil to the pan and fry 4 cakes at a time. Cook on each side for about 3 minutes. Delicious cake is ready!

Conclusion:
Cassava flour is a unique product that you will enjoy. Flour doesn't contain gluten, nuts, grains. There are no GMO, no preservatives. It is useful and safe for you and your children. I hope you have already chosen your ideal flour for yourself and are going to cook one of my cassava bread recipes!