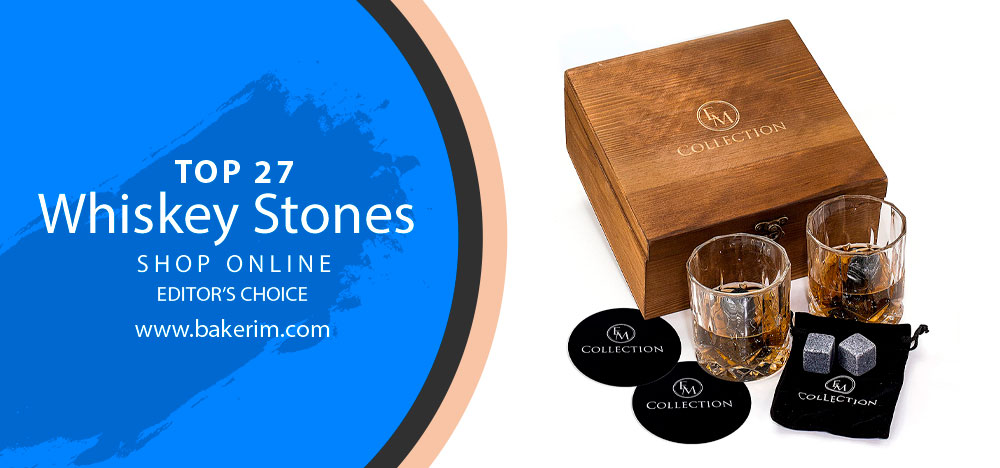 Best Whiskey Stones – The Right Way To Chill Your Whiskey
The topic of whiskey stones and the cooling of spirits, in general, is very controversial. But let's face it: no one likes to drink whiskey diluted with water, especially on a hot sunny day. Therefore, ice or water is unlikely to work, especially with such classic drinks as bourbon or good old Jameson. So in this article, we're going to walk you through the very best whiskey stones, whiskey stone sets, and other tools for chilling your favorite spirits. And let's deal with this cooling topic once and for all!
Is Ice Really That Bad?
If you are not a big whiskey drinker and you just want to relax, then there is nothing wrong with chilling the whiskey in a glass with ice. But if you want to enjoy the full flavor and aroma of whiskey, especially if it's some kind of rare or special kind, then ice can be problematic. The fact is that ice, as a material, very quickly gives up and takes away the accumulated heat, and while you finish your drink, it will freeze from it.
Besides, it is recommended to drink whiskey at a temperature of +18-20 degrees, and ice cools it down to about 10. From this whiskey loses its taste and aroma. Moreover, the ice melts. This means that your whiskey will become diluted, lose its strength, and lose even more flavor. Besides, the alcohol retains all the essential oils in it, which gives the drink such a taste. As soon as we add water to the glass, the alcohol is diluted and all oils begin to evaporate.
What Temperature Should Whiskey Be?
Anyone, even a not very experienced whiskey connoisseur, will tell you that whiskey should not be cooled below +18 degrees and heated above +21 degrees. In other words, the ideal whiskey temperature is + 18-20 C°. Now let's see why too high or too low temperatures are bad.
If you throw ice just taken out of the freezer into your glass of whiskey, it will immediately cool it down to about 12-10 degrees, as we said, the ice gives and takes in energy too quickly. At this temperature, all essential oils are frozen. Because of this, whiskey loses its noble taste, becomes almost tasteless. Seriously, if you take an expensive high-quality whiskey with a deep and noble taste and some cheap supermarket whiskey and chill them to 12 degrees, they will taste the same.
If you do not refrigerate the whiskey at all, then from the bottle it will be at room temperature. Why is that bad? When heated, the whiskey becomes too strong, overheated, and bitter, you will get the feeling that you are drinking pure alcohol. So whiskey is too warm, and any other drink is not very pleasant to drink.
How Are Whiskey Stones Different From Ice?
First, the stones do not melt. This means that after 5 minutes you will not get water diluted with whiskey. The same pleasant drink with its own aroma and taste will remain in your glass.
Secondly, the whiskey stones maintain the required temperature of the drink much longer. If the ice immediately cools the whiskey, but after 4-5 minutes, almost all is dissolved and the drink starts to heat up again (and because it is now mixed with water, it will heat up much faster), then the stones can keep the temperature of the whiskey at 12 -20 degrees for many minutes.
That's why they are one of the best and most versatile gifts around. If you know that the person to whom you are going to give a gift loves whiskey, scotch, bourbon, or any other spirits, choose whiskey stones and you will definitely not miss them.
Best Whiskey Stones Gift Set Reviews – 27 Best Models Editor's Choice
| Image | Product | Brand | Link |
| --- | --- | --- | --- |
| | Whiskey Stones Gift Set with Stand | 13-Piece Handcrafted Whiskey Glass Set Granit Whiskey Rocks for Perfect Drink | Whiskey Gift Set & Whiskey Kit | Best Whisky Stones Glass Set for Men Dad Boyfriend | ROCKSLY | |
| | Set of 9 Grey Beverage Chilling Stones [Chill Rocks] Whiskey Stones for Whiskey and other Beverages - in Gift Box with Velvet Carrying Pouch - Made of 100% Pure Soapstone - by Quiseen | Quiseen | |
| | Exclusive Whiskey Stones Gift Set - High Cooling Technology - Reusable Ice Cubes - Stainless Steel Whiskey Ice Cubes - Whiskey Rocks - Whiskey Gifts for Men - Best Man Gift with Coasters + Ice Tongs | AMERIGO MAKE IT SPECIAL | |
| | Whiskey Stones and Whiskey Glass Gift Boxed Set, 8 Granite Chilling Whisky Rocks, 2 Glasses in Wooden Box, Great Gift for Father's Day, Dad's Birthday or Anytime For Dad, Plus 2 Free Coasters | Cool Stones | |
| | Premium Whiskey Stones Gift Set with 12 Pcs Stones and Bag. Whiskey, Bourbon, Cognac, Scotch,Gin, Wine Beverage. Marble Reusable Ice Cubes. Birthday Gift for Whiskey Lovers. | DS Gifts | |
| | Whiskey Stones Gift Set for Men | Whiskey Glass and Stones Set with Wooden Box, 8 Granite Whiskey Rocks Chilling Stones and 10oz Whiskey Glasses | Whiskey Lovers Gifts For Men, Dad, Husband, Boyfriend | Mixology & Craft | |
| | Premium Whiskey Stones Gift Set - Water Down Your Whisky? Never Again! Set of 9 Whiskey Rocks - Ice Cubes Reusable in Exclusive Wooden Gift Set - Whiskey Gifts for Man - Chilling Stones + FREE EBOOK | Amerigo | |
| | Whiskey Glass Set of 2 - Bourbon Whiskey Stones Gift Set - Rocks Whisky Chilling Stones - Scotch Glassess Gift in Wooden Box - Wisky Stones Set - Burbon Gifts for Men Dad for Birthday Fathers Day | W WHISKOFF | |
| | Whiskey Stones Gift Set Pack of 9 Whiskey Rocks in Engraved Wooden Gift Box, Christmas Gifts for Dad/Whisky/Bourbon Drinker, Men/Women Birthday Present, Father Day Gift - Barleo Malt° | Barleo Malt° | |
| | LORD'S ROCKS 11 Piece Whiskey Stones Gift Set – Cold Stones For Scotch, Whiskey, Bourbon, Tequila, Vodka, Rum, Wine – 9 Unique Granite Ice Stones Wood Box and Velvet Pouch | LORD'S ROCKS | |
| | Whiskey Stones and Drinking Glasses Gift Set - 8 Granite Chilling Stones, 2 Premium 9 Ounce Whiskey Glasses, Display Case, Chills Drink, No Dilution, Perfect Birthday Gift for Him or Barware Accessory | Cold Edge | |
| | Whiskey Stones Gift Set - 6 Granite Round Beverage Chilling Drinking Stones Whiskey Rocks with 2 Extra whisky glasses coasters - Premium Sipping Rocks in Elegant Wooden Storage Tray - Bar Accessories | BROTEC | |
| | Whiskey Stones Gift Set – Whiskey Set for Men and Women Includes 2 Crystal Cocktail Glasses and Coasters, 8 Granite Whiskey Rocks with a Velvet Storage Bag, and Wooden Gift Box by EMcollection,Big set | EMCOLLECTION | |
| | Alan James Whiskey Stone Gift Set, 6 Stainless Steel Chilling Stones, Silicone-Tipped Tongs & Freezer Pouch in Luxurious Storage Display, No Dilution | ALAN JAMES | |
| | Whiskey Stone Gift Box set with 9 Premium Granite Stones (Won't Water Down Your Drink!), Wood Box, Velvet Carrying Bag and Tongs (Natural Red) | Top Percent | |
| | Whiskey Stones Gift Set for Men | Whiskey Glass and Stones Set with Wooden Box, 8 Granite Whiskey Rocks Chilling Stones and 10oz Whiskey Glasses | Whiskey Lovers Gifts For Men, Dad, Husband, Boyfriend | Mixology & Craft | |
| | Whiskey Chilling Stones - Set of 6 Handcrafted Premium Granite Round Sipping Rocks - Hardwood Presentation & Storage Tray - Perfect Gift by R.O.C.K.S. | ROCKS WHISKEY CHILLING STONES | |
| | Allan Whiskey Stones - Set of 6 Chilling Stones in Premium Wooden Tray with Velvet Carrying Pouch and Stainless Tong - Reusable Ice Cube - Gift Set for Any Occasions | Allan | |
| | Luxury Whiskey Stones Gift Set - Set of 9 Whiskey Rocks - Reusable Ice Cubes for Drinks - Great Whiskey Gift for Man - Handcrafted Whisky Stones Set - Chilling Stones + Ice Tongs + 2 Classy Coasters | Amerigo | |
| | Whiskey Stones Gift Set Whiskey Glasses Set Gift for Men Birthday Boyfriend Dad Festival Anniversary Retirement | BWSJ | |
| | Whiskey Stones Set include 4 Large Sphere Granite Whiskey Rocks + Silicone Ice cube tray + Stainless Steel Tong. Large and Reusable whiskey stone could chill your Whiskey & Beverage longer | XINLI | |
| | Whiskey Glasses Set of 2, Kollea Whiskey Stones Set with 2 Whiskey Glasses 11oz & 8 Reusable Stainless Steel Ice Cubes, Gift for Him Men Dad Husband Boyfriend Birthday, Anniversary or Retirement | Kollea | |
| | Gentlemen's Venture Whiskey Stones Gold Luxe Gift Set Edition 8 Reusable Diamond Shaped Stainless Steel Chill Cubes including Matching Silicone Tip Tongs and Storage Tray | Gentlemens Venture | |
| | Gift Set of 8 Whiskey Chilling Stones [Chill Rocks] - in Premium Wooden Gift Box with Stainless Steel Tongs and Velvet Carrying Pouch - Made of 100% Pure Soapstone - by Quiseen | Quiseen | |
| | Whiskey Stone Set - Set Includes Granite Stones for Chilling Whiskey with Glasses, Wine Chiller Stick, Wine Pourer, Wine Stopper, Whiskey Glass Set, Tong, Velvet Pouch & Leather Box (Red, Leather) | Beard And Brims | |
| | Luxury Whiskey Chilling Stones Gift Set with Premium Gift Box | Infused | |
| | Das TooKii Stainless Steel Whiskey Stones, 12PCS Cooling Whiskey Rocks, Reusable Metal Ice Cubes Refreezable Chilling Stones, Wine Cooler for Drink, Bar Accessories with Ice Tongs Freezer Storage Tray | Das TooKii | |
Well, since you already know why stones are so good, let's take a look at the best models of whiskey stones we've found for you!
1# Rocksly Whiskey Stones Gift Stand & Stand – Best Pick With Stand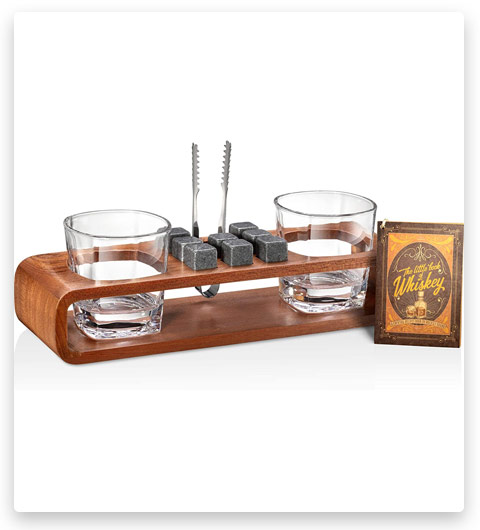 Rocksly set unboxing is an exclusive premium gift for connoisseurs of real spirits. The set includes two whiskey glasses, a classic-style natural wood stand, tongs, and 8 granite stones to cool your favorite drink. The box that the whole set comes with is very elegant and stylish. If you want to decorate it as a gift, it will be enough just to wrap it in a bow, since the box itself looks presentable, both inside and outside.
2# Quiseen Chill Rocks 9 Grey Beverage Whiskey Stones – Best budget Pick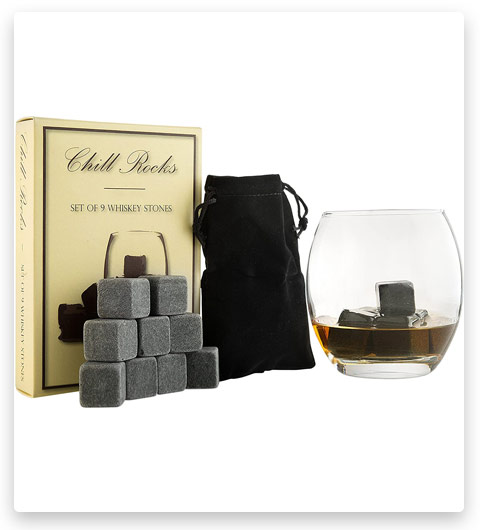 A set of natural stones for cooling spirits is a wonderful present for every connoisseur of the ideal taste. With them, the drink will be cold and not diluted as in the case of ice. This stylish and original gift will be appreciated by every man, regardless of age and status. Unlike most sets with 8 stones, here you get 9 whiskey stones. This is enough for exactly 3 glasses. Plus, we ranked this set in third place because of its price. It is quite presentable, high quality, but cheap at the same time.
3# Amerigo Exclusive Whiskey Stones Gift Set – Best Stones Appearance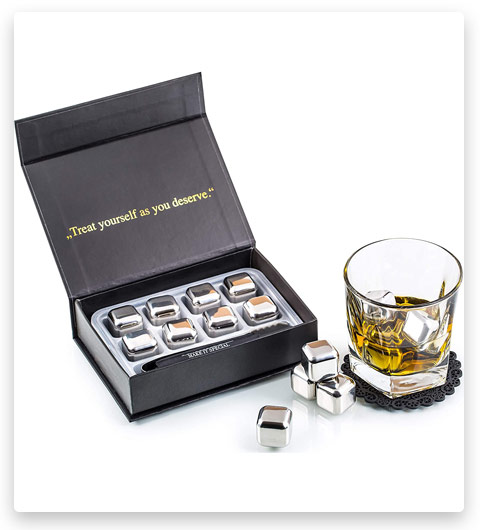 The original set of eight steel spirits stones is the best gift for every whiskey lover. Stylish gift wrapping makes the gift look expensive. Everyone will like such a present. The most beautiful thing this set has is stones. They are not made of granite or steatite like most stones, but metal. In terms of quality, it is almost not inferior to stone, but its appearance is much more beautiful. Metal stones will shine in your glass and keep the desired temperature for a long time. Also included a stone grab.
4# Cool Stones Whiskey Stones Gift Set – Best Glasses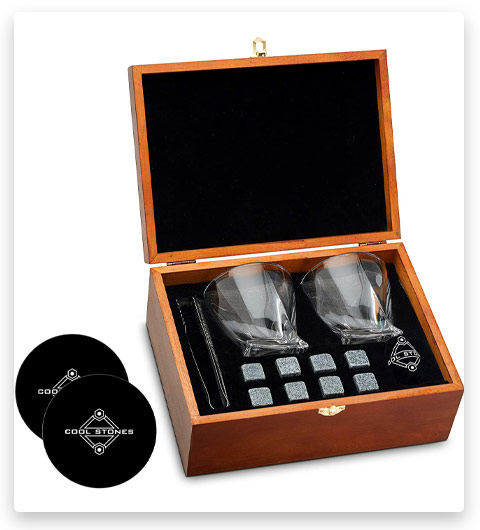 The ideal choice is a whiskey set consisting of two glass goblets, eight natural granite stones, and a pair of tongs. Natural wood packaging gives the present a stylish look. Such a gift can please both a loved one and a boss or colleague. Maybe here the manufacturer did not pay much attention to the appearance of the stones, in this set they are quite simple. But on the other hand, you will be pleased with the shape of the glasses and boxes. The glasses have a rectangular, strict bottom, but at the same time, they have rather graceful curved edges. Also, the inside of the box is covered with black velvet, which makes it look more expensive.
5# DS Gifts Premium Whiskey Stones 12 Pcs – Best Stones Design
A premium gift for a real man – a set of 12 whiskey stones in black marble. Such a gift will be appreciated by every lover of noble drinks. The stones perfectly cool whiskey, brandy, vodka, and any other drinks. They will not scratch the glass due to their structure and are perfectly stored in the freezer without taking up much space. The most interesting thing about this set is the material. Instead of conventional granite, the manufacturer used black marble. This gives the stones an elegant appearance and makes them more expensive. Besides, for a low price, you get 12 rather than 8 standard stones, which is enough for as many as 4 glasses.
6# Mixology & Craft Whiskey Stones Gift Set For Men 8 Pcs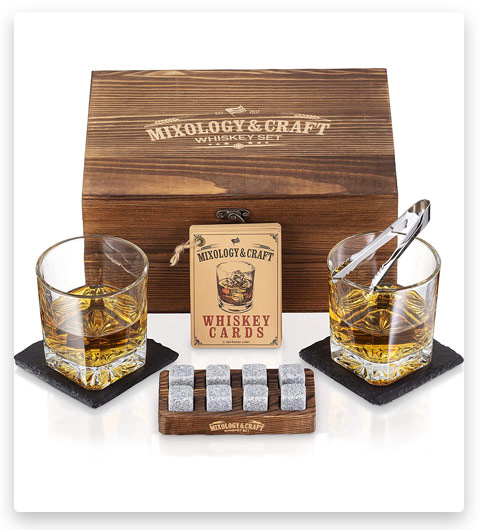 When you want to impress a loved one, you can present an original and stylish present. A set for whiskey of two glasses with granite stones for cooling drinks will easily become such a gift. This gift will be really useful for any person. We really liked the box in this set. That, you know, old Texas retro style, very elegant and graceful.
7# Amerigo Premium Whiskey Stones Gift Set 9 Pcs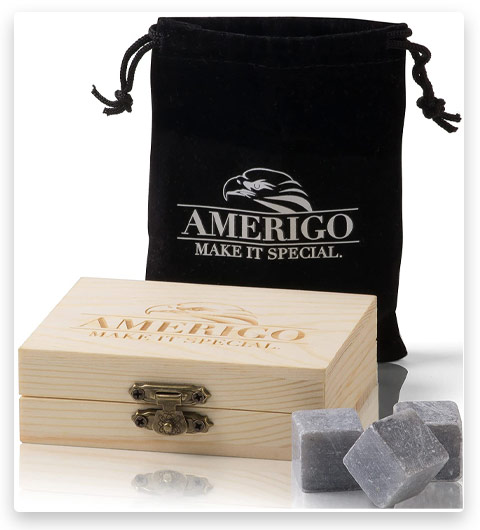 Every connoisseur of spirits will appreciate such a gift as a set of natural whiskey stones. They allow the drink to remain as cold and undiluted as possible. Every man who knows a lot about drinks will be happy with such a present. The set is very cheap, compact, and comes with a bag for freezing whiskey stones.
8# Whiskoff Whiskey Glass Set With 8 Stones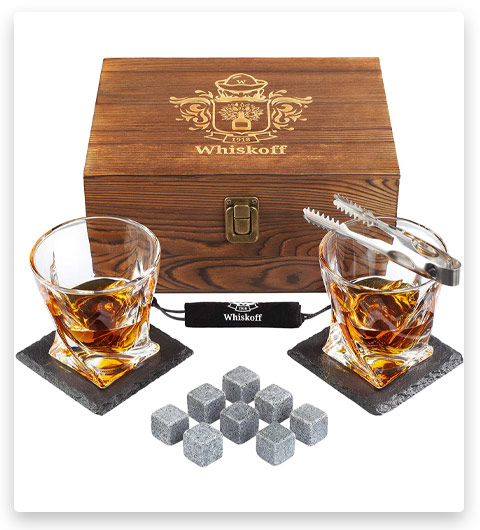 Do you want to make a unique and unusual gift? As you know, such drinks as good whiskey, brandy, or scotch are very highly valued. In this case, a set of handmade natural stones for cooling such drinks can become a pleasant present. This souvenir will appeal to real connoisseurs.
9# Barleo Malt Whiskey Stones Gift Set 9 Pcs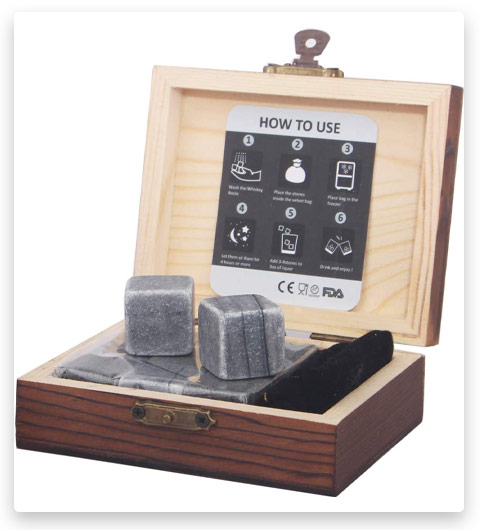 A stylish set of nine natural stones for whiskey, brandy, or bourbon in a wooden gift box will be a useful gift for every person. With these stones, your drink will be perfectly cold from the first to the very last sip. Very simple, both externally and in use, but stylish set.
10# Lord's Rocks 11 Pcs Whiskey Stones Gift Set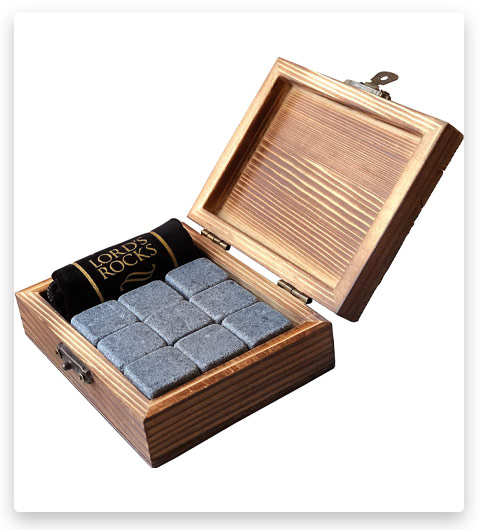 A premium set of 11 handmade granite stones for cooling drinks can be a great gift for all connoisseurs of good spirits. This set can be presented to both the boss and your beloved brother or friend. Everyone will appreciate it.
11# Cold Edge Whiskey Stones 8 Granite Chilling Stones
What to give to a person who has everything? A premium set of handmade natural stones for cooling drinks will be a useful gift, regardless of the preferences and status of the recipient. Includes 8 granite stones, two 9oz premium whiskey glasses, and a handy stone freezer pouch.
12# Brotec 6 Pcs Whiskey Stones Gift Set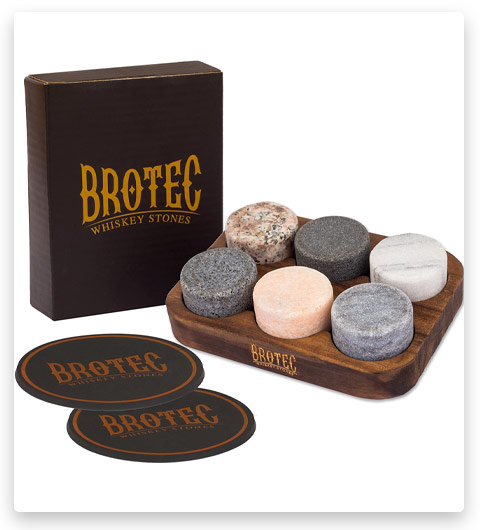 Round stones! Yes, here, unlike most sets, the stones are round, not square. Not that it has any advantages over whiskey cubes, but it looks interesting. There are only 2 stones for one glass (2 ounces), not 3. Also, you can be sure that round stones will not scratch the glass because they have no sharp edges. A luxurious set of stones for cooling drinks will become a favorite accessory for every connoisseur of the taste of real noble drinks. Round marble stones will keep the perfect taste of the drink and its coolness until the very last sip.
13# EMCollection Whiskey Stones Gift Set 8 Pcs & 2 Glasses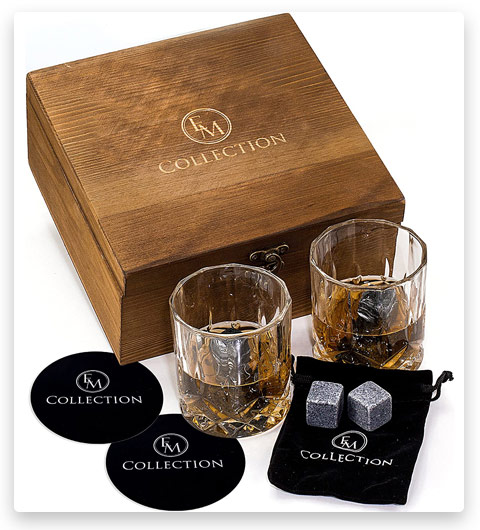 Want to impress your guests or make a wonderful gift for an important person? A set of eight whiskey stones from the purest granite, as well as two glass goblets packed in a presentable wooden box, will be appreciated by absolutely everyone.
14# Alan James Whiskey Stone Gift Set Bullets 6 Pcs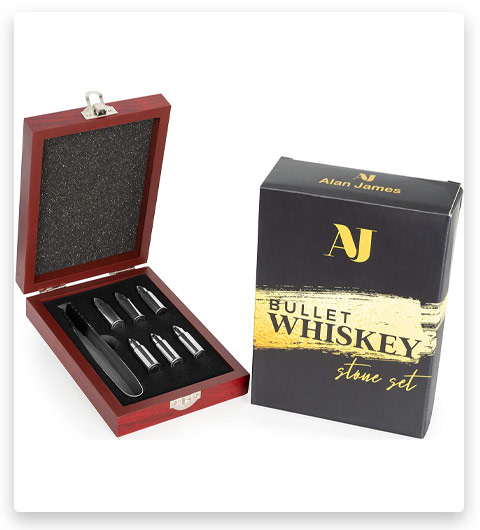 This is probably one of the most unusual forms of metallic whiskey stones. They are made in the form of bullets, but they cope with the cooling of alcohol as well as ordinary stones-cubes.
15# Top Percent Whiskey Stone Gift Box 9 Premium Stones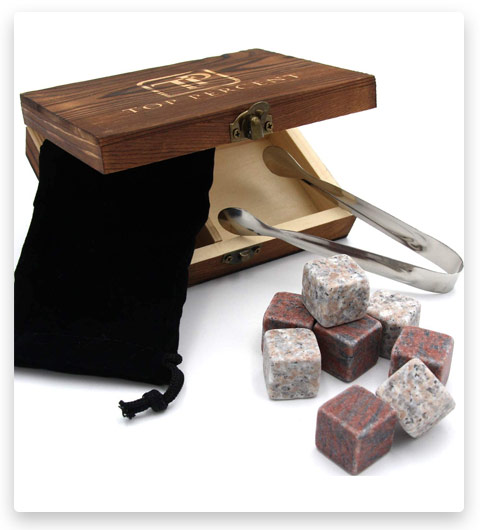 A gift set of nine premium quality granite stones for cooling your favorite drink will help you maintain a comfortable temperature while keeping its perfect taste intact. By the way, the stones are made of granite of different types and colors, which will add variety to your drink.
16# Mixology & Craft Whiskey Stones Gift Set 8 Pcs & Glasses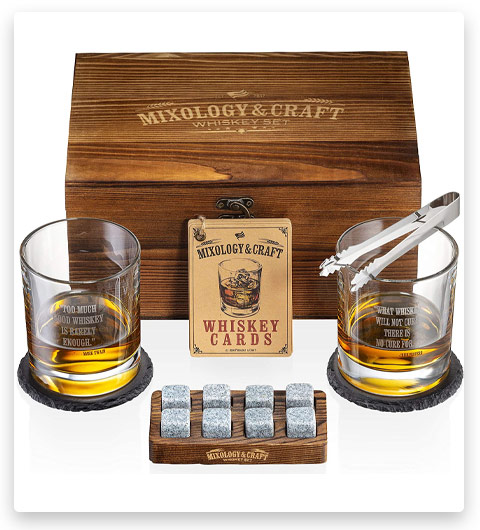 Do you know which gift will be the best for connoisseurs of real whiskey? An original set of natural hand-cut stones, a pair of classic glasses in a box made of natural wood. Such a present can be given with or without reason, it will certainly be appreciated by the recipient.
17# ROCKS Whiskey Chilling Stones Set Of 6 Round Stones For Whiskey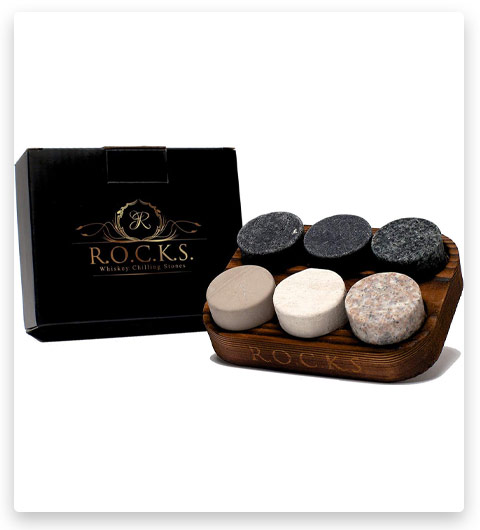 A set of handmade natural granite stones will be a great gift for absolutely any occasion. Such a present will definitely not lie idle on the shelf. Perfectly shaped stones have neither taste nor smell, thus preserving the ideal taste of an elite drink unchanged, granting perfect coolness to the very last sip.
18# Allan Whiskey Stones Set Of 6 Round Whiskey Stones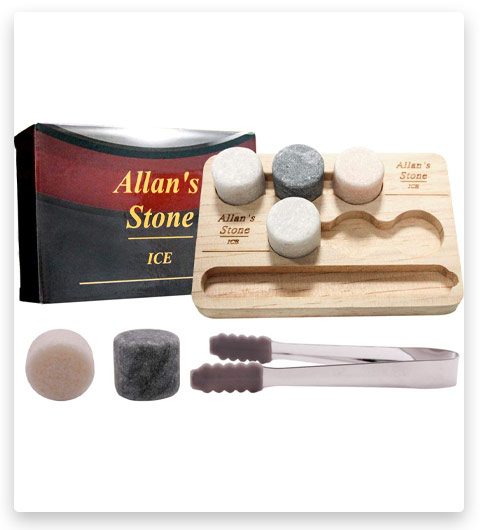 Perfect whiskey is always cold. But so that its reference taste is not diluted with water from ice cubes, it is advisable to use natural stones for cooling. This whiskey stone set is an accessory for every great taste connoisseur.
19# Amerigo Whiskey Stones Set Of 9 Chilling Stones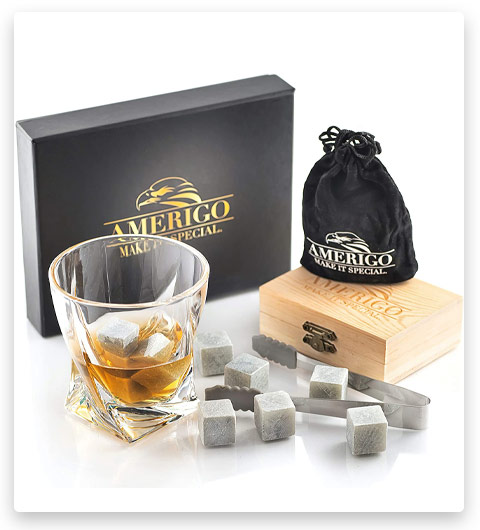 A gift set of handmade natural stones for whiskey will be the best present for a real man. Handmade stones perfectly cool the drink without changing the quality of its taste. And the included bag allows you to conveniently put it in the freezer and freeze them there to the required temperature.
20# BWSJ Whiskey Stones Gift Set With Glasses & Grip
A stylish set for drinking spirits for two persons is the best gift for every connoisseur of delicious whiskey or brandy. This set has everything you need: a pair of thick-bottomed glasses, eight natural stones for cooling, metal tongs. All that remains is to buy only a bottle of good whiskey.
21# Xinli Whiskey Stones Gift Set 4 Large Stones For Whiskey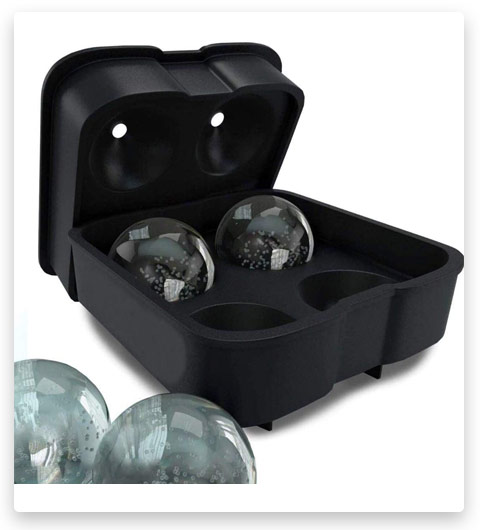 A set of four whiskey stones in the shape of a sphere is a great present, whatever the occasion. People who prefer stronger drinks will appreciate this gift.
22# Kollea Whiskey Glasses & Stones Set 8 Pcs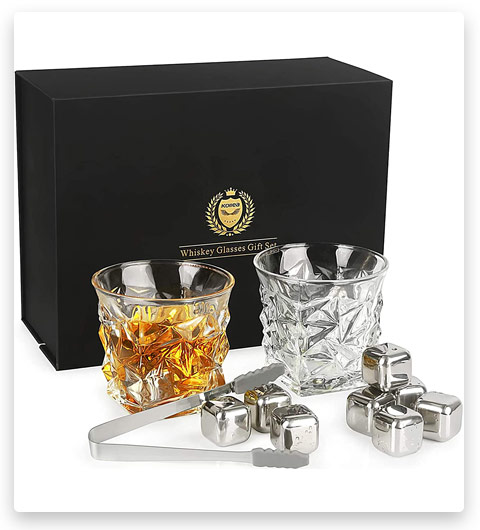 An elegant present, consisting of two glasses of the original shape, eight steel cubes for cooling drinks, and tongs for serving them, can be presented both as a gift and as an item of gratitude. Besides, metal stones lie very beautifully in a glass and shimmer in the light.
23# Gentelmen's Venture Whiskey Stones Set Of 8 Gold Stones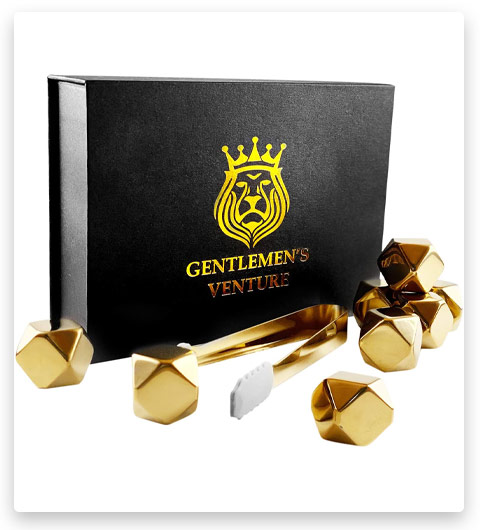 A perfect gift for a real gentleman, consisting of eight gold-colored steel stones to cool spirits. Good whiskey is always drunk cold and undiluted. Stones in the form of precious stones will keep the noble taste and pleasant coolness to the last drop of the drink.
24# Quiseen Gift Set Chilling Whiskey Stones 8 Pcs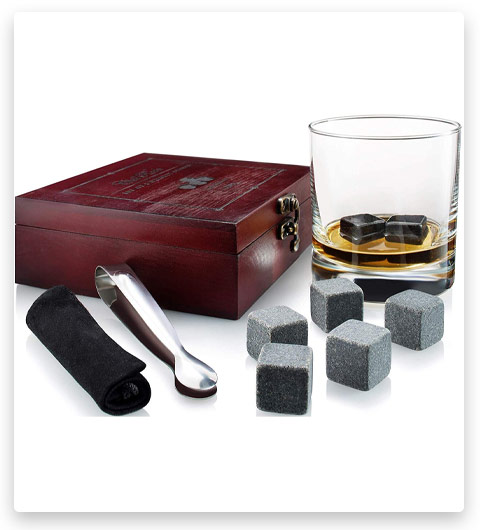 A lovely gift set of eight hand-cut natural granite stones for cooling drinks, complete with steel tongs and velvet storage pouch. The set is packed in a mahogany box, which gives it an elegant and expensive look. Such a gift will be ideal for a true connoisseur of noble drinks.
25# Beard & Brims Whiskey Stone Set Red Box 8 Pcs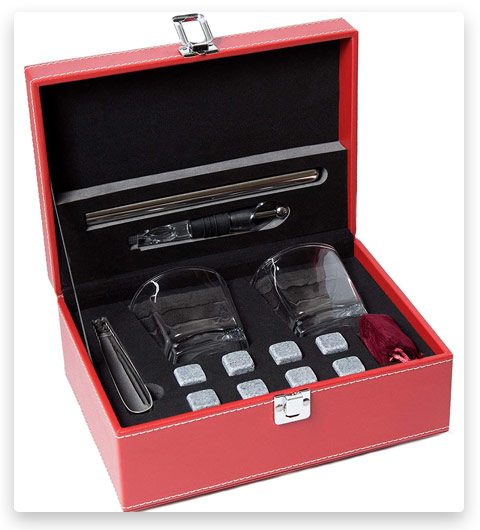 A red leather box with two spirits glasses, eight cooling stones, a wine chilling stick, and a wine stopper is a wonderful gift for absolutely any occasion. Such a present will not gather dust idle, its use will always bring a lot of emotions to its owner.
26# Infused Luxury Whiskey Stones Set Metal 8 Pcs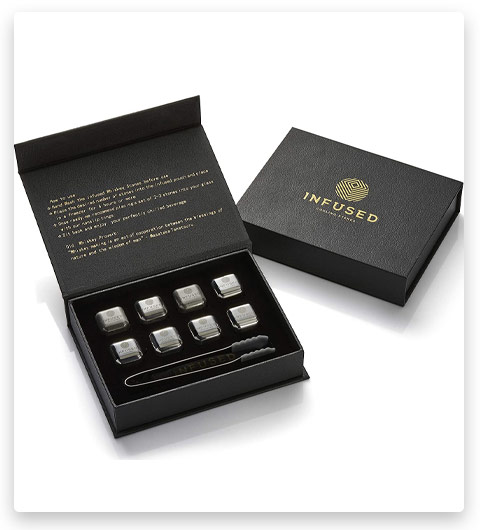 Such a present as a set of steel stones for cooling spirits will appeal to every gentleman who appreciates the real taste of a noble drink undiluted with water.
27# Das Tookii 12 Pcs Stainless Steel Whiskey Stones Set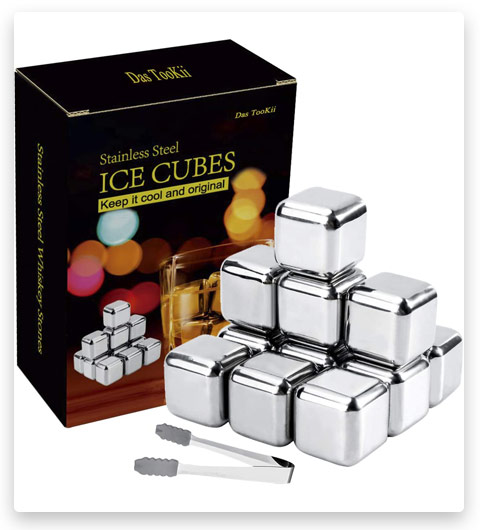 What can you give to a loved one or a boss? Every man appreciates delicious drinks such as whiskey, brandy, bourbon. A set of 12 steel chilling stones will be a great present for anyone who appreciates the real tart taste of undiluted whiskey.
What Material for Whiskey Stones to Choose From?
Although stones can be made from granite, steatite, black or red marble, these are all types of stone. And they do not have significant differences between themselves or have, but very small. So now we're going to talk to you about two basic materials from which whiskey stones are made. It is rocks and steel.
Steel Whiskey Stones
Steel whiskey stones do not have any special design. Most often they are just metal cubes filled with distilled water or other liquid. And although the water gives up its energy very quickly, the steel cube in which it is located does not allow it to do so too quickly. Metallic whiskey stones look very beautiful in a glass, do not crumble and retain their appearance for a very long time, but lose to granite whiskey stones in keeping the temperature.
Granite/Steatite/Marble Whiskey Stones
This material is not as beautiful and elegant as metal, it does not shimmer in a glass as much, but granite stones can keep the temperature in the glass much longer. In addition to their appearance, these stones have another drawback. Over time, the polished stone coating can wear off. Because of this, it is riskier not only to scratch the glass, but also to get a drink with admixtures of granite chips and dust. But usually, this happens only when you use the same whiskey stones for a long time. Just change the stones on time and this will not happen.
A Little About The Shape of the Stones
In general, it doesn't really matter what shape your stones are. Basically, all manufacturers make them in the form of a cube. It is believed that this is the most convenient form to use and cubic stones maintain the required temperature for the longest time. But our lists also include oval, cylindrical, bullet-shaped whiskey stones. This does not mean that they perform better or worse. The shape of the stones is not that important, so you can choose what you like. Although, of course, some will say that the cube maintains the temperature longer than the cylinder for as much as 3-5 minutes (not very much, huh?) these are such minor differences that you can simply close your eyes to them.
What to do with whiskey stones after buying?
Actually, almost every set of whiskey stones has instructions that tell you what to do step by step. But just in case, we will write to you on our own and give you a couple of recommendations, you know, suddenly you come across a set without instructions:
The first thing to do after you have removed the stones from the packaging is to wash them. During production, stone dust is very often left on stones, dust settles on them during transportation, storage, etc. If you immediately throw stones from the package into the drink, you will drink whiskey with chunks of granite or mud. Even if the stones are made of metal or other material, we recommend that you wash them, they are dirty in any case, no matter how much the manufacturer cares about them. You don't need to wash them with a cleaning agent or anything else, just hold each stone for a couple of minutes under running water, rub with your hands to remove dirt and dust from the surface.
Then examine the stones. Yes, you may not be lucky and 1-2 stones from the package will be defective. By defects, we mean chips on the surface, lack of grinding on the surface, chipped pieces, etc. The stone should be a little smooth, with rounded edges so as not to scratch your glass, nothing should stick out of it. But you shouldn't worry even if you find any of this, the manufacturer almost immediately changes such models for new ones or returns the money.
After the first two steps, you can send the stones to the freezer. Better to put them in the bag that comes with the kit, otherwise, you will then have to tear them off the ice that forms in the freezer. Let the stones sit for 2 or more hours, then you can take them out for use.
Pour in whiskey and put stones. You can put stones first, and then pour whiskey, the difference is not very big. We advise you not to throw stones with your hand but carefully lay them down with the help of a grip if you do not want your glass to crack or scratch. By the way, use glasses with a wide and thick bottom. For one serving of whiskey (2 ounces, 60 ml) 2-3 stones are enough, I always put 3.
Summing Up
There are many sets on our list, so here are the ones that we liked the most, both in terms of quality and appearance:
Well, we hope our review was useful to you and now you know why diluting whiskey, bourbon, brandy, and any other strong alcohol with ice or water is bad. We have selected for you gift sets of whiskey stones that will significantly improve the taste and aroma of your drink or the drink of the person you want to give this set to.  Thanks for reading us. Drink only good alcohol, and we will show you how to choose it.
Tags: #whiskey stones gift set / #best whiskey stones gift set / #what are whiskey stones / #how to use whiskey stones / #whiskey stones and glasses gift set / #best whiskey stones gift set / #personalized whiskey stones gift set