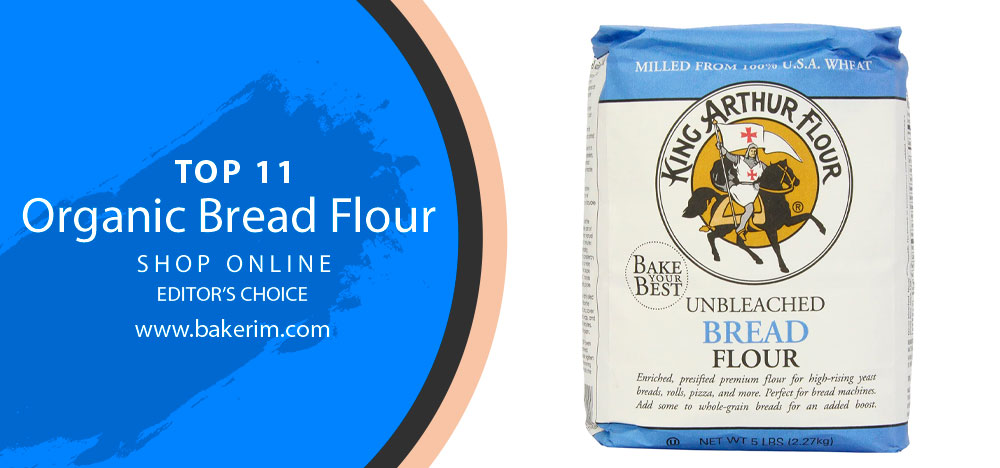 TOP 11 Best Healthy Flours for Baking Bread at Home | Organic Strong White Bread Flour
Choosing organic bread flour can take a lot of time. It doesn't matter if you are a baker or a housewife. When you start to look at different types of flour you will have many questions. The choice of wheat and the protein content is confusing when choosing a brand of flour. But you have found the right article. Here I will tell you in detail what organic bread flour is and about its benefits. Here you will find the 11 best producers of bread flour that you can choose to bake your bread!

Organic Flour
First, let's look at what organic flour is and what its advantages are. If you see the word "organic" on the packaging, this means that the product is safe for your health. Organic flour is obtained by grinding wheat grains. But the importance is that wheat is grown without the use of synthetic fertilizers and pesticides. The field on which the cereal crop is grown rests from chemistry for 3 years.
And only then is organic produce grown on it. Such products are quite expensive due to their high quality. To grow organic cereals requires a lot of effort and expense. When the chemistry is used, the yield is more crop and it fights insects. Organic products also require other storage, which is also more expensive than storing ordinary grain. But that's not all.

To get organic flour, you need to solve the problem with the mill. There are two solutions here. Usually, manufacturers either buy a separate mill for organic grain or clean the equipment where ordinary flour was produced. It can be summarized that the production of organic flour is an expensive and complex process.
If you compare the taste of regular and organic flour, then you will not feel the difference. But there are differences in our health. For the mass production of ordinary wheat flour, the part with the most starch is used. Thanks to this, we quickly gain weight.
Useful shells, or bran, are removed as much as possible, and fiber, vitamins, and proteins are removed along with them. A term such as "ash" is used to indicate the number of useful substances in flour. This means that the more ash remains after burning the flour, the more minerals are in it. Organic whole grain flour has a high ash content, or it is also called coarse flour, which can be consumed in small quantities even by patients with diabetes mellitus since it has a low glycemic index.
How To Store Organic Bread Flour?
When purchasing flour, pay attention to the integrity of the packaging. It is very important. Even minor damage to a tightly sealed bag leads to the interaction of the product with air and increases the risk of bugs getting into the flour. All types of flour, which I will discuss further, have quality packaging that is tightly sealed. Therefore, you shouldn't worry about this. Flour should be stored properly. If it's hot outside, it is better to rearrange the flour on the lower shelf in the refrigerator. Knowing how to store flour correctly will help you save money and save you from disappointment in the baking process.

Flour is afraid of moisture and heat also harms it, which means it must be stored in a dry and cool place. You also need to tightly close the jars or containers in which you poured flour from the bag. Flour that has changed color and has an unpleasant odor isn't suitable for consumption.
Never store flour near strong-smelling foods, such as onions, for example, otherwise, it will absorb foreign odors. An even bigger mistake would be the storage of flour near the packaging with washing powder. These simple tips will help you save your product and bake delicious bread!
It's time to consider the best types of organic bread flour. All manufacturers have taken care of the high quality of their products. Let's look at their pros and cons and you can choose the right flour for baking bread for yourself!
Top 11 Best Organic Bread Flour – Editor'S Choice
| Image | Product | Brand | Link |
| --- | --- | --- | --- |
| | Great River Organic Milling, Lily White Bread Flour, All-Purpose, Organic, 25 Lb (Pack Of 1) | Great River Organic Milling | |
| | Anthony's Organic Tiger Nut Flour, 1 lb, Gluten Free, Non GMO, Paleo Friendly | Anthony's Goods | |
| | Nutiva Organic Unrefined Gluten-Free Coconut Flour, 25 Pound | USDA Organic & Non-GMO | Vegan & Gluten-Free | High-Fiber and Non-Grain Flour Alternative for Cooking & Baking | Nutiva | |
| | Alta Artisan Unbleached Flour - For Bread and Other Baked Goods, Bulk 50 Pound Bag | Honeyville | |
| | King Arthur Flour, Unbleached Bread Flour, 5 lb | King Arthur | |
| | Arrowhead Mills Organic Unbleached All Purpose White Flour, 5 Pound Bag | Arrowhead Mills | |
| | Bob's Red Mill Flour Whole Wheat Organic, 5-pounds (Pack of4) 320 Ounce | Bob's Red Mill | |
| | Antimo Caputo Chef's Flour 2.2 LB - Italian Double Zero 00 - Soft Wheat for Pizza Dough, Bread, & Pasta | Antimo Caputo | |
| | King Arthur, 100% Organic Whole Wheat Flour, 100% Whole Grain, Non-GMO Project Verified, 5 Pounds | King Arthur Flour | |
| | One Degree Organic Foods Organic Sprouted Whole Wheat Flour - 80 Ounce | One Degree Organic Foods | |
| | Blue Lily Organics Green Banana Flour (16 oz) - 100% Organic USDA Certified, Gluten-free Superfood - Alternative to Wheat Flour - Promotes Healthy Colon, Nutritious & Delicious Vegan All Purpose Flour | Blue Lily Organics | |
1# Great River Organic Milling White Bread Flour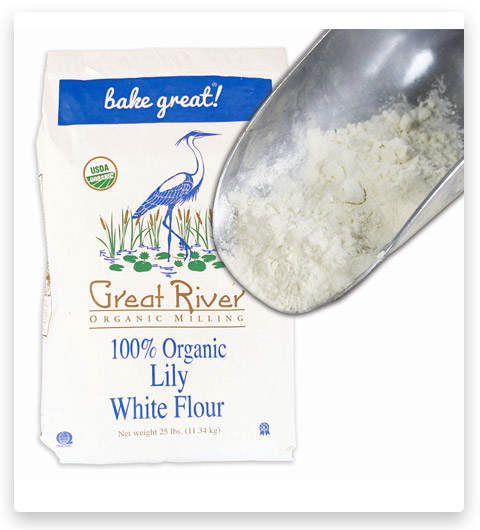 My favorite is the Great River Organic Whole Grain Bread Flour. With this flour, bread turns out to be lush and aromatic. The flour is made from hard red spring wheat. The flour is finely chopped so the bread is fragrant and grows well during baking.
Your bread will be lush since it has a high protein content of 14.5%. To get the desired consistency, add a little water. This flour works well with both the oven and the bread maker. But for me, the whole-grain setting in a bread machine works best when I work with this flour. For me, this is one of the best organic bread flour!
2# Anthony's Goods Organic Tiger Nut Flour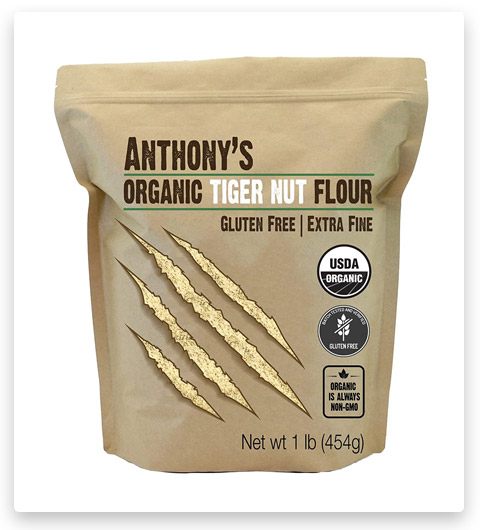 This is organic flour which is made of tiger nut and nothing else. Flour doesn't contain preservatives, dyes or substitutes. This is a great substitute for white flour. From this flour, you get tender bread with an unusual taste for you.
Flour doesn't contain gluten. Therefore, if you follow the Paleo or Keto diet, then you can eat bread from such flour. And most importantly, the flour comes in well-sealed paper packaging. Therefore, the flour will not come to you spoiled.
3# Nutiva Organic Coconut Flour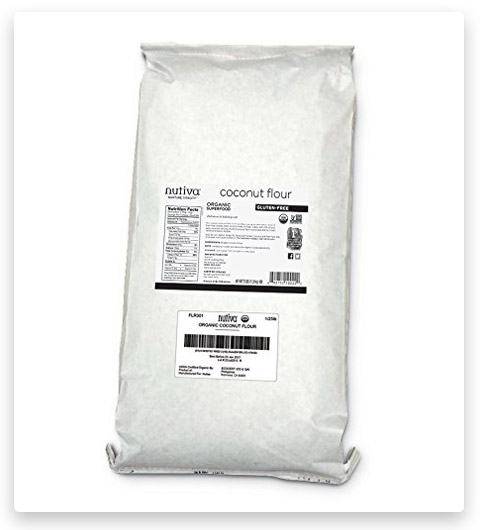 Organic bread flour that is made from coconut pulp. The product is organically grown without the use of chemicals. Flour has a soft structure. Coconut flour is suitable for diet food.
It has a low glycemic index and doesn't contain gluten. The packaging is tightly closed so your flour will be stored properly.
4# Honeyville Unbleached Flour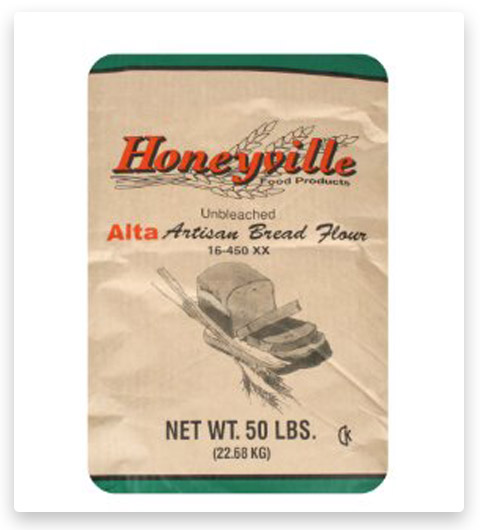 This flour makes delicious bread with a crispy crust. The flour is made from spring and winter wheat. This is a premium flour that doesn't contain as much gluten as white flour. It has a good amount of protein in the composition. The protein varies from 11.9 to 12.5%.
5# King Arthur Unbleached Bread Flour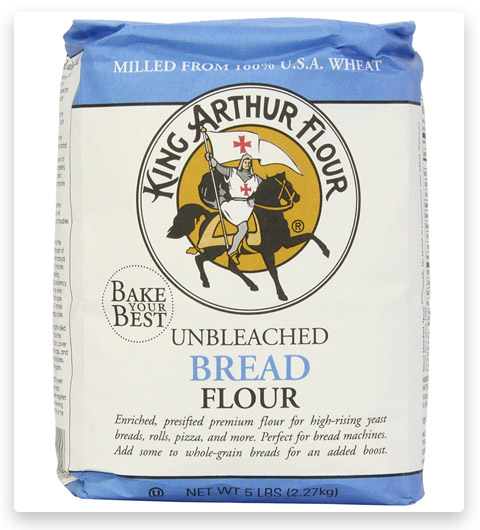 This brand is one of the best when it comes to baking products. It is very difficult to find serious bad reviews about their products. The bread is really magnificent and has good growth.
Flour contains 12.7% protein. Wheat comes from American farms and doesn't contain preservatives or substitutes. This is an organic product without GMO. The bread has a soft texture and crisp.
6# ARROWHEAD MILLS White Unbleached Organic Flour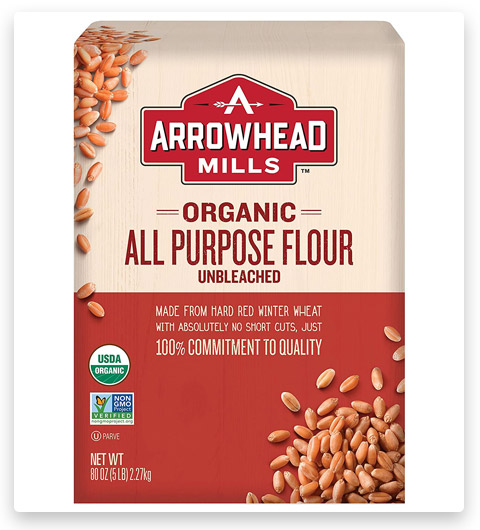 Healthy organic flour for baking your bread! It is made of hard red winter wheat. Bread from such flour will be an excellent source of vitamin B and iron. The flour is unbleached and doesn't contain GMO. Baking is obtained like a real bakery!
7# Bob's Red Mill Flour Whole Wheat Organic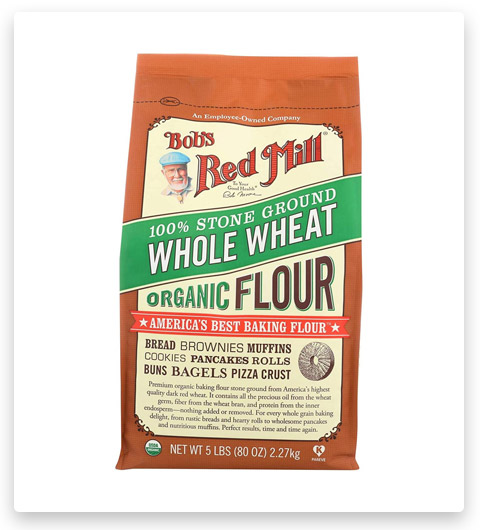 Bake delicious bread made from dark red wheat. It contains a good amount of protein and fiber. From this flour, you get not only tasty and lush bread with a crispy crust but also your other favorite pastries such as muffins, pancakes, cakes.
8# Antimo Caputo Chef's Flour 2.2 LB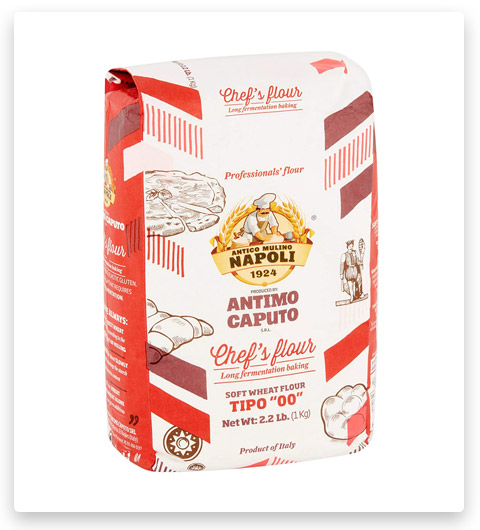 This is a professional wheat flour used by many bakers around the world. It is made according to the best Italian traditions. It works well in home ovens or bread machines. Gluten provides the elasticity of the dough and its growth. Flour contains approximately 13% protein. Organic flour without additives. Bake homemade bread made from natural flour!
9# King Arthur Flour Organic Premium Whole Wheat Flour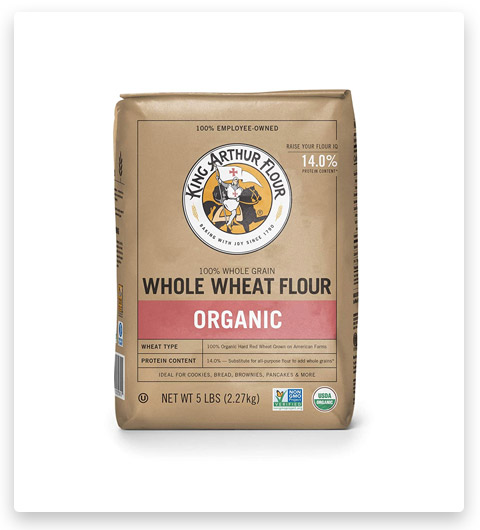 Well-packed flour will come to you. Tight packaging ensures reliable storage of flour so the product is safe for your health. Organic flour has been tested and has been approved by Quality Assurance International. Bake with pleasure!
10# One Degree Organic Foods Organic Sprouted Whole Wheat Flour
You will be amazed by how beautiful your loaf of flour will turn out. The bread is light and your stomach digests bread easier. Flour is made from germinated organic wheat. The flour is finely ground so it is easy to sift it. Any bread will turn out tasty and fragrant! Your family will still ask you to bake bread with this flour!
11# Blue Lily Organics Green Banana Flour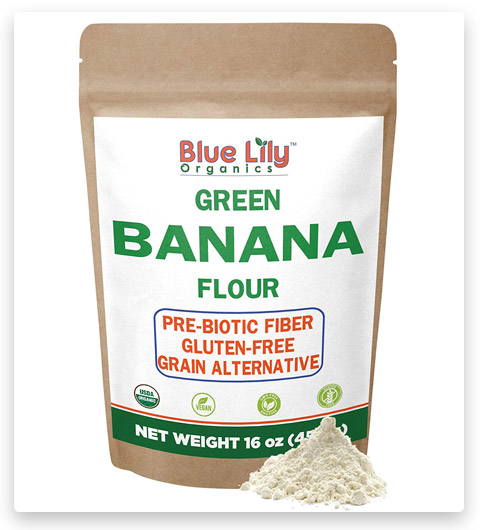 This is a healthy meal for you! It is made of green bananas. You will need less banana flour in your recipes than if you used wheat flour. It contains useful fibers and it isn't so harmful to your figure. It has a slightly nutty flavor. But it doesn't spoil and doesn't affect the taste of any of your bread or dishes. It is a completely organic product.
Dietary Bread Flour Gluten-Free
Bread is undoubtedly a very important product throughout the existence of all mankind. It has been baked since ancient times. But progress doesn't stand still and new types of flour appear that greatly simplify the process. Among them is bread flour.

Indeed, the quality of flour directly depends on how the bread turns out. And also Much depends on its gluten content. Good bread flour is a guarantee that bread will turn out to be magnificent, tasty, rosy and fresh. Therefore, it is worth choosing bread flour carefully. Read reviews about brands and what products they produce.
What Is The Difference Between Bread Flour And Other Types?
Bread flour is a special flour because it is designed specifically for baking bread. As a rule, it is made from winter and durum wheat and its gluten content is about 13%. Such flour contains a large amount of plant fiber, and this allows the bread to maintain its freshness for a long time.
How To Choose Bread Flour?
Every baker knows that any type of baking requires its type of flour. But how to get ahead of the one that will be good? After all, in stores, flour is always sold in thick paper bags. This is the right kind of storage because in any other material the flour begins to deteriorate. Having bought flour, you can pay attention to its color. High-quality flour should be monophonic, saturated color, there should be no specks and black dots.
The Benefits of Bread Flour
By its properties, bread flour is not much different from other types of flour. It also contains a fairly large amount of protein, which allows the body to control the condition of the skin, hair, and nails. It is also a source of energy because it is a high-calorie product. Therefore, don't get involved in such a product.
Although organic bread flour is more beneficial for our body, its consumption should also be monitored. Now is the time to share with you my favorite organic bread flour recipes. Use the flour from my list and you will get delicious bread!
3 Best Classic Organic White Bread Recipes
#1 Organic Coconut Flour Bread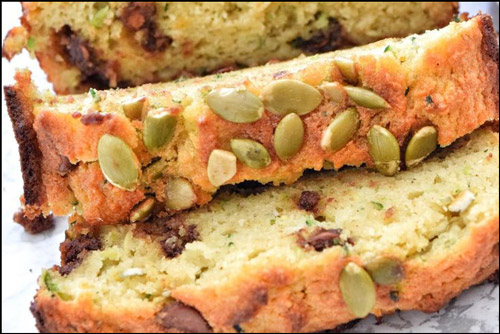 Such bread can be eaten on the Keto and Paleo diet. Use Nutiva Organic Coconut Flour to make this bread! And then you will succeed.
Ingredients:
1/2 cup coconut flour
A pinch of salt
A pinch of baking powder
6 eggs (preferably room temperature)
1/2 cup coconut oil with or without smell
Instruction:
Stir flour with salt and baking powder in a small bowl.
Break 6 eggs into a larger bowl and mix thoroughly, pour warm melted butter into the egg mass (just not hot, otherwise the eggs will boil). It isn't necessary to use exclusively coconut oil. I use 1/4 cup coconut oil and as much butter.
We pour the previously prepared "dry" mixture of flour, salt, and baking powder into the mass with egg and oil. Here you need to work hard and mix everything well so that there are no lumps. If the eggs were cold, then lumps of coconut oil may form, since it hardens very quickly. But there's nothing wrong with it, everything gets melted instantly when it gets into the oven.
Pour the resulting mass into a mold (can be in a cupcake mold) and bake in a preheated oven (180 ° C) for about 50 minutes.
Readiness check with a toothpick. When removing the toothpick, it should remain dry.
#2 Banana Bread Healthy
My favorite recipe from which my whole family is thrilled. You can use the Blue Lily Organics Green Banana Flour for it. You can use any other organic bread flour, but with this flour, the taste will be deeper.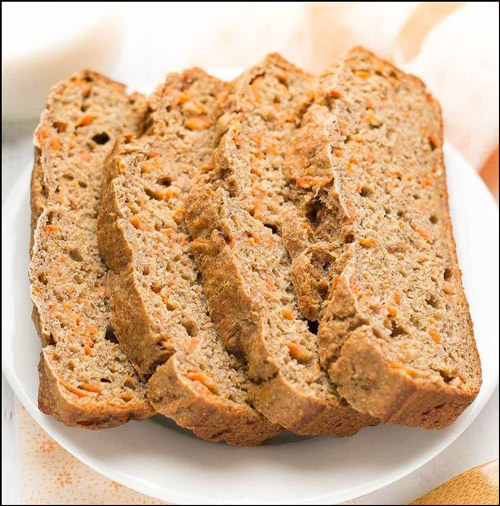 Ingredients:
Flour 230 g
Sugar 120 g
Walnuts 140 g
Baking powder 1 tsp
Soda ¼ tsp
Salt ¼ tsp
Ground cinnamon 1 tsp.
Vanilla Sugar 2 tsp
Chicken eggs 2 pcs.
Butter 115 g
Banana puree 400 g
Steps:
Fry the walnuts in a dry frying pan for 8-10 minutes. Let cool, then chop into large pieces.
In a large bowl, mix all the dry ingredients: flour, sugar, vanilla sugar, baking powder, soda, salt, cinnamon.
Add the walnuts. Mix well.
Separately, whisk the eggs with a whisk.
And add the banana puree to them.
And then melted butter (cooled to room temperature). Mix well.
Pour the liquid ingredients into the dry and with a silicone spatula and mix the mass in a circular motion from the bottom up. Once the flour is wet, stop stirring. The dough should be lumpy. Preheat the oven to 180 degrees. Grease the cake pan with vegetable oil and sprinkle with flour. Transfer the dough into the prepared form and place it in a hot oven at an average level for 50-55 minutes. The baking time depends on the size of the mold: the longer the mold, the lower the bread, and less time for baking. Check the readiness of bread with a wooden stick.
Remove the prepared bread from the oven and let stand in the form for 10 minutes. After that, remove the bread from the mold and leave to cool on the wire rack.
#3 Homemade Bread Made From Bread Flour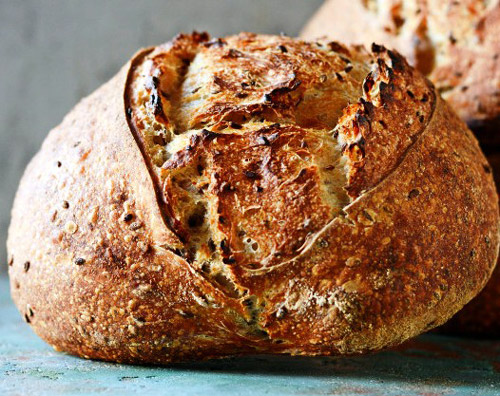 Ingredients:
Any organic bread flour – 3 cups
Water (warm) – 230 ml
Salt – 1/2 tsp.
Yeast (dry) – 2 tsp.
Sugar – 1 tbsp. l
Vegetable oil – 2 tablespoons
Cooking:
Sift the flour into a bowl and add salt, sugar, dry yeast and mix a little.
Then add vegetable oil, water and knead the dough.
Cover the bowl with a towel and set it in a warm place for 30 minutes. After the dough has risen, you need to mash it and form a bun.
We spread the dough in a form covered with parchment paper. Grease the yolk on top and make cuts.
Bake bread for about 40 minutes at a temperature of 180 C, depending on the oven. I bake in 30 minutes.
We take out the finished bread, put it on a dish, and cover with a towel to make it softer.
Enjoy your meal!
Conclusion
All of the above varieties of flour and brands work great for baking any bread. I shared with you my favorite bread recipes that you can use. Delight yourself and your family with delicious and healthy bread!